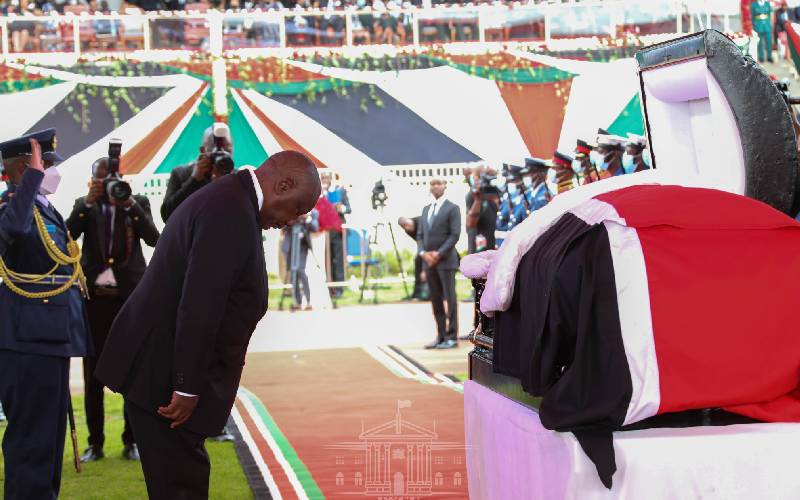 South Africa President Cyril Ramaphosa has likened former President Mwai Kibaki to their anti-apartheid revolutionary Nelson Mandela.
Ramaphosa eulogised Kibaki as a great statesman who demonstrated great leadership not only to Kenya but also to the African continent.
"We especially remember him for his leadership in uniting Kenyans and for us, as South Africans, we saw him in the mould in which we saw our own first President Nelson Mandela who sought to unite our nation and who planted our seeds of the development," he said.
Mandela was the first black president of South Africa, serving from 1994 to 1999. The South African icon led the country's transition from apartheid to a multiracial democracy and passed away in 2013.
Ramaphosa, who spoke today during Kibaki's State funeral, said South Africa drew a lot of lessons from the way in which the former Commander-In-Chief led Kenyans.
"You too had a great President in Kibaki who has developed your country and who has also helped unite Kenyans. We will forever remember how great he was," he said.
Ramaphosa said his country and the South African Development Community were saddened by the passing of Kibaki
"We feel the pain and anguish that you are all going through but at the same time, we also believe that you are all collectively here to celebrate a life of a great statesman," he said.
"We wish you strength as you go through this moment but we also wish that you could remember Kibaki for what he stood for and for what he did to this great nation."
Ramaphosa noted that the relations between South Africa and Kenya have continued to be strengthened in moments of celebration and moments of sadness.
"I want to thank you President Kenyatta for having extended your own condolences to South Africa as we recently lost 435 in the floods that engulfed our country," he said.
Ramaphosa was joined by Presidents Salva Kiir (South Sudan) and Sahle-Work Zewde (Ethiopia) among other dignitaries.
Sahle described Kibaki as a unifying figure while Kiir hailed him as a capable leader.