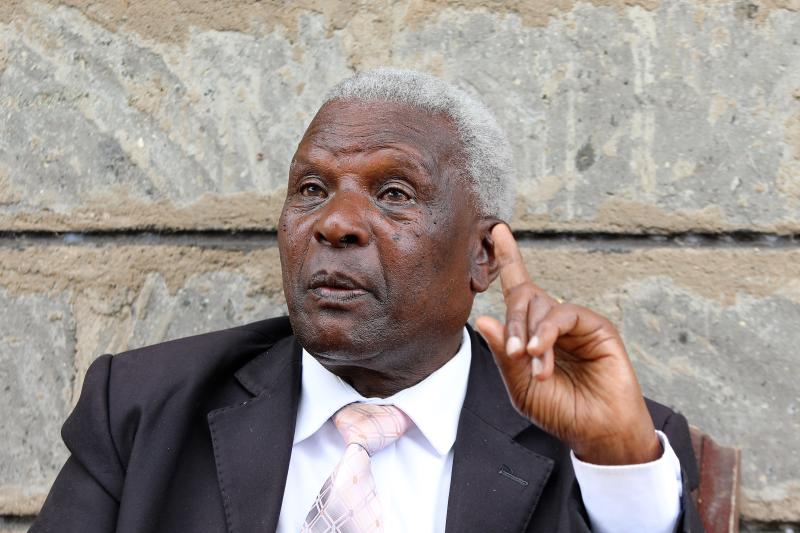 A former Kanu youth chairman Peter Njogu recounted the day he confronted former President Mwai Kibaki over his indecision to quit Kanu.
The incident happened at White Rhino Hotel in 1991.
The former president's allies were piling pressure on him to quit Kanu and oppose President Daniel arap Moi on the ticket of a different political outfit, but he was reluctant. He wanted to fight from within, a move that angered his political associates.
"To our amazement, Kibaki told a gathering that one does not throw away his shirt when it is dirty, which meant he wanted to use internal means to oust Moi but we knew this would not be possible," said Mr Njogu.
The former Kanu youth chairman said Kibaki commanded respect and his friends were afraid to tell him off to his face on his decision to fight Kanu from within.
Mr Njogu grabbed the opportunity to tell Kibaki off after a group of friends invited the former head of state for a drink.
"I confronted him and accused him of being indecisive. Although his towering figure frightened me, I was drunk and kept scolding him to make up his mind whether to support Moi or lead us to defect from Kanu," he said.
Speaking to The Standard at his Kieni home, Mr Njogu said the other friends who included Sylvester Wang'ombe Nderi, Isaiah Mathenge and Ndiritu Ndegathi kept buying him more beer so that he could tell Kibaki the truth.
"Kibaki kept calm and never uttered a word even as I continued my tirade to the delight of those who had dispatched me. After two weeks, Mathenge informed me that Kibaki had retreated to Mombasa to establish his new political outfit, the Democratic Party," said the former Kanu youth chairman.
Mr Njogu was so happy upon learning about Kibaki's decision to defect from Kanu to Democratic Party.
"I was among the first Kanu diehards to return my Kanu uniform which included a tie and a branded Kanu jacket, a crown medal and my membershio certificate to the party. Most of the leaders decamped but kept the regalia," he said.
Mr Njogu would later be elected councillor in 1994 after a man who was elected on a Democratic Party ticket was won over by Kanu operatives so that he could seek reelection on the ruling party's ticket.
This was a strategy by government to weaken the opposition and to clip Kibaki's wings in Central.
"Kibaki urged me to vie on Democratic Party ticket and this was another showdown between me and the Kanu operatives. He personally signed my nomination papers without knowledge that the district party officials had signed another paper," said Mr Njogu.
Former Othaya MP Mary Wambui, who was known as Wambui wa Kanu back then (she later defected to DP) got wind that Mr Njogu's opponents were plotting to kidnap him.
"She found me at Central Hotel which is now known as Central Swahili dishes and ordered me to board her car with my secretary before she drove off. We were followed by a heavy contingent of police but she evaded them and took me to her house in Ring Road," recounted Mr Njogu.
"I stayed at Ms Wambui's house until evening when I decided to leave without knowledge that the detectives were waiting for me outside the house. I had to jump from a moving car and hide in the bush to avoid being arrested," he said.
The plan, according to the former Kanu official, was to prevent him from presenting his nomination papers to the police bosses for clearance. It took the intervention of a Catholic priest who talked to the OCPD to give him clearance.
He won with a landside and represented Mt Kenya Hospital ward at the Municipal Hall where he became a harsh critic of the government.
"I later learnt that Kibaki had received intelligence that I was a wanted person and had directed Ms Wambui to rescue me. I was very fond of him and we could drink together at White Rhino and in Nairobi," said Njogu.
As a result of supporting opposition, Mr Njogu lost his five-acre piece of land the government had awarded him at Ngaringiro plot.
He said Kibaki hated gossip and corruption and was passionate about uplifting the lives of ordinary Kenyans.
"He always talked economy. He was not like many politicians who think elevating a friend is digging one's own political grave. He was never jealous and lived what he talked and talked what he lived," Mr Njogu said.