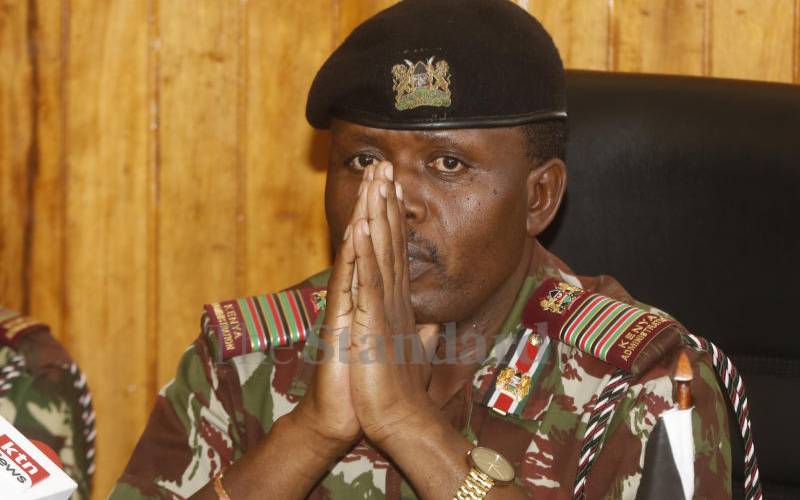 A January 12 circular from the Interior ministry announcing transfers of administrative commissioners stated that former Rift Valley Regional Commissioner George Natembeya was moved to the Office of the President Headquarters in Nairobi.
This comes on the back of public knowledge that Natembeya resigned on Wednesday morning to concentrate on his bid to become Trans Nzoia Governor in the August 9 General Election.
Natembeya has since been replaced by Makueni County Commissioner Mohamed Maalim, who takes over from today (Thursday, January 13).
The transfers circular – stating that Natembeya would be moved to the President's office – sparked confusion, with several online users seeking clarity on the posting.
A senior communications officer at the Ministry of Interior told The Standard that the posting was "purely administrative", to allow for Natembeya to formally hand over the position and work files to his successor.
"Security is not only an important docket, but also a sensitive one. Any senior State officer who resigns from the docket must always hand over files, documents and key intelligence to his successor, and his or her appointing authority, in this case the President," said the Interior ministry rep.
The Standard understands that Natembeya tendered his resignation shortly after announcing his exit.
While announcing his resignation, Natembeya said he'll proceed on a month-long leave as he serves notice.
"The former regional commissioner also has to send a letter to the Public Service Commission (PSC) communicating his resignation," said our source.
"At the Office of the President Headquarters, he won't take any other duties. His posting to the office is just a standard administrative procedure, and not a jurisdiction change," added our informant.
Natembeya's successor, Mohamed Maalim, has since shifted to Nakuru, the headquarters of his new posting. He is expected to assume office later Thursday.
Natembeya, 50, served as Rift Valley Regional Commissioner for two-and-a-half years, drawing mixed reviews in the process.
His no-nonsense approach to work earned him friends and foes in equal measure.
"Those who wanted me to get off this uniform, I have done it, and I am coming [to serve you as Trans Nzoia Governor]," he said while announcing his resignation.
Trans Nzoia County Commissioner Samson Ojwang said Natembeya remains their "star", as they looked up to him as a mentor.
"Though he (Natembeya) was tough, that was what was expected of him," said Ojwang, who attended Natembeya's press conference.
According to the outgoing regional boss, his tough approach to resolving issues, particularly conflict, earned him more friends than enemies.
"People don't hate me. I am tough when solving their problems, but they like it [nonetheless]," he said in an interview with The Standard.
At the age of 25, he was employed as a District Officer (DO) and posted to Trans Mara District where he worked for four months before landing a scholarship from the University of Nairobi to pursue his master's degree.
After completing his postgraduate studies, Natembeya was posted to Elburgon in Nakuru before being moved to Burnt Forest. Later, he went for an advanced public administration course after which he was posted to Mulot in Narok.
Natembeya also served as DO in Kaplamai, Trans Nzoia. In 2005, while still in Kaplamai, he received a letter from Harambee House inviting him for a brief assignment.
"When I got there, I was told [the now-late John] Michuki was looking for a personal assistant. We were interviewed, and I was told I was to remain at Harambee House," Natembeya said.
He worked with Michuki until 2007, when he was moved to Murang'a North where he worked until 2012.
In 2013, when counties were introduced, Natembeya was moved to Kamukunji in Nairobi.
He was later promoted and transferred to Isiolo as County Commissioner. At the time, cattle rustlers were giving residents sleepless nights.
He was later posted to Narok, where in 2017, he was involved in the emotive conservation of the Mau Forest.
He was, thereafter, promoted to the position of Rift Valley Regional Commissioner, which brings together 14 counties with about 13 million people.
In his quest to become Trans Nzoia Governor in the upcoming polls, he will face off against Kiminini MP Chris Wamalawa, County Finance Executive Boniface Wanyonyi, area Woman Representative Janet Nangabo, former Agriculture Executive Andrew Wanyonyi, businessman Moses Khaoya and Philemon Samoei.
The aspirants are seeking to succeed Patrick Khaemba, who is not eligible for re-election after serving two terms as governor.