Down the memory lane: Jaramogi gave freely, Tom Mboya was stingy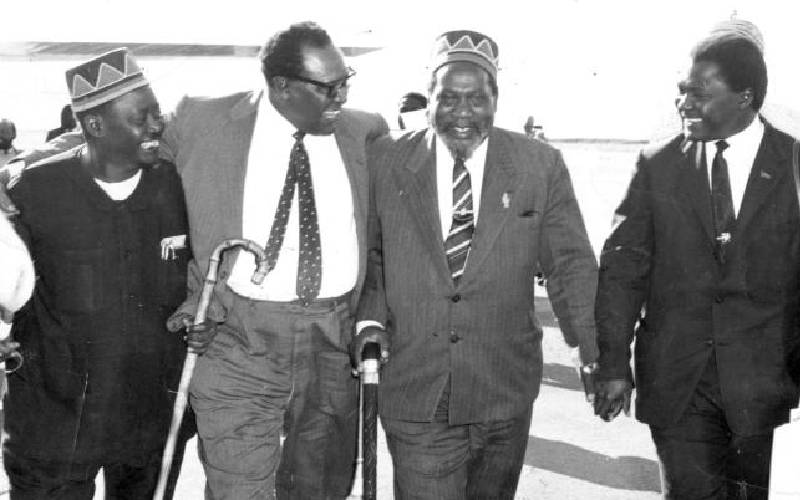 Considered a statesman poised for a bigger role in the affairs of the country, there was another side of the charismatic Tom Mboya. The man was mean. Although Mboya had more money than his political rival Jaramogi Oginga Odinga, the latter was generous to a fault, according to former Vice President Joseph Murumbi.
While Jaramogi would easily give money, Mboya was stingy, according to Murumbi. "In different ways, Odinga generally helped people in need. Mboya used people's needs to serve his own. As I've said before I have heard him say to a man: "Why are you coming to me I paid you for it and that is the end of it," said Murumbi in the book: A path not Taken and authored by Anne Thurston.
A renowned trade unionist and politician, Mboya joined active politics in 1957 when he won a seat in the Legislative Council and, two years later, founded the Nairobi People's Congress Party. He was instrumental in establishing of Kenya African National Union (Kanu), which later formed government. Murumbi, in his book, recalls how several times after Jomo Kenyatta was released from Kapenguria prison, they were literally begging Mboya to assist the founding president financially.
According to Murumbi, Mboya used to receive huge sums from America through a CIA agent identified as Irving Brown while Jaramongi got financial help from either Russia or China.
Contrasting the character of the two leaders, Murumbi says the money from America was much more than what Jaramogi received from his friends in Russia and China.
"I remember at times we had to force Mboya to give money to the President. You see, we would just confront him with the facts and say, 'Mboya you must give the old man some money', and very reluctantly he gave it, but it came spontaneously from Odinga," revealed Murumbi.
Saying it was a misjudgment for Jomo to have become suspicious of Jaramogi, Murumbi claims the person he succeeded as Vice President was indeed a straight forward gentleman who never hesitated to share money with Jomo, however little.
Murumbi recalled a trip with Jomo in London when Jaramogi visited and gave them about 2,000 or 3,000 pounds. This was around the time Jomo had been released from prison. "Nobody sneered at him because it was Communist money, we were poor then and we had no money and we welcomed that money and it was paid to us in pound notes, not in dollars," said Murumbi.
On the rivalry between Jaramongi and Mboya, Murumbi says it started when Jomo was still in prison. The two leaders, according to Murumbi, were engaged in supremacy battles for Luo leadership and that of the country.
Murumbi says Jomo never fully trusted Mboya because of the financial support the latter was getting from America. The President thought the Americans were preparing Mboya to succeed him, according to Murumbi.