Suspect in lawyer Willy Kimani's murder 'bought beers'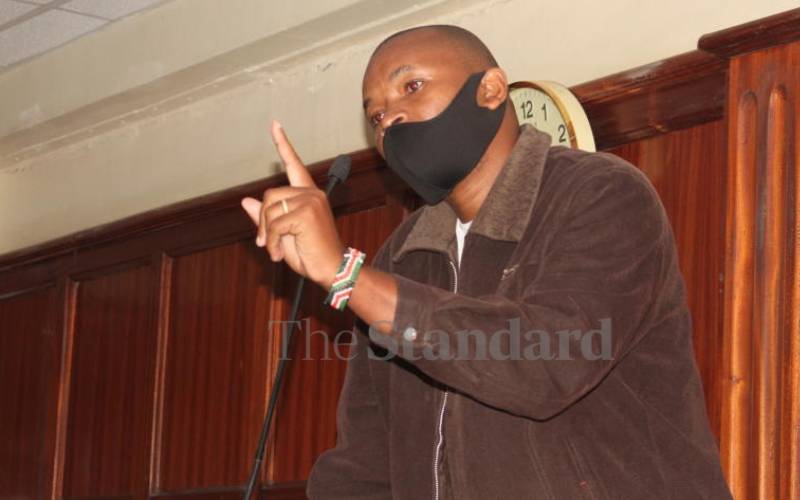 A former police informer testified that he was paid Sh3,000 for tracking lawyer Willy Kimani and his client on the day they were killed.
Peter Kamau Ngugi also told the court that his co-accused, Fredrick Leliman, who is suspected to be the mastermind of the murder, bought them more than 80 beers and five kilogrammes of fried goat meat after they dumped the bodies in a river.
"After we accomplished our mission at the river, we went to a bar in Mlolongo where he ordered for us 80 beers and meat. I do not know why he ordered so much drinks but I assumed it was the nature of police officers who like ordering so many drinks," said Ngugi.
Ngugi, who continued with his testimony for the second day, recounted events of June 23, 2016 when Kimani, his client Josephat Mwenda and taxi driver Joseph Muiruri were murdered at a field in Mlolongo area.
He was giving his defence testimony in the murder case where he is charged alongside police officers Stephen Morogo, Sylvia Wanjohi, Leonard Maina and Leliman.
Ngugi told the court that his task was to go to Mavoko Law Courts where Kimani was representing Mwenda, monitor their movements and inform another officer stationed outside the court as soon as they finished.
Once that task was completed, he said, he was instructed by another officer he identified as Wilson Kamau to drive the taxi to Limuru and hand it over to another waiting officer.
Ngugi said he then returned to Mlolongo where he met with three other police officers and at 9pm, and he was instructed to drive another vehicle to a thicket where they picked bags where the bodies of the three slain men were stuffed and headed to Ol Donyo Sabuk to dump the bodies.
"We headed back to Mlolongo after accomplishing the task. The officer called Kamau then told me to go to his car and pick Sh3,000 as a reward and payment for the good job I had done for the day," he said.
It was after the payment that he said they started drinking until he blacked-out and woke up the next day.
Asked whether he inquired from the officers why they had told him to track Kimani and his client, Ngugi testified that as an informer, he only used to take instructions and perform what he was asked of without questions.
"I feared asking police questions and did what they instructed me to do. I did not even know we were carrying bodies when we went to the river and only saw them being thrown out. After all, I did not ask questions because I was paid Sh3,000 which was good money," said Ngugi, adding he did not attend any planning meeting with his co-accused.
He denied visiting the murder scene on June 24, 2016, saying he could not remember the place since they went at night and did not take long loading the bodies into their car boots.
Ngugi, who initially confessed to the crime, disowned the document but Justice Jessie Lessit overruled him and admitted the confession as part of the evidence. Hearing continues.