Ann Kananu set to be sworn in as city's third governor this week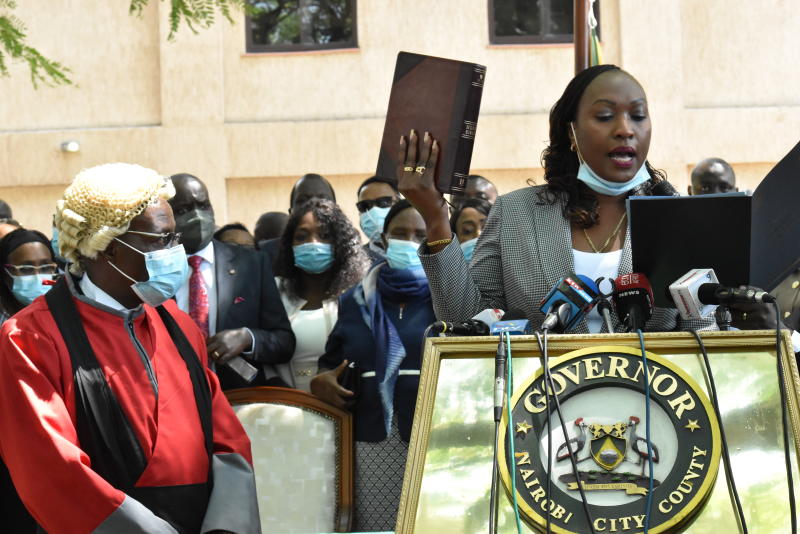 Deputy Governor Ann Kananu is this week expected to be sworn in as the third governor of Nairobi.
The Supreme Court on Monday cleared the last hurdle after it threw out a case filed by former governor Mike Sonko challenging her swearing in.
City Hall's communication office yesterday confirmed that plans were at an advanced stage to hold the ceremony.
"She could be sworn in at any time this week. We are making sure that everything is in order before then," said an official who sought anonymity.
On Monday, the apex court dismissed an application by Sonko ruling that they have no jurisdiction to entertain the suit.
The court also lifted the order it issued 14 days ago stopping her from assuming office.
"The court lacks jurisdiction to entertain the appeal given that his main appeal at the Court of Appeal challenging his impeachment has not been heard," ruled the judges.
The Supreme Court decision marked the end of the road for Sonko who launched a legal fightback not only to stop Kananu from succeeding him but also to quash the proceedings that led to his impeachment in December last year.
It was also a final breakthrough for Kananu to become the first female Nairobi governor after enduring the controversy that surrounded her appointment.
In January 2020, Sonko nominated her as his deputy and forwarded her name to the county assembly for vetting.
However, before the MCAs could vet her, a Nairobi resident challenged the nomination and got a court order stopping the assembly from going on with the process.
Kananu remained in the cold until December 18 last year when Sonko was impeached and the court lifted the order barring her approval by the assembly.
She was subsequently vetted, approved and sworn in as deputy governor, but as she was preparing to take over as governor, Sonko moved to the High Court and obtained orders stopping the oath.
In June, High Court judges Said Chitembwe, Weldon Korir and Wilfrida Okwany dismissed the application and set the stage for Kananu's swearing-in.
The judges ruled that Sonko was to blame for nominating Kananu only to purport to revoke the nomination when he had already been impeached.
But the ex-governor moved to the Supreme Court arguing that allowing Kananu to assume office will deny him a chance to lead the people of Nairobi who elected him in 2017, and had expectation that he will remain their governor until 2022.