KEBS: Contaminated Ceres apple juice not yet released into market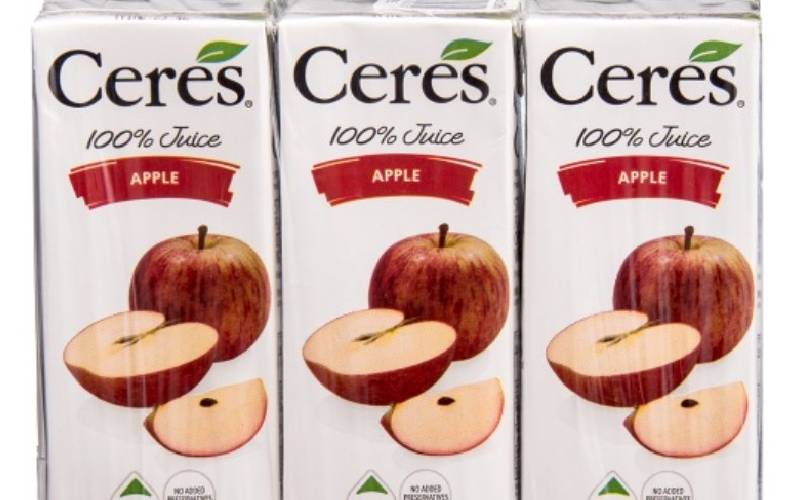 Kenya Bureau of Standards (KEBS) has said contaminated Ceres apple juice which arrived in the country on September 28 from South Africa is yet to be released into the market.
In a statement on Friday, KEBS said it has seized batches of Ceres apple juice at the distributor's depot in Nairobi's Industrial Area after its samples were found to contain higher levels of patulin.
Patulin is a mycotoxin produced by moulds that grow on foodstuffs including dried fruits.
"A team of KEBS officers visited their premises located along Lunga Lunga Road in Industrial area in Nairobi, on Thursday and confirmed that the 300 cases of 12 x 1 litre packs of Ceres apple juice imported from South Africa have not been released into the market," read the statement.
The agency said their team visited the distributor's depot after the juice's manufacturer, a South African firm confirmed that part of the affected juice was exported outside to other countries, including Kenya.
KEBS said it took samples from other batches within the firm's premises for analysis to confirm if they are also affected.
"Applying the principle of extent analysis samples were drawn from other batches of the product from within the premises of Weetabix East Africa Ltd for safety analysis."
The agency said it will conduct further surveillance of similar products in the market to confirm that juices sold in the country are safe.
KEBS has alerted all entry points to be on the lookout to ensure that none of the affected batches gets entry into the Kenyan market.
The agency has now placed juices on the high-risk list, to be released only upon confirmation that requirements have been complied with.
The Comesa Competition Commission in a statement warned consumers to avoid the purchase of the recalled products.
"Pioneer Foods has informed the commission that the recalled products were imported and marketed in (some) member states of Comesa," said the commission.
"In view of the foregoing… the commission would like to inform the general public to exercise caution and avoid the purchase or consumption of the recalled products. If the above products were already purchased, consumers are advised to return the products where they were purchased for a refund or replacement."
The recall came after laboratory tests with the supplier of the apple juice concentrate showed a higher level of toxins.