2021 Nostalgia Street: When Nairobi truly was city in the sun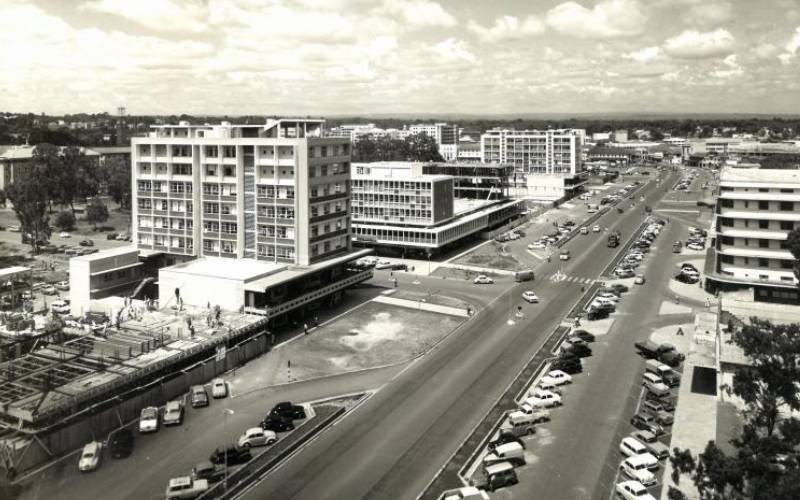 Nairobi has always been a city addicted to nostalgia. The more time passes by, and superhighways and 'sky expresses' and infrastructure projects snarl-up traffic and everything gets noisier, the more Kenyans' hearts ache for a time when everything was quieter and the traffic lighter, and Nairobi truly was the 'city in the sun'. We take you to the heart of the CBD when it was just called 'town,' and before this city became 'KaNairo,' in this two-part series
Jeevanjee Gardens
I had just come from booking a shuttle ticket for Moshi the other afternoon at Blue Horizon travels, just opposite Jeevanjee Gardens. Turning left into Muindi Mbingu street, I ended up in 'House of Leather' to look for a gift for a friend's upcoming special birthday.
Out of the blue, even without the smell of moshi, there was the onion scent of teargas, stinging the nostrils and pricking one's eyes. First thought – 'University students (UoN) on the rampage!'
As it turned out, it was just the police from Central Police Station, clearing out 'crowds' from Jeevanjee Gardens, a ritual I was assured by Moses of House of Leather happens every afternoon. When did Jeevanjee, an iconic city space for preachers, and the jobless idlers they rant at, become a place to be 'cleared' by the police?
Smoked out of House of Leather, gasping in the acrid air, I noticed Jumia Online actually has an offline presence on the same street. And the answer came. Maybe when shopping went online, starting to make boutique clothing-and-shoe shops in Nairobi more obsolete.
Or perhaps when campus students cut on the street riots – and became keyboard warriors?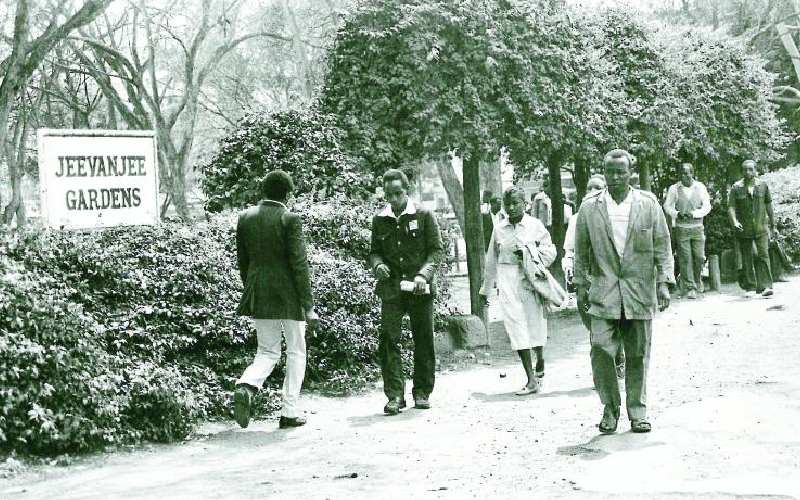 Club Hollywood
Turning right into Mokhtar Daddah Street, you find the place where reggae stopped, forever!
No, the Court of Appeal did not relocate here – it is still on City Hall Way. But this is where the real reggae stopped -- a walled-off building, where Club Hollywood, a reggae dance club, used to be.
Charles, aka DJ Cool Radio Tops, remembers with nostalgia how folks, mostly from Eastlands, used to pack 'Hollywood, including some criminals, who used to relax there amidst the teenagers and pot-heads.' This was before reggae went uptown, with middle-class folks packing clubs on Mondays and Thursday nights to 'listen to reggae.'
'Club Hollywood' building had to be walled off, because street urchins had made it their 'base' – robbing people on the streets, assaulting women in the CBD, then running into its fortress.
As an ownership dispute plays out over the land, inside those walls, the spirit of reggae remains entombed.
Salvation army territorial headquarters
At the extreme end of Monrovia Street stands an unimposing squat building, with bricks the colour of dark solid chocolate that, when you walk inside, explodes into colours of dark blue skies and strawberry so pink a toddler may be tempted to lick its walls.
Such an enfante terribl'e would be licking walls exactly 100 years old, for as the plaque says, the building was erected through the efforts of one Commissioner J. Alister Smith and his wife Elizabeth, who ministered first in Pangani, then Ngara, before putting up this building on then 'Quarry Road' (Monrovia Street).
If the Salvation Army now seems quaint, then we can also say that the days, as in the '80s and '90s, of Mormons and Jehovah Witnesses knocking on doors to evangelise, are also over – not only because Earth is hard, but these streets of Kanairo are unsafe; and the middle classes no longer welcome wandering minstrels, or even ministers of God, into their homes – to listen to the good words from the Gospel over a polite pot of tea.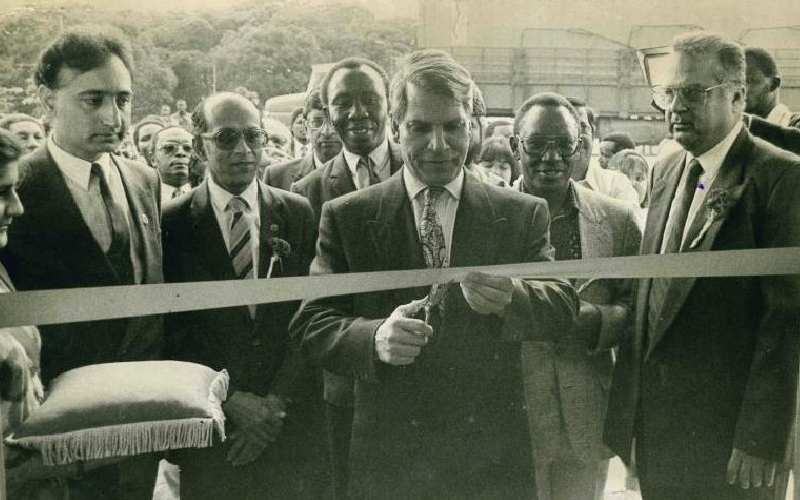 Peugeot & Volvo showrooms – Koinange street
College House marks off K-street at the top like a bookmark, as one gets into University Way.
Back in the day, for the aspirational, there was a motor dealer in the adjacent buildings, with mostly Peugeot and Volvo vehicles on display for the affluent classes of Nairobi.
Daily you would spot motor-heads, some students and a few fellows who would never even own a bicycle in their lives, staring at these sleek and solid brands imported from the heart of Europe, especially back in the eighties. Models like the French Peugeot 504, beloved of secret police in that era. And the Swedish Volvo 240, the colour of yellowed egg, that the late academician Prof Chris Lukorito Wanjala once chuckled that he 'bought out of the showroom (when a director of KQ) and across one street to the parking lot of the University of Nairobi...'
SNO cream dragons
If after you pass the ultra-modern Bliss Clinic and still see Volvo 240s in your head, or as you pass Number 7 pub where one Chris Msando drunk his last four years ago, and you still see the Chinese restaurant that used to be there – Dragon Pearl or something – then you are still living in Nostalgia Street.
That 'Dragon Pearl' had crimson curtains, like billowing blood, long before any Chinese contractor arrived, or billions in loans came blowing in from Beijing, to make roads that make it impossible for a motor vehicle to turn right into Moi Avenue, without going to Globe roundabout.
Long before the mysterious and macabre murder of IEBC IT honcho Msando after leaving that venue, there were sinister stories of the kind of figures who ate at that restaurant that Number 7 now sits at – most involving an urban legend called 'Biwott'.
But for things that are nice, like ice-cream, there was always Sno Cream, a must stop for Nairobi teens and college goers on Saturday ice-cream dates in those days of innocence; as well as parents with kids on Sundays, whether on their way to the Fox Drive-Ins on Thika road or Uhuru Park.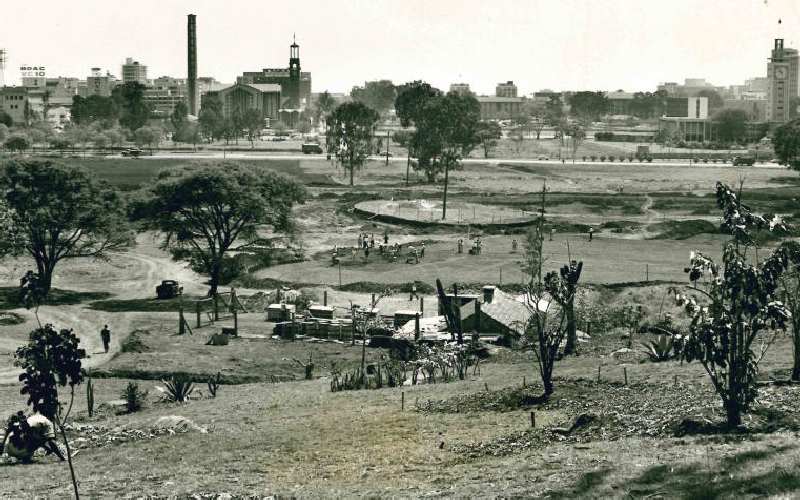 'Sno Cream' is still there, right on the same site, with even eerily reminiscent ice-cream on offer. But a cone vanilla doesn't taste the same in 2021 as it did in 1991.
All sentimentalia is sepia-toned, with a little tang of the stale in the tongue, to the harder adult.
Hard Rock café at Barclays plaza
It was the hippest place to be on Friday nights, Hard Rock Café on Loita Street, where people like Eric Wainaina used to perform in a band called 'Five Alive' that last kicked live properly in 1995. The menu was also quite costly, and with guitars and Elvis pics on the wall, it had a definitive rock-n-roll vibe.
The building is still there, but it changed from Barclays Plaza to Absa Towers as the British ceded the bank chain in Africa to South Africans, which summarises the global village now.
Hard Rock disappeared, moved downstairs, and became a defiant and cool basement pub, club and restaurant called 'The Blues' – a soothing subterranean world of music, food, art acts, like a lost Atlantis beneath the terra firma of Noisy Nairobi.
The newspaper and magazine Muhindi vendor at the 680 hotel.
It became a car-and-rental, and though the 680 is still there, one just has to look at the lot where Simmers used to be, and realise how an entire iconic way of not just being, but place, has vanished at the heart of the city... leaving only the cartography of a reliable memory.
Luthuli Ave
Former Nairobi Governor Mike 'Mbuvi' Sonko will mostly be remembered for his madcap antics on the streets – like doing press-ups on the road and Kung-fuing metal shutters to show his political anger.
But two years ago, in July 2019, he did open a Luthuli Avenue that, for just Sh24 million from UN-Habitat, had undergone a total transformation. The matatu-owning Sonko had actually cleared Eastleigh mathrees from this avenue, given the businesses a forced facelift, and tried to make it a haven for weary, wandering citizens by introducing benches, and a few brave trees, to Luthuli Avenue.
Prior to that, the same UN-Habitat had declared dusty, shop-lined Luthuli Avenue one of the 'most congested streets' in East Africa. There was a good reason for this.
Luthuli Avenue was where Nairobians went to buy their electronics – TV sets, radios, fridges, and the like. Way back in the 1980s, it was also where you got your Casio and other calculator watches.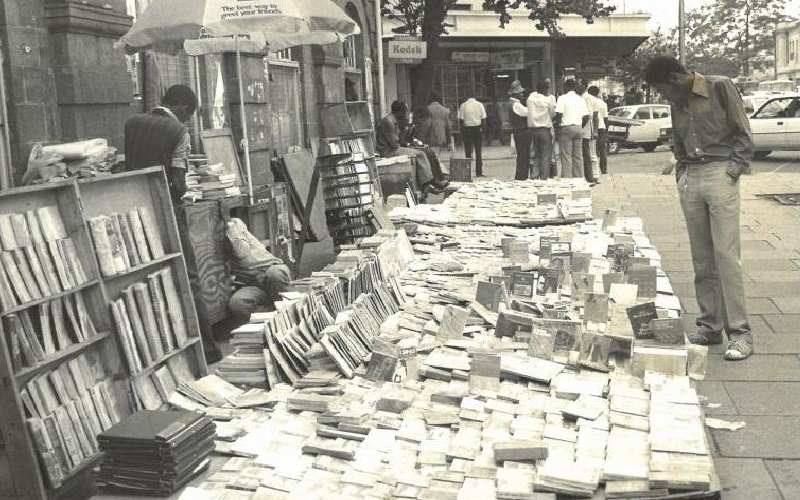 Time had literally stopped on Luthuli Avenue, until the county government of Nairobi and UN-Habitat got its clock tick-tocking into the 21st Century.
Now when you go there, it has banners of smartphones lining the streets, like the flags of some victorious armies of modern-day technology – Techno, Samsung, Oppo, and so on. Some may sing of Luthuli Avenue as having modernised, but the only opportunities left there are of cellular telephony.
Bookpoint
for this writer, for many decades, this was simply the greatest piece of real estate in the city by a mile. During the attempted coup of August' 82, almost all shops and stores along Moi Avenue were broken into and looted, mostly by hyped-up university students.
Nairobi, the capital city that had been the epicenter of an attempted putsch changed its character, literally overnight. Following the crazy looting and widespread destruction that had taken place, once bitten and twice bedazzled traders and shop owners resolved never again to risk their properties and goods.
In a brilliant article by poet–architect Alfred Omenya titled, 'City of Gates', professor laments these change of citi – identity. "During long and safe hours at night, people, lovers especially, would walk the city streets staring in at the delights displayed behind glass windows. Until then, (1982), Nairobi had been a window shoppers' paradise. These open displays were now replaced by gray (and) ugly metallic shutters".
Omenya bemoans these 'afterthoughts' as he recalls them, as 'denying the eyes the opportunity to enjoy their virtual pleasure of 'The Unreachables 'contained inside the shops!'
The citizen is thus denied the Capacity to Aspire through being an 'aspirational' window shopper.
But Bookpoint was not molested, leading to the infamous axiom that 'Kenyans do not like to read.'
What looters couldn't pillage, or multi-million libel lawsuits destroy, was ended, simply, by death.
A Bookpoint founder passed on, intergenerational disputes arose on inheritance/ continuity issues, so the parcel was sold off, and where there were books now there is a bank.
As the Chinese say, without nostalgia, when ye reach the last page of the story, you close the book.