Estonian President Kersti Kaljulaid: How digital technology transformed my country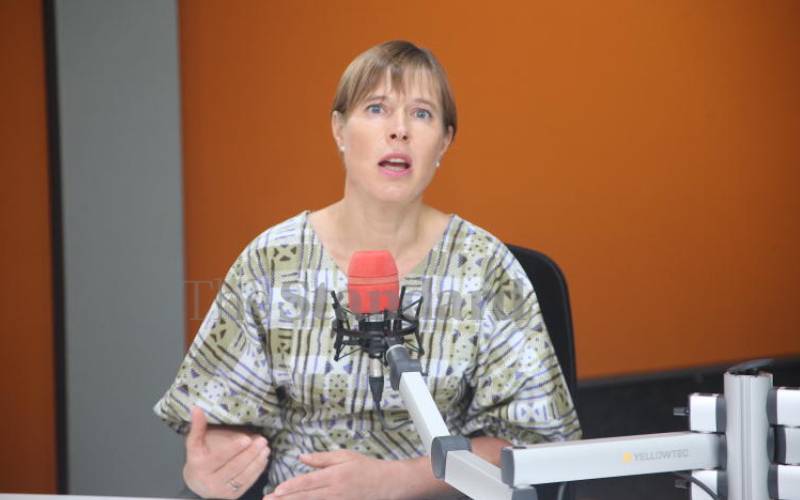 Visiting Estonian President Kersit Kaljulaid says nations succeed when they do things differently.
Appearing on Standard Group's Spice FM morning show, The Situation Room, the Head of State of the world's most digitally-transformed society said Estonia had managed to exit from middle-income rank to a lower level rich country.
This, by embracing digital technology while developing strong institutions.
Institutions, she said, guarantee freedom and people get creative with freedom.
"Thirty years ago, we regained independence from Soviet occupation, people didn't have bank accounts and didn't pay taxes", she said.
The average monthly pay was $30 (Sh3,295) but it is now €1500 (Sh195,000).
She said the government borrowed a leaf from the private sector, especially the banks, which went online in 1994. The government applied a similar strategy to its tax collection.
"In Estonia, we don't differentiate between the private sector and public sector service delivery. Now public services are offered online," she said.
"There are no papers in our government. Everything is digital!" she said, adding every citizen uses a digital ID to access both private and public services.
In her view, you can grow a digital generation in ten years.
Kenya she said was on the right digital track which her government and Estonian firms were entering into partnerships with public and private sectors.
She was, however, of the opinion that advances in digital technology couldn't stop vices such as corruption.
"Digital transformation alone cannot eliminate corruption. You will only have efficient criminals."
The answer to graft, she said was strong independent institutions - police who can arrest mayors, systems of removing indemnity from corrupt members of parliament and so on.
President Kaljulaid also said a vibrant media was essential in fighting social ills.
She said establishing embassies in Africa was not a priority as her country was very small with a population of 1.3 million people. In Kenya, the eastern European nation is represented by an honorary consul.
"We don't have to have a couple of houses [in foreign capitals] and four limousines," she said in response to the interviewers.
Estonia, she explained, would rather spend the money in building and expanding partnerships with Africa.
Regarding her policy of encouraging foreigners to work in Estonia (which has a workforce of 650,000) through E-residency, she said the only issue was where the workers were taxed and which citizens enjoyed social services from such taxes.