Why we deported Turkish man Harun Aydin – Interior CS Fred Matiang'i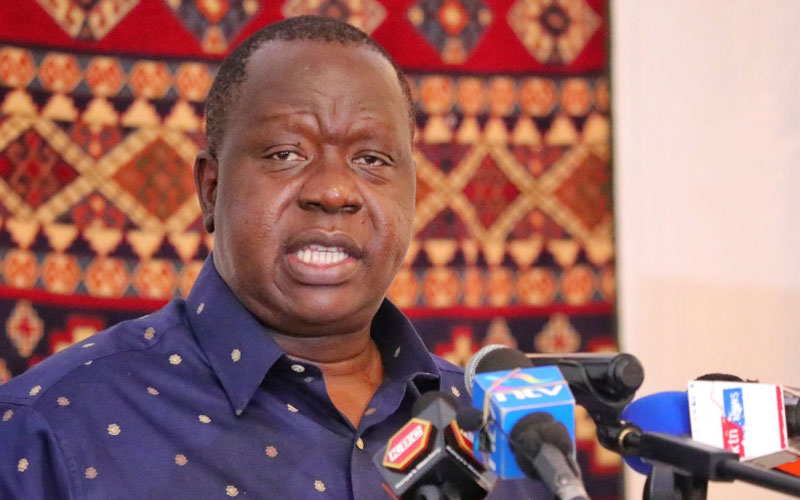 Interior Cabinet Secretary Fred Matiang'i says embattled Turkish national Harun Aydin was deported over money-laundering links and illegal movement into and out of Kenya.
Appearing before the National Assembly's Departmental Committee on Administration and National Security on Friday, August 13, Matiang'i said an analysis of Aydin's frequent movements into and out of the country, indicated he had close links with foreigners involved in money-laundering.
"The Turkish national applied for an investor's work permit Class G on November 24, 2020," said Matiang'i.
According to the minister, Class G work permit allows one to solely operate within Kenya, and under the Kenyan law.
Aydin received the permit on June 25, 2021, allowing him to run Unit 2HA Investment Energy Africa Limited, a firm dealing in energy-related business.
Matiang'i says a subsequent examination of Aydin's work permit documents indicated he was yet to receive formal contract that allows him the freedom to operate uninterrupted.
"He (Aydin) provided the immigration department with a contract stating that he was allowed to work in the energy sector in Kenya. We have, however, discovered that he presented a dummy contract, [and not the genuine approval]," said the CS.
According to the minister, Aydin's "questionable" permit and dealings were discovered when the State monitored his frequent trips into and outside Kenya.
"When a work permit is given [to a foreigner], when they make movements, we [in Government] know and we can tell what they are doing," said the CS.
"In tracing Aydin's movements, we discovered he was moving around, a lot. At one time, he was in Goma, another time Sudan, Zanzibar, Entebbe, among others," said the minister, who suggested Aydin's movements might have been triggered by "suspicious" involvements.
The CS said the Kenyan Government liaised with security agencies in the countries that Aydin visited, and an alleged link to money-laundering was established.
The minister said Kenya and the nations the Turkish national visited signed a security and intelligence information sharing agreement that allows the foreign countries to flag a person from Kenya who is breaching laws in those countries.
"One of our sister security agencies flagged this gentleman for two reasons. One, he was travelling regularly around the region; and two, he was keeping the company of people involved in money-laundering," said the Interior ministry boss, adding: "One of his (Aydin's) associates in a neighbouring country had [earlier] been arrested in another country while bribing a Government minister."
The CS stated that Aydin's movements also smacked of someone engaging in illegal activities.
"He has left Kenya twice without a stamp indicating that he had previously arrived in the country. That means: on two occasions he was sneaked into the country."
The Turk was arrested on Saturday, August 7, upon arrival at the Wilson Airport in Nairobi. He was detained at the Anti-Terrorism Police Unit offices on Ngong Road, and deported at 4am on Monday, August 9.
CS Matiang'i says Aydin wasn't arraigned and prosecuted in a Kenyan law court because of the good relationship that Kenya and Turkey enjoys, which the former did not want to jeorpadise.
"Security agencies in our country were in touch with security agencies in his country [so that we could take the most appropriate action]. We do that (involve a foreign country when their citizen is linked to an unlawful activity in Kenya) on the basis of mutuality. That happens all the time.
"We surrendered him to his country so that they could deal with him. Turkey is one of our prominent [trade] partners and our relationship with them is growing. It is a country we have close relations with."
Deputy President William Ruto on August 7 said on Twitter that Aydin, whom he was to travel with to Uganda on August 2, was being unfairly targeted by the Kenyan Government over links to him.
"Turkish investor Aydin Harun is a victim of top-down arrogance bred by patronage and cartels that criminalise enterprise. Importers' goods declared contraband, Africa Spirits closed, Keroche harassed, [and] now [an] investor with valid papers [is being] labelled a terrorist. Tragedy of political pettiness," he said.
After Aydin's deportation on Monday, August 9, Ruto, again, tweeted: "I have just talked and apologised to Aydin Harun on behalf of the Government of Kenya. Aydin was politically arrested, tortured and falsely profiled as a 'terrorist', but later asked to fly out not to ashame those involved. Political pettiness is expensive, dangerous and will destroy our economy. Shame."