36 eyeing IEBC top jobs sit first tests ahead of oral interviews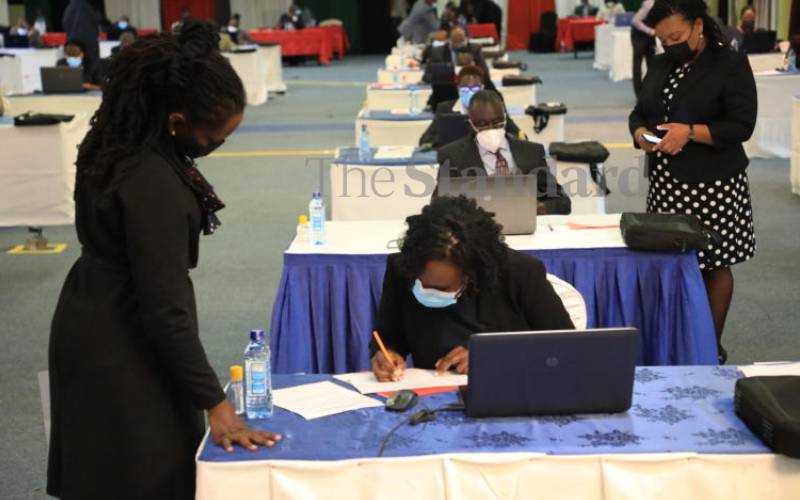 Thirty-six candidates eyeing four slots at the Independent Electoral and Boundaries Commission (IEBC) yesterday took psychometric tests.
In one test, they were presented with scenarios of what could happen during an election, and asked how they would handle the situation.
Selection Panel chairperson Elizabeth Muli said the tests will enable them assess the candidates' abilities to analyse information, solve problems, make informed judgments as well as their behavioral tendencies.
She said the tests will also help assess levels of emotional intelligence, a key component of leadership.
"A psychometric assessment is only a part of the process and not an end in itself. It provides information about a candidate that allows for a more objective and rich review process during the selection process," Dr Muli said.
The exercise at the KICC lasted three hours, with the morning session running two hours from 11am and the afternoon test starting at 2pm. The first three candidates will have their oral interview on Monday at the same venue.
A psychometric test includes an evaluation of skills, knowledge, personality traits, attitudes, and job and academic potential.
The aptitude test saw candidates presented with scenarios of what could happen during an election, and were tasked with explaining how best to handle the situation.
The shortlisted candidates include Dr Salim Ndemo, who served at the Public Service Commission for seven years, former Salaries and Remuneration Commissioner Sellestine Anna Mbii-Kiuluku and Murshid Abdalla, who served at the National Police Service Commission.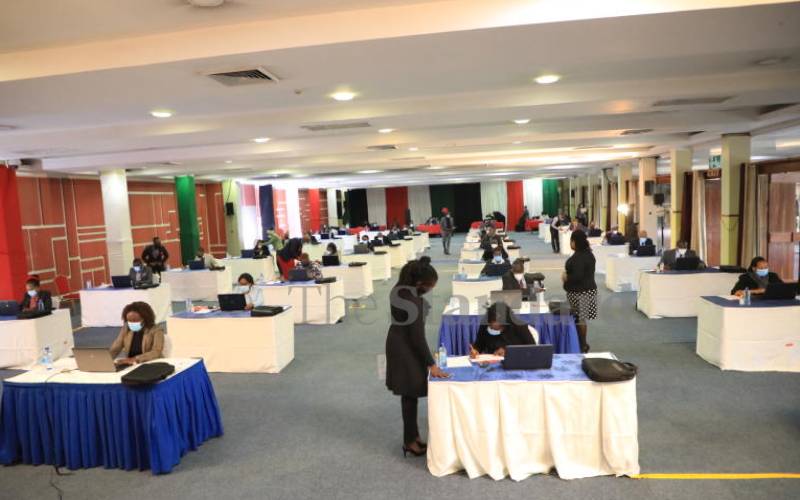 Others are Prof Joseph Naituli and Dr Rose Musyoka, who sat at the National Cohesion and Integration Commission and the National Land Commission respectively.
Also in the contest is former Gwasi MP Felix Nyauchi, Justus Nyang'aya, who was Amnesty International director, and former Kenya National Commission on Human Rights chairpersons Florence Jaoko and Kagwiria Mbogori.
Others candidates include Dr Catherine Kamindo and Naisiae Tobiko, who are senior officers at the IEBC, and Kenya's Deputy Permanent Representative to the UN in New York Koki Muli, among others.
A total of 669 applications were received by the panel for the posts.
Mulle Musau, the national coordinator for Elections Observation Group, lauded the exercise.
"It is important for IEBC commissioners to tick essential boxes because of the sensitive roles they hold. We have seen in the past the character of these commissioners being questioned and it is important for such things to be put to rest," said Musau.
The vacancies arose following the resignation of four commissioners, leaving only chairman Wafula Chebukati, Abdi Guliye and Boya Molu in office.