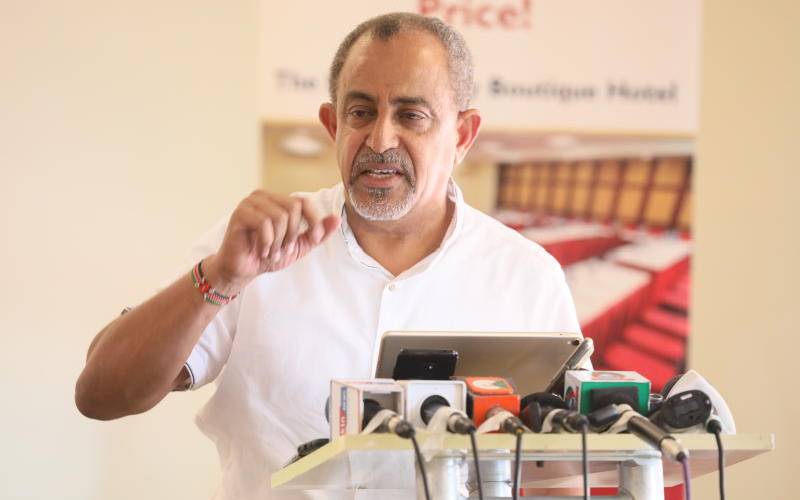 A decision by politician and business tycoon Suleiman Shahbal to join Orange Party has complicated Governor Hassan Joho's succession plan.
Shahbal's move to ditch Jubilee Party and join ODM is expected to trigger a scramble for the party ticket in the race for the Mombasa governor seat ahead of 2022 elections.
His decision is also seen as an acid test for Joho, who is torn between backing Shahbal, his long-time loyalist Mvita MP Abdulswamad Nassir and his deputy William Kingi.
Since last year, after the duo buried the hatchet on January 15, 2019, Joho's and Shahbal's relationship has blossomed sparking debate in the county leadership's succession battle.
A former fierce critic of the governor, Shahbal has turned out to be a great admirer of Joho, hailing him as an "innovative leader".
And his dalliance with Joho led to him being handed a Sh6 billion estate project, which sparked debate that he could be Joho's preferred successor.
The duo has in the last two elections spent huge sums of money in the race for the Mombasa governor seat. They faced off in the 2013 and 2017 race where Joho emerged the winner while Shahbal came second.
On Saturday, Shahbal declared his unwavering support for ODM leader Raila Odinga. "Politics will be at two levels in 2022. At the national level, there is no question as to who we will send forward. It is Baba (Raila)."
Seek refuge
"I engaged in a vicious bullfight with Joho in 2013 and he pushed me out of ODM. I was forced to seek refuge in another house. But I am now back home. I am removing my red sportswear (for Jubilee) in the sitting room and I am ready to enter the bedroom," he said.
But observers say Shahbal has to go an extra mile and build trust with Joho and ODM members for him to remain relevant in a party that he has shunned for the last 10 years.
Former Kisauni MP Ananiah Mwaboza said he did not think Joho would back Shahbal's gubernatorial bid due to the years of mistrust.
"He (Shahbal) is running for the ODM wave but I doubt whether he will get Joho's endorsement because the governor will be bothered less about Mombasa politics as he exits the stage next year," said Mwaboza, adding that Shahbal should craft his own political agenda.
University don Hassan Mwakimako said Shahbal could have shifted political camps so as to get an endorsement from the ODM party, but warned the political dynamics could have changed in Coast with the entry of the United Democratic Alliance (UDA), a party associated with Deputy President William Ruto.
His rivals in ODM, Nassir and Dr Kingi, have grudgingly welcomed Shahbal to the party.
"I welcome Shahbal provided that he does not defect before the 2022 polls. I also challenge him to first apologise to Raila and Joho for his past utterances," said Nassir.
Kingi said it was Shahbal's democratic right to defect but noted that he may quit soon. "He has lacked a firm political stand in the past."