More calls to increase Judiciary funding as Koome receives instruments of power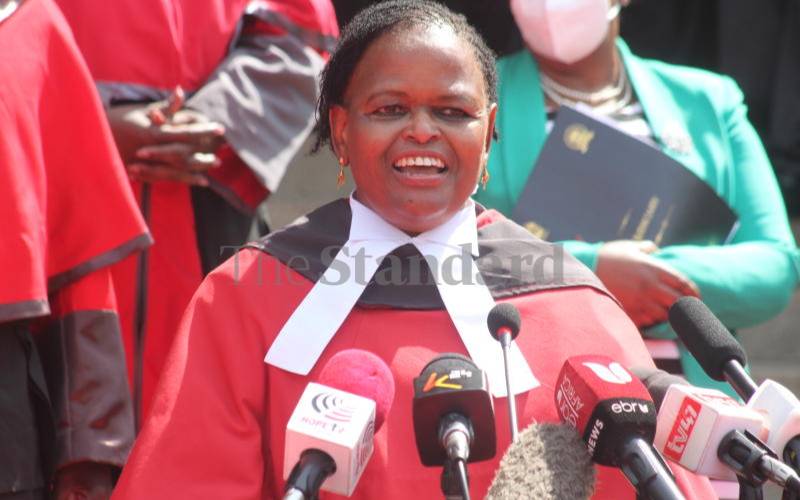 Calls to increase Judiciary funding dominated the speeches at the ceremony of Chief Justice Martha Koome's office assumption.
Led by the Chief Justice and Chief Registrar of the Judiciary Anne Amadi, the speakers called for the executive to increase money allocated to the third arm of the government saying their operations had been greatly affected.
"As an institution that generates Sh3 billion annually this revenue can be an important first step in addressing some of the challenges we currently face," Chief Justice Martha Koome said in her speech.
The CJ called for the operationalization of the Judiciary Fund which she said would help in addressing some of the budgetary gaps.
CJ Koome said that her legacy will be built on her championing for additional funding to the Judiciary, which she says will help it perform its duties well and set up more structures that allow easy delivery of Justice.
She said that with more funding the Judiciary will set up High Courts in every County and a Magistrates Court in Sub-Districts.
"My role is to advocate for the resources to ensure that the structures needed are physically present at every court station so that every player can enjoy the fruits of this system," she said.
CJ Koome said she will work with stakeholders to address the breakdown in the delivery of justice.
"I look forward to working with the National Assembly and all stakeholders to help us develop systems and mechanisms that facilitate greater efficiencies along the justice chain and especially between the arms of government," she said.
CJ Koome said she will also work to ensure the Judiciary is independent, calling on all stakeholders to join her in the cause. "One area we should all guard is the independence of the Judiciary," she said.
The chief registrar of the Judiciary Anne Amadi said that the budget cuts targeting the Judiciary are hurting them.
"Our annual budgetary allocation averages less than one per cent of the approved national budget which is often subjected to further cuts as the financial year progresses leaving us with mere nothing for the development of our facilities," she said.
Compared to other arms of governments Amadi said Judiciary is the only one that is unable to fulfil its plans in service delivery. "The funding gap is most pronounced in our development budget and this has greatly affected our plans to bring services close to the people," she said.
Interim chairperson of the Judicial Service Commission Professor Olive Mugenda said "Most of the challenges we face today are due to the limited funding the judiciary and JSC receive from parliament."
She called on the CJ to champion for more funds to be allocated to the judiciary saying, "Increased funding will address most of these challenges and enable the Judiciary and JSC to meet their constitutional obligations."