Police officers found guilty of manslaughter plead for leniency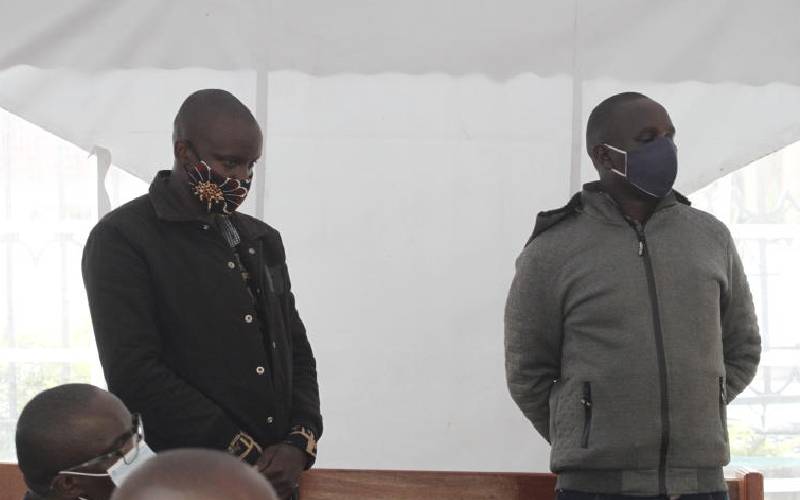 Two police officers found guilty of manslaughter for killing a woman inside her car have pleaded for leniency and non-custodial sentence to take care of their families.
William Chirchir and Godfrey Kirui told Lady Justice Stella Mutuku that they are remorseful for their careless action that resulted in the death of Janet Waiyaki on May 20, 2018 at City Park in Nairobi's Parklands area and asked the judge to save their careers by forgiving them.
The two in their mitigation submitted that they did not intend to kill Janet and that they were encountered with a difficult situation of suspected terrorists after the woman and her nephew, Benard Chege, refused to open the car's doors and attempted to flee.
"The two officers are deeply sorry for the unfortunate incident and if they could have the time turned back, they would have handled the situation differently. They have young families who rely on them for upkeep and are asking for lenient, non-custodial sentence," said their lawyer.
Chirchir, 36, said he has a young family of two children and an elderly mother who is ailing and needs his support. Kirui, 28, said he has only been in the police service for six years and still learning, and pleaded with the judge not to hand him a lengthy jail sentence to save his career and the lives of his family who entirely depend on him.
Justice Mutuku on Tuesday found Chirchir and Kirui guilty of manslaughter, ruling that although the officers acted recklessly in shooting Janet, they could not be accused of murder since they were operating under a threat of terrorism which required extra attention.