Government, chemicals company finally strike deal on Mukuru land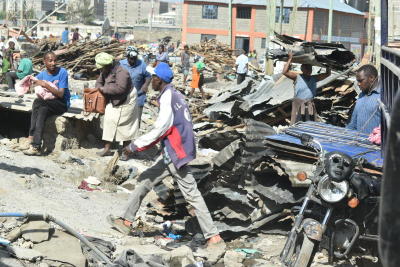 Orbit Chemicals Industries Limited, which is laying claim to Mukuru Kwa Njenga land, has struck a deal with the Government that would see evicted residents resettled on the disputed parcel.
This follows the multi-ministerial efforts by Interior and Land dockets, with Cabinet Secretary for Lands, Farida Karoney, saying that the regularisation of ownership by private citizens has kicked off.
The Mukuru Kwa Njenga locals were evicted from the land in the last quarter of 2021. Neither the National Government nor the Nairobi Metropolitan Services took responsibility for the mass demolitions.
Locals alleged that a wealthy private developer was out to dehouse them from land that they'd lived on for decades, only for clarity to emerge much later that the chemicals company was claiming the disputed parcel.
Amnesty International reported that around 40,000 people were affected by the demolitions.
Following the State intervention initiated by President Uhuru Kenyatta on January 6, Orbit Chemicals Industries Limited has now agreed to surrender the land on condition that it receives a compensation.
The stretching of the demolitions occurred on the back of expansion of the 30-metre wide Catherine Ndereba road that links the Nairobi Expressway to Industrial Area.
The latest compromise position would bring to an end a land dispute that has dragged in the courts for ages.
The Interior ministry says the resettled locals would have to pay a lease fee to the Government for an unspecified duration.
The State intends to recoup money used in compensation from the lease charges.
"There won't be a uniform fee charged as lease. We understand that different households have different disposable incomes. Therefore, the Government will assess each household's financial capability before setting a lease figure that would be paid over time," said a senior communications official at the Interior ministry who spoke to The Standard in confidence.
The State estimates that evicted locals would be resettled by early February, 2022.
A priority would be given to those currently sheltering in makeshift tents.
The expansion of the 27-kilometre Catherine Ndereba road, however, goes on uninterrupted, Matiang'i said.