Self-confessed criminals turn to Mary Akatsa for repentance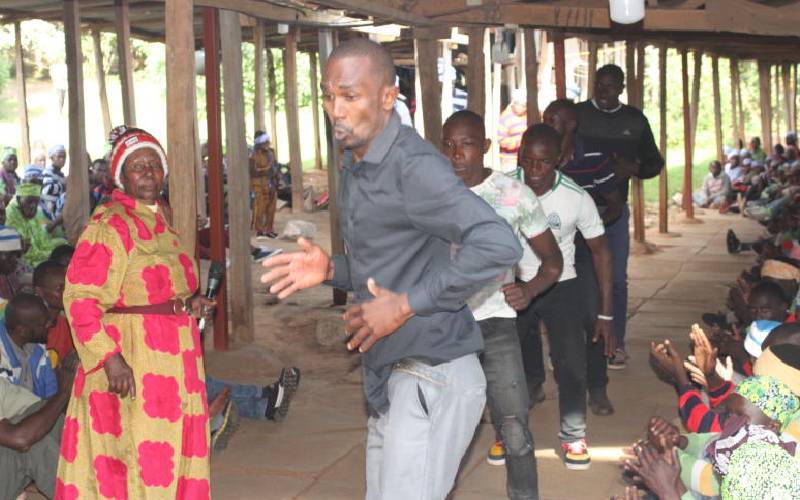 About 20 young men who said they were hardcore criminals, on Sunday, presented themselves at Jerusalem Church of Christ in Kawangware, Nairobi, "to repent their sins and ask for forgiveness".
The men, who said they had been involved in crime for many years, were later prayed for by the leader of the church, self-proclaimed prophetess Mary Akatsa, also known as Mama Africa.
The men who had come from Gachie in Kiambu, Kibera, and Kawangware in Nairobi are aged between 18 and 35.
One of them, from Congo in Kawangware, said he decided to change his ways after six of his friends were gunned down by the police.
He said he joined crime due to the tough economic times occasioned by joblessness.
"Life became tough for me pushing me into crime. I have been a hardcore criminal for the last six years. I killed many people in the process but after losing my friends who were shot dead by the police, I have decided to change. My wife also ran away because she couldn't put up with me due to poverty and a life of lack," he said.
Another one Alex Ndunda (not his real name) told Akatsa that, at one point, he had been contracted to kill her.
He said some people who did not like her popularity in the area contracted him and his friend to eliminate the preacher. He claimed that they took up the assignment but pulled out along the way.
Ndunda said he decided to turn to God after five of his friends were killed by the police during a botched robbery in Karen, Nairobi.
"Those who were killed included the friend who had been with me on the mission to kill Akatsa. I came here, repented, and I'm now doing genuine business," said Ndunda.
Akatsa said she would not take them to the police station because they had chosen to repent their sins publicly and receive Jesus Christ as their saviour.
She promised to help those unemployed to get jobs and start businesses.
"Now that you have repented and so you don't go back to crime, I will open for you a small business. I will buy you motorbikes so you can do boda boda business," said Akatsa.
She added: "Most of these youth go into crime because of economic hardships. If they have nothing to do, they will go back to crime even after repenting like they have done here today. I will use my connections to help them gain employment."
The preacher also warned the youth against allowing politicians to use them to cause mayhem as the country heads into an election.