Nairobi drainage mess blamed on encroaching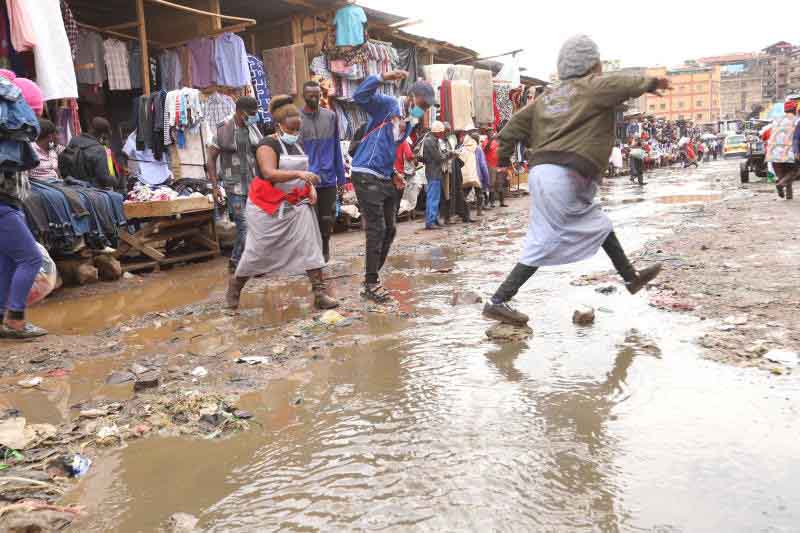 When it rains, it pours. This is a situation many Nairobi residents relate to well.
Every downpour means trouble in the city; from traffic snarl-ups, to muddy markets and flash floods not only in estates, but also on roads.
The situation worsens in places with poor sewerage systems. More worrying is how some roads turn into pools.
And now the construction of the Express Way has added more pain to motorists. This was the case over the weekend between Uhuru Highway and City Cabanas, where some vehicles were submerged at flooded sections of the road.
Kenya National Highways Authority (KeNHA) reacted to the problem, through their Facebook page, expressing regrets for the inconvenience.
"In light of recent floods along Uhuru Highway and Mombasa Road (A8), the Nairobi Expressway project team has dispatched excavators to open up the drainage and dredging in the affected sections," said KeNHA.
KeNHA further explained that the flooded areas are being barricaded to enhance safety of motorists.
Over the weekend, many motorists experienced difficulties driving on huge pools of water that had gathered along sections of the highway. Some vehicles broke down and stalled.
But even as some motorists and tenants counted their losses, experts now link the mess to poor planning more so when massive projects such as the Express Way are launched.
Town planner expert Mairura Omwenga says as the city expands, the flood challenge becomes worse where town planning is not properly done. He says as buildings, roads and other infrastructures come up, open grounds necessary for water to sip in are reduced.
"The reason why when it rains, it floods is because open grounds that act as filters and absorb water are occupied, leaving no space for the water to penetrate," said Omwenga, adding: "We hope the plan and design incorporated that element because as we put up these projects, drainage is extremely considered. Sadly, in most cases, when such projects are coming up, drainage is forgotten."
The expert said such challenges are also experienced when existing drainage systems are not maintained or rehabilitated. He cited areas where the systems have been clogged by plastic wastes.
"In some cases, those tasked with cleaning such drainage just dump the dirt not far away. The system may be good, but if not properly maintained, then it cannot be of much help," he said.
And Kenyans must prepare for more rains. Assistant Director of the Kenya Meteorological Department, in charge of forecasting Ezekiel Njoroge, says: "We can have a storm that might reduce between the third and fourth week of December. The floods we are experiencing are caused by storms due to global warming and climate change."
Extreme weather conditions either lead to drought or flooding.
In such situations, Njoroge says the best way is to work with stakeholders like county governments and other relevant authorities so that they prepare in advance.
At personal level, he says people should never ignore daily updates to avoid being caught unawares.