Mitumba traders call for speedy probe after another Gikomba market fire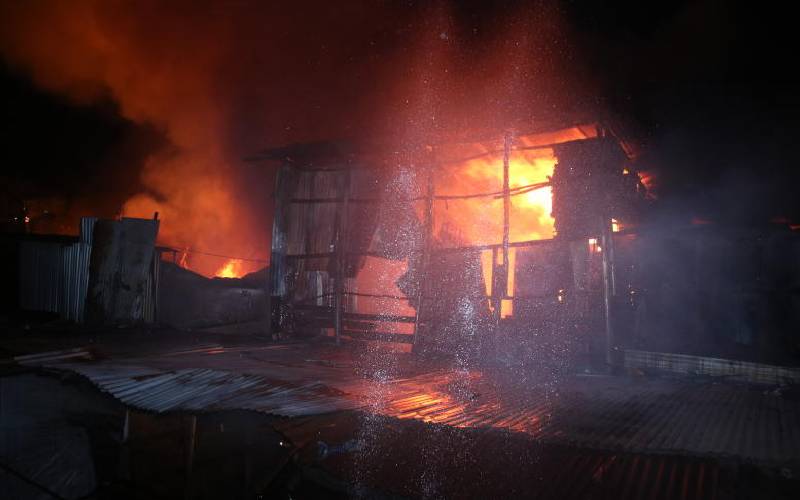 Mitumba Consortium Association of Kenya (MCAK) has challenged the national Government and Nairobi Metropolitan Services (NMS) to act on rampant and frequent fire infernos in Gikomba market.
In a statement sent to media houses on Monday after dawn fire razed a section of Gikomba market destroying goods of unknown value, MCAK has blamed the government and NMS for doing little to protect the market that employs close to 2 million Kenyans.
"There are efforts to kill the Mitumba sector which supports millions of Kenyans and has been a contributor to the economy," read the statement.
The traders said in 2019 alone, Mitumba trade paid over Sh19 billion in taxes and duty to the exchequer hence the need to protect it.
The traders also want the outcome of the investigations into the previous fires made public to uncover land grabbers using proxies to set the market ablaze.
They wondered why the government was yet to release the outcome of the investigation into an August fire that destroyed a section of the market in August this year.
"The outcomes of investigations as a result of frequent fire outbreaks in Gikomba as promised by the Government in August this year should be released to curb the fires.".
The traders also appealed to Nairobi County elected leaders to defend the livelihoods of their constituents which are frequently at stake due to the never-ending fire outbreaks.
In August this year, the government promised to install cameras; construct a perimeter wall and access roads, erect floodlights and drill boreholes as security and safety measures to protect the market from recurrent fire menace.
MCAK asked President Uhuru Kenyatta to declare Gikomba Market as an open-air market.
The traders blamed the Nairobi County firefighters' late response for more damages, losses, injuries and loss of lives among the hardworking second-hand clothes and footwear traders.
Faces eviction
The Monday fire comes after the court gave NMS the nod to evict over 170 traders operating in a section of the market to pave way for the expansion of Pumwani Majengo Health Centre.
According to the traders they salvaged nothing after arriving at the market to find the part they used to keep their goods and commodity has been razed.
In the last three months, the Gikomba market has witnessed three fire incidents leading to a loss of millions of shillings among traders.
Kenya's oil dream: it's now or never
Kenya's oil project has experienced major delays, denying the country the chance of joining the league of oil producers as well as the benefits.