Surveyors raise alarm over substandard buildings in Nairobi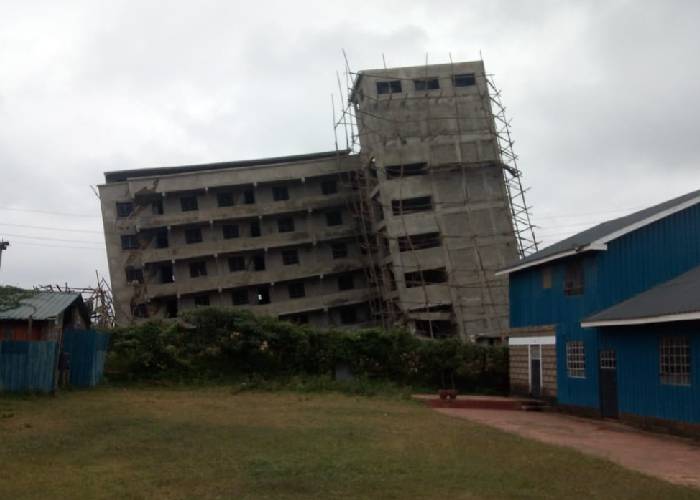 Surveyors have raised an alarm over substandard houses being constructed in the city.
According to the Institute of Quantity Surveyors of Kenya (IQSK), the developers sought the services of unlicensed persons to cut construction costs.
IQSK urged developers to avoid shortcuts when building houses to avert losses from collapsed or demolished buildings.
"The leaning five-story structure in Kinoo might have been averted if thorough compliance had been observed," said IQSK president James Munene.
He urged professionals to carry out their duties diligently.
Munene said all practitioners and respective authorities know why our buildings are collapsing.
"Equally, we all know what is at stake are human lives and loss of wealth. We need to get our act together," he said.
According to IQSK Vice President Jenifer Musyimi, the earliest documented case of building collapse in Kenya was in 1990, where a multi-storeyed building in Dagoretti collapsed, killing one and injuring others.
She said since then, over 200 people have lost their lives and thousands injured in similar circumstances.
"The economy is estimated to have lost over Sh2.4 billion worth of investments," she said.
IQSK Secretary-General Wilson Kipkoech said the National Building Inspectorate (NBI) audit in 2018 showed that of the 14,895 buildings they looked at, 723 were classified as very dangerous, 10,791 unsafe, 1,217 fair, and only 2,194 are safe.
"Only about fifteen per cent of buildings in the audit were safe. Further, a 2020 report released by the National Construction Authority (NCA) pointed out that for every 100 buildings in Kenya, 35 are likely to collapse. These are shocking statistics," Kipkoech said.
IQSK said it supports the current efforts undertaken by the NCA, the National Building Inspectorate, and the County Governments on auditing all the buildings in the country to establish whether they are fit for human habitation.
According to studies, the main reasons why buildings collapse are poor workmanship, use of substandard materials, poor structural design, inadequate maintenance and non-compliance to statutory requirements.