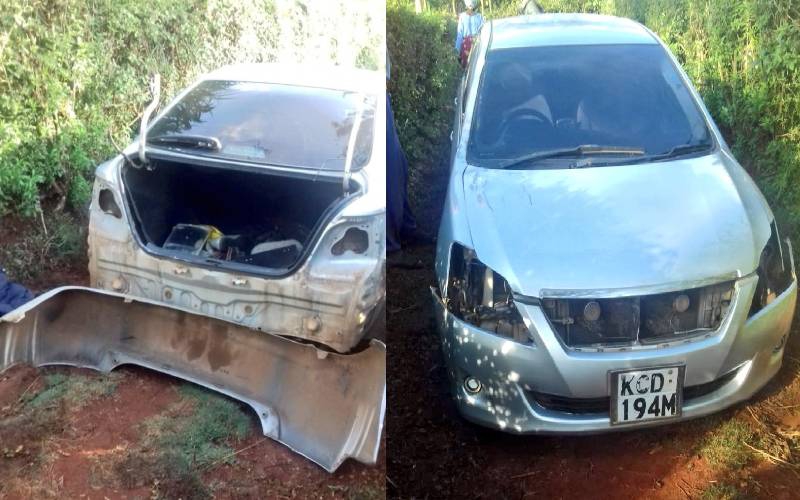 Detectives from DCI have told Nairobi residents to be careful whenever they are driving at night because of rising cases of carjackings in and around the capital.
This comes after a motorist was carjacked outside One River Apartments in Ruaka on Friday night before his Toyota Premio car was stolen.
According to detectives, a gang of armed criminals carjacked the owner of the car as he drove to his residence at night from work.
The victim had just pulled over by the apartment's gate, unaware that a gang was laying in wait for him.
As the gates opened, the gang smashed the driver's window with an iron rod, before they fired two shots in the air from a pistol to subdue him.
He forced his way into the parking lot, but the gang pursued him, catching up with him before he could jump out of the car to run for safety.
"The gang accosted the man, roughed him before grabbing his car keys and phone," stated the DCI officers who are investigating the incident.
According to DCI detectives based in Kiambu who responded after receiving the alarm—the criminals drove towards Ndenderu.
Detectives later found the stolen vehicle abandoned in Kagongo village, having been extensively vandalised.
"Its rear and front headlights, side mirrors, all tyres, nose guard, boot and radio were missing. Detectives believe that the three suspects are part of a larger criminal syndicate operating within Kiambu county," said the DCI.
According to the police, the criminals have been targeting taxi drivers where they pose as customers, only to turn against the drivers at isolated places, then assault the drivers and vandalize their vehicles.
Most carjackings occur in high-crime areas, but many others are happening in the safer, especially in wealthier parts of Nairobi.
Police have warned those getting home from work after a shift that runs through the night to be extra careful lest they become victims.
According to DCI the gang operates mostly in Nairobi, Kiambu and Naivasha town.
Recent arrests
Police recently arrested four suspects in Nairobi and Naivasha over the murder of two taxi drivers in different incidents.
The deceased were ferrying their customers to various places before they were attacked along the way, murdered and their vehicles stolen.
In the first incident, police found the body of a taxi driver from Kasarani dumped near Mai Mahiu IDP camp after he was hired to ferry customers to Suswa.
Police arrested two suspects after they were found in possession of a mobile phone belonging to the Kasarani taxi driver.
In the second incident, Naivasha-based taxi driver Isaac Thumbi went missing in February before his decomposing body was found dumped near Gilgil town a week later.
Naivasha police boss Samuel Waweru said initial investigations indicated the two were working with the other two suspects in Nairobi in their robbery.