Former Nairobi Speaker Alex Ole Magelo dies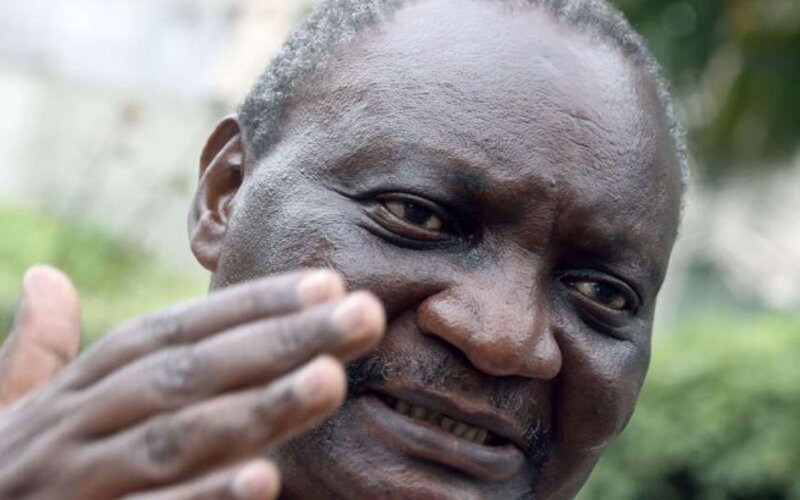 Former Nairobi County Assembly Speaker Alex Ole Magelo has died.
Magelo, who previously served as the chairperson of AFC Leopards, passed away on Saturday, May 8 while undergoing treatment at the Nairobi Hospital, Kajiado Governor Joseph Lenku said.
"It is with a heavy heart that I announce the death of one of our greatest sons and warriors of our community: Alex Ole Magelo after a short illness. He died at [the] Nairobi Hospital, where he had been admitted for some weeks," said Lenku on Twitter.
In his message of comfort and encouragement, President Uhuru Kenyatta described the late Ole Magelo as an outstanding leader who worked hard to make Kenya a better country for all.
The Head of State said Ole Magelo's commitment to duty and service to fellow Kenyans saw him being appointed as a member of the Kenya Leather Development Council last year.
"I have known the late Ole Magelo for a long time and from my interactions with him, I came to appreciate his commitment and desire to make life better for others. He was a gentleman and a sports enthusiast who mentored very many young people through football to become great men and women in our country. Many remember Ole Magelo for the good work he did as Chairman of Kenyan football giants AFC Leopards," President Uhuru eulogised.
In his condolences to the family, friends and relatives of Ole Magelo, former Prime Minister Raila Odinga said the nation has lost one of its most outstanding public servants.
"In Alex Ole Magelo, the Maa have lost a strong and fearless leader who stood up for them without apologies. I have lost a steadfast and reliable friend. Kenya has lost a patriot, a great football enthusiast and official. May God comfort Magelo's family and the Maa nation," stated Odinga.
Former Nairobi County Secretary Simon Leboo Ole Morintat described Ole Magelo as a generous nationalist whose death was a personal loss to the Maasai community.
"It is with profound shock that I've learnt the passing on of Hon Alex Sanaika Ole Magelo. He was the first speaker of Nairobi county assembly under the new constitutional dispensation and a civic leader for a period spanning three decades," mourned Morintat. Adding: "We as Maa Nation have lost a great son of the soil who traversed the entire Maa community and fought for their rights, he was generous and a great nationalist. Solemn condolence to the family, friends and relatives. May his soul rest in eternal peace."
A message echoed by Narok County Senator Ledama Olekina: "Today is a sad day for us! I am sudden by the departure of a true friend and a son of the Maa Nation Speaker Alex Ole Magelo. Rest well with the Angels say hi to Saitoti, Ntimama and Joh Keen for us!"
Celebrating Ole Magelo's contribution to sports, ANC party leader Musalia Mudavadi said the legacy of the ex-Leopards chairman lives on.
"I am saddened by the demise of former Nairobi County Assembly Speaker Alex Ole Magelo. Mr Magelo who once served as AFC Leopards chairman, will be remembered for his immense contribution to the country's sporting fraternity and his service in the public limelight," tweeted Mudavadi.
On Twitter, Kenyans joined hands in grief and mourned Ole Magelo as a selfless leader.
To his name is a weighty legacy, and quick hands that were still so easy with work, and the vision he had for public service now remains the respectable task for us to accomplish. — Samuel Tunai, EGH. (@SamuelTunai) May 8, 2021
He was a rare leader to the extent that he took positions on issues in a day and age where we have politicians whose fence sitting skills would put the Olympic fence sitters to shame .

May Mzee Alex Ole Magelo Rest in Peace. — Cebe Pavlov (@AmThePaul) May 8, 2021
Too devastating to hear one of most saddest news this morning, indeed we mourn Magello,he was as you described him BABA, very selfless and honest. Rest in power speaker and leader. — Oleketorah, masaai finest (@JohnmarkKetorah) May 8, 2021
Speaking to The Standard on Wednesday, Magelo's widow – Lucy - said the former speaker was admitted to the ICU and had been hospitalised for the past two weeks.
Ole Magelo, a long-serving councillor, was elected as the first Nairobi County Assembly Speaker in 2013 after garnering 43 votes against Paul Mutungi's 42.