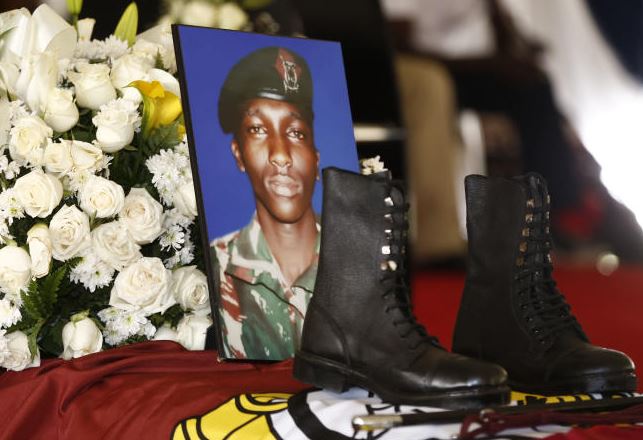 It had been slightly under three hours since Sergeant Kipyegon Kenei left his Imara Daima house after a long day at work. It was a Saturday and he'd been away for almost two weeks from his fiancée in Nakuru.
After alighting from a shuttle in Nakuru on his way home, he went to his favourite hotel in town for a break before proceeding to Chamasis village. As he sat waiting to be served, a familiar face appeared on the TV screens hanging on the luminous walls of the hotel. Someone he knew and had been with barely hours ago had been arrested at the steps of his office.
Kenei, a seasoned police officer knew immediately that something bigger might have been at play. The arrested person was a former Cabinet minister. The arrest had been made at the doorstep of the Deputy President's office where Kenei had worked for seven-and-a-half years.
Plans had to change. Halfway home, he made a U-turn to Nairobi. Unknown to him at the time, the brief conversation he had with his father and fiancée about his abrupt change of plans would be his last.
Within hours, Kenei had disappeared. Within days, his body was found in his one-roomed house. A bullet through his head and, as an autopsy would later find out, poison in his veins.
Now, a year after his death, his family is still searching for answers. The questions they had at the time of Kenei's death still remain unanswered. And they believe powerful people know why he was killed and who killed him.
John Chesang is still troubled by his son's mysterious death.
He walks with the authority of a man used to influence. He is tall. His steps are assured. But beneath the comport lies great pain and grief.
"A man never walks bare-handed," he says, after our gaze lingers for too long on a wooden staff in his hands. "You must be prepared all the time."
His house is at the top of a gentle slope in the family homestead. As we walk towards it, a brown dog follows us.
Then midway it stops. Chesang stops too, plants his staff firmly in the ground and leans on it. Then with his left hand points to what looks like a newly completed house.
"This is my son's house," he says. Then he proceeds.
The walls in his house are bare. There are no pictures. No paintings. Just curtains keeping out the light from the sun. As we sit down around the sofa sets arranged along the walls of the room, he beckons us to close the door He is wary that someone might eavesdrop on his candid talk that could unnerve some quarters.
The first anniversary of his son's death is fast approaching.
"Yet there are a lot of questions that remain unanswered," Chesang says. "We have just been allowed to take his belongings from his house in Imara Daima."
Chesang adjusts himself on his chair and continues: "I believe there are some people who know about my son's death…The people in the office he worked in, a sitting member of Parliament and a former Cabinet minister."
For him, the mystery of his son's death began with a phone call.
When Kenei made the U-turn to Nairobi from Nakuru that Saturday, his father was eagerly waiting for him. The two men had important things to talk about, one of them being the upcoming visit to Kenei's in-laws for dowry negotiations. This was to happen in the next two months. But when he called to say he was going back to Nairobi, Chesang had no option but to accept.
"Ni hali ya kazi tu," he says.
Once he got to Nairobi, Kenei was not seen again. A phone call he was to have with his father never materialised. "We did not talk again," says Chesang.
Instead, the days that followed were traumatic. The man who worked at the Office of the Deputy President had gone missing. Nobody, not even his soon-to-be wife or his father, knew of his whereabouts.
For three days there was silence. Silence from Kenei. From his employer. And from the gods as well. A silence that was broken one late Thursday afternoon by a phone call.
"At around 5.30pm, a neighbour who is also a current Member of Parliament called me," Chesang remembers. "He called me to ask whether my son was home."
This irked Mzee Chesang. He says he asked the MP why he was calling him yet he was the one with Kenei in Nairobi. "I told him if anything were to happen to my son, I would hold him personally liable," Chesang said and then hang up.
A few minutes later, the MP called again and passed the phone to someone else to talk to him.
Back in Nairobi, things were taking a strange twist.
Before the phone call to Chesang was made by the MP, a signal went out of Imara Daima Police Station to police headquarters. A body of a policeman was found somewhere in Imara Daima. Within no time, it was confirmed to be that of Sergeant Kenei.
His father though believes that Kenei started to walk towards his death days before the actual killing.
"He was supposed to take his leave on February 13. But he called to say he had been told to go back to work urgently and couldn't travel," his father says.
This was, however, not going to be an ordinary day at the office for Kenei.
Footage from closed circuit cameras within the office of the Deputy President show that on that Saturday, at 9.38am, former Cabinet minister Rashid Echesa walked into the main reception area of the DP's Harambee House Annex office. With him were two other people. After exactly one hour and 23 minutes, Echesa is seen exiting the office.
Investigators believe that it was Kenei who, acting on orders, let the former CS and his entourage into the DP's office. And following the arrest and arraignment of the former CS in court some five days later, he was meant to be a witness in the case against the CS over an alleged multi-billion-shilling fake arms deal.
Kenei never made it to court though. When his body was found, it had a single gunshot wound under his chin, with an exit wound on his forehead.
Next to him was his badly damaged cellphone. He was dressed in pyjamas with his clothes neatly folded in a closet in the bedroom.
The suit, which witnesses said he was last seen in, was hanging neatly in the closet.
"It didn't look like the house of someone who was in a hurry," his father told The Standard.
His son's death though, precipitated some rush.
First was the conclusion on cause of death. Initial investigations soon after his body was found indicated he had killed himself. Theories first advanced by a section of investigators said the 33-year-old had taken his life fearing an impending appearance at the Directorate of Criminal Investigations (DCI) where he was supposed to record a statement after Echesa's arrest.
For some quarters, it was an open and shut case. It was assumed he resorted to taking his own life, perhaps fearing to be implicated in what was at the time being treated as an epic scam involving the DP's office.
Individuals within the DP's office who worked with Kenei say over the seven years that he had worked at Harambee Annex, he had developed a reputation of being a go-to person. In fact, so trusted was he that at some point during his career, he almost took over the role of being a personal assistant to the DP after a brief falling out between the DP and a longtime unofficial assistant. As the days dragged on, Kenei's fiancée was treated to another plot twist. The country's senior-most detective rubbished the report by his junior officers pointing to a suicide.
"It was not suicide," DCI Director George Kinoti said after hurrying back to Nairobi from another engagement. "It was cold murder that was stage-managed to look like a suicide."
Kinoti, in a huff, ordered that Kenei's body be taken back to the crime scene for a fresh forensic investigation. He also disbanded the team that was initially handling the investigation.
At that moment, Chesang, who was having difficulty believing that his son had taken his own life, found an ally in the DCI boss.
Kenei's funeral was an emotive affair whose curtain-raiser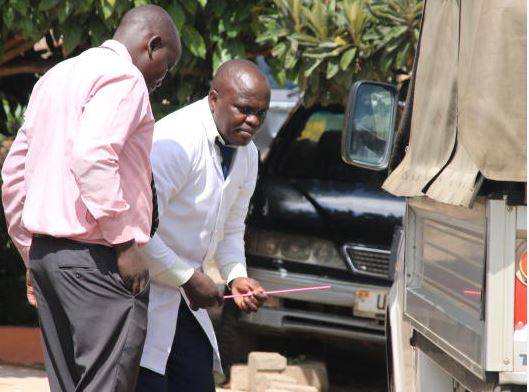 was a side meeting between the DP and the family.
"I was struggling to contain myself," Chesang says. "During that meeting, I told the DP that my son was dead and that he had left behind a widow and small children. I asked him if my son took any money from his office. If my son stole from him. He told me Kenei had done neither."
In his speech after the closed-door meeting, the DP for the first time opened up about Kenei's murder. He said his life, too, was under threat possibly from the same people who killed Kenei. And that he had no faith in the DCI whom, according to him, were waging a political war against him.
The minute his death was announced, it was clear that there could exist the possibility of a political fallout. The office he worked in is heavily political. His last assignment involved possibly getting into contact with a controversial former Cabinet secretary.
While alive, Kenei's life was intertwined between the hardknock politics of the day and the complications that come with being close to power.
In death, his relationship between the two – politics and power – became even more complicated with the addition of a third factor in the equation of his life; a split investigations team.
"There are a lot of things to consider. This was not an ordinary crime," says a senior detective, before reconfirming that he will not be quoted on anything that he offers.
"There are too many strings to this matter. One thread leads to another and again to another one. There are too many layers for us to peel but we are getting somewhere," he says pointing to a bunch of files – all of them labelled 'Sgt Kenei'.
Toxicology report
Persistent questioning yields little more. An unreleased toxicology report shows that Kenei was poisoned before he died and traces of the poison were found in his liver and kidney.
When contacted, Government pathologist Johansen Oduor said indeed samples had been taken from the deceased.
"I have not received the toxicology results yet. It's not a strange thing. Many times I get the results in court," the detective told The Standard.
For Kenei's family, the lack of clarity is making closure almost impossible.
"I cannot say they are not working but I feel like there are two different sides to my son's murder investigation. There are those who are defending the office he worked for. And there is the other side. I do not know who is saying the truth," Chesang says.
"You can't tell when a clever person is telling you the truth or not. What comes out of their lips may be false. We do not know the truth in their hearts."
A year on, the grieving family is still waiting for answers.
Sometimes when the sun sets, Chesang is taken back to the night the news of his son's death reached him. He knew of his son's death through a radio broadcast. And the screams and wails from the various parts of the homestead that followed.
He says that sometimes when he closes his eyes, the events of that night play back. They overwhelm him and he wonders whether justice will ever come his way.