Witness says Omar Lali attempted to separate Keroche heiress Tecra Muigai from friends
A witness in the inquest into the death of Keroche Breweries heiress Tecra Muigai has recounted how her love affair with Lali Omar started.
Eric Cheruiyot, who was Tecra's driver and assistant, said he saw it all from the time the relationship started in Lamu.
He witnessed it evolve into an adventure as they visited various scenic sites and hotels in Kenya, Tanzania and Zanzibar before it ended with the tragic fall in Lamu that caused her death in a Nairobi hospital.
Cheruiyot said that Omar was always agitated whenever anyone came close to Tecra during their relationship which lasted for about 10 months.
A post-mortem exam showed that she died of injuries consistent with a fall.
"At one point when I accompanied them to a party in Dar-es-Salaam in Tanzania, he became unruly and claimed that we had hatched a plan to snatch Tecra from him.
"He even threatened that he would do something very bad to me," Cheruiyot said.
Take a quick survey and help us improve our website!
Take a survey
Cheruiyot said he came to learn of the relationship in July 2019 when Tecra travelled to Lamu and instructed him to be sending her money through Omar's mobile phone line.
According to Cheruiyot, Omar would, however, not tell Tecra whenever he received the money and she used to complain that she wasn't receiving the cash.
"I used to receive the money from Tecra's mother and send it to her through Omar's number because she didn't have an mobile money account.
"She would complain that she didn't receive the money but when I called to explain, it is Omar who always answered her phone," said Cheruiyot.
He testified that after Tecra's stay in Lamu, she left with Omar in August 2019 for Naivasha.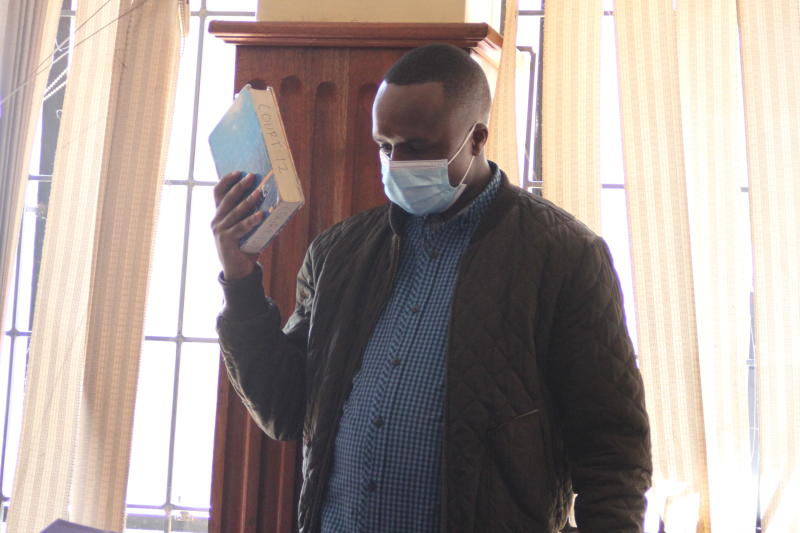 She had organised trip to Mt Kenya.
Cheruiyot told trial magistrate Zainab Abdul that on the way to Meru National Park, Omar became unruly.
When they made a stopover in Isiolo, Omar asked that he be dropped along the way since he was uncomfortable with the people on the journey.
When they returned from the Mt Kenya tour, he stated that Tecra organised another tour to Dar-es-Salaam where her elder brother had a birthday party.
He said that while they were in Tanzania, Omar did not want to stay with the others claiming that he was not happy with people in Tecra's company.
"Tecra tried talking to him but he became very angry and started abusing her.
"I confronted him and told him that he could not abuse my boss in my presence but he turned on me with threats that he would do something bad to me," Cheruyiot said.
He said Omar was angered by one of Tecra's friends who had tried to discourage her from dating him, claiming that he was too old.
From Dar-es-Salaam, Cheruiyot said Tecra and Omar went to Zanzibar but he did not accompany them after their disagreement. He returned to Kenya.
A week later, he said, Tecra called him that they had returned to Lamu and instructed him to take a flight and join them.
"When I arrived in Lamu, Omar's body language suggested I was not welcome.
"He was still bitter and thought that we were planning to take Tecra away from him," he said. From Lamu, Cheruiyot said Omar and Tecra went to Nairobi and he took them to a hotel at the Village Market where they spent a few nights then transferred to another hotel in Naivasha.
He said that while they were in Naivasha, Omar would get angry whenever Tecra met with her friends and employees at Keroche Breweries where she was the manager of innovation.
It was during their stay in Naivasha that Tecra tried to introduce Omar to her parents but when her mother, Tabitha Karanja came, Cheruiyot stated that Omar escaped and went back to Lamu.
"Tecra again followed him to Lamu and I was sent to take to her some luggage but when I reached Lamu, Omar told me they he didn't want to see me again.
"I told him he was not my boss to give me instructions but since I didn't want a fight, I decided to return to Naivasha," said Cheruiyot.
Cheruiyot was the fifth witness in the inquest into the death of Tecra which occurred on April 23, 2020.
The inquest was instituted after the Director of Public Prosecutions dropped murder charges against Omar.
Hearing continues.