Warner demands fees for Jerusalema dance videos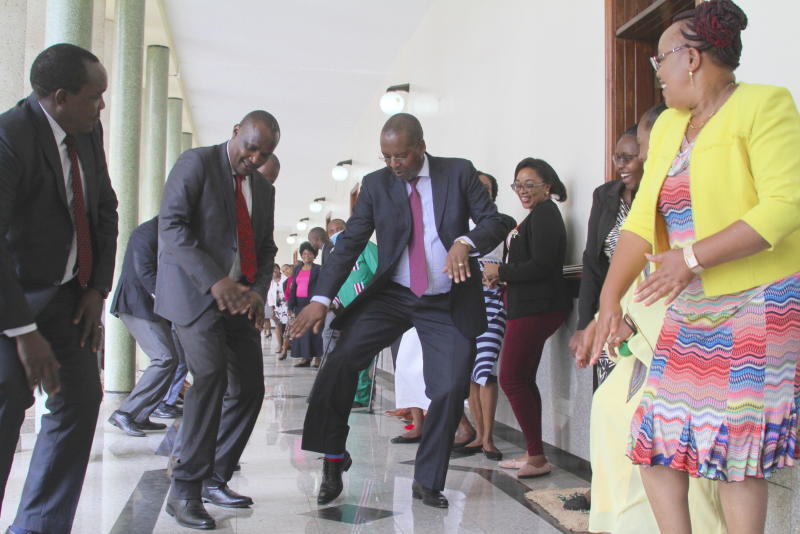 When the Jerusalema dance challenge turned into a dance craze across the globe last year, everyone put their best foot forward.
From Africa to the rest of the world, popular Limpopo-born hitmaker Kgoagelo Moagi, popularly known as Master KG, together with singer Nomcebo Zikode, had tickled the world with the catchy song.
From toddlers to grandpas, individuals to corporates, and from the pulpit to the boardrooms, everyone was dancing to Jerusalema.
Kenyans made their moves for a song that was released in 2019 but lifted people's spirits against the gloom that Covid-19 had dealt the world in 2020, with social distancing making it hard for people to enjoy social moments.
Multinational companies, government organisations, educational institutions and even hospitality facilities paraded their best teams dancing to the song as they promoted their services or products.
Now, with thousands of videos having been posted online, most enjoying millions of views, the fun could end if what started in Germany early this week is anything to go by.
According to AFP, the German state said on Monday it had to pay licence fees to Warner Music after several police forces took part in the Jerusalema viral dance challenge.
Warner, with which Master KG is under contract, has demanded license fees for the use of the song in the videos.
The news agency reported that Warner Music had written to many of these organisations in Germany – whose Jerusalema dance videos are online - demanding licence fees amounting to several thousands of euros in some cases.
In a statement to Deutsche Welle, Warner Music indicated it would be demanding the fees from any organisation or institution that used the Jerusalema music (song), either as an advertising or image promoting effect in favour of an institution, organisation or company.
According to Deutsche Welle, a spokesperson from Warner Germany said participants in the challenge ought to have sought permission from the producers, in the form of a licence, before using the song in their dance videos.
The Interior ministry for Germany's most populous state, North Rhine-Westphalia told AFP on Monday that it had "settled claims from Warner Music on behalf of several police forces" in the region.
A spokesman for Dusseldorf University Hospital told the German news agency DPA it had also received mail from Warner Music and had since taken down its video, according to AFP.
The North Rhine-Westphalia Fire Brigades Association warned its members over the licence fees in early January after learning about one such letter, a spokesman told DPA.
Some organisations have now pulled down their Jerusalema videos even as the new move sparks criticism on Warner Music Facebook page.
Many organisations in Kenya took part in Jerusalema dance challenge and they could also be asked to pay licence fees.
Copyright lawyer Liz Lenjo told The Standard that nothing can stop Warner from filing a similar claim in Kenya.
She said Warner could demand monies from Kenyan organisations that used the Jerusalema song in their dance videos.
"They could make similar demands in Kenya because the law stipulates that the author or owner of the copyright has the exclusive right to control the distribution, reproduction and any derivative works.
At the end of the day, one must seek licence from the owner of the works before using it," she said.
Jerusalema had corporate CEOs, wealthy businessmen and politicians head back to the dance floor. Even pensioners, despite crackling bones, had their groove back with Jerusalema.
Even Members of Parliament did their bit. "There is an extra curricula activity being planned next week, which is the Bunge Jerusalema challenge.
"Members have been practising and they are in good shape," Leader of Majority Amos Kimunya said ahead of the Bunge Jerusalema dance filming.
[Additional reporting by William Osoro]