Autopsy reveals Nairobi lawyer was strangled in night attack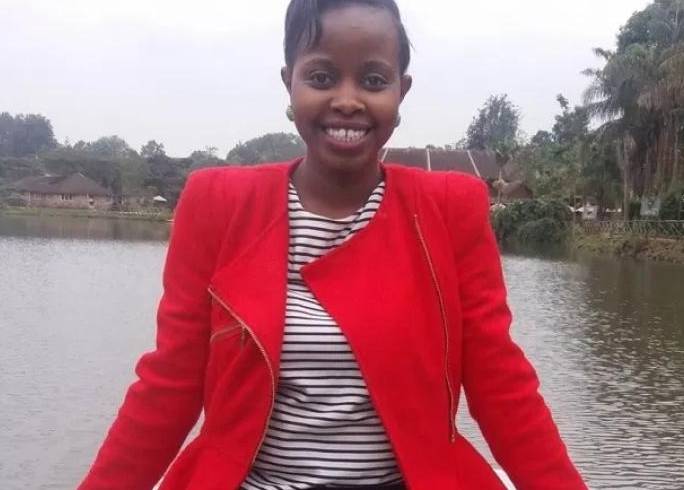 Elizabeth Koki Musyoka (pictured) was strangled, a postmortem examination has revealed.
Government Pathologist Johansen Odour conducted the postmortem examination on Tuesday at a funeral home in Nairobi, and noted visible scratch marks around the city lawyer's neck, suggesting she may have attempted to free herself from her attacker.
The 34-year-old lawyer was found dead last Saturday at her Syokimau home. Police have since arrested Christian Mwambay Kadima to help with investigations.
Mavoko Principal Magistrate Bernard Kasavuli on Monday said the DCI holds Kadima for 14 days as they complete investigations.
Yesterday Directorate of Criminal Investigations (DCI) officers in Mlolongo returned to court and sought orders to stop further transactions from the lawyer's bank account.
This is after investigators established that the murdered woman was operating a joint account with the man now under investigation for the capital offence.
The investigators, at the same time, recorded the statement of Koki's house help, who shed light on the events of the night when the lawyer is believed to have been killed.
The house help told the officers that on the fateful night Koki was home by 8pm.
At around 9pm, she was joined by a man, who had been a frequent visitor to the home.
The house help and Koki's two children later went to bed, leaving Koki and the man in the sitting room.
At around 10.30pm she heard a scream from her boss' bedroom but did not bother to find out what was happening. She had previously witnessed Koki in a quarrel with the man and thought it was one of such fights.
The following morning Koki, who was supposed to leave the house for work at 7am, did not wake up. At around 10am, the help walked into Koki's bedroom, where she found her lifeless body in bed.
Yesterday Athi-River DCI boss Vincent Kipkorir told The Standard police were yet to record a statement from Kadima.
Mr Kipkorir said Kadima had told investigators that on the fateful night he visited Koki's house after she invited him for supper. When Kadima arrived, Koki demanded to check his phone. This, the suspect said, led to a confrontation before he walked out in a huff, according to Kipkorir.
"We are still waiting for his lawyer. He (Kadima) has declined to record a statement until he is accompanied by a lawyer," Kipkorir said.
Last week Machakos County DCI boss Charles Mutua said Kadima had multiple identities, adding that the suspect had a Nigerian passport, but claimed to be Congolese with a South African descent. "The suspect does not have travel documents. We shall find out his details as we conduct investigations," said Mutua.