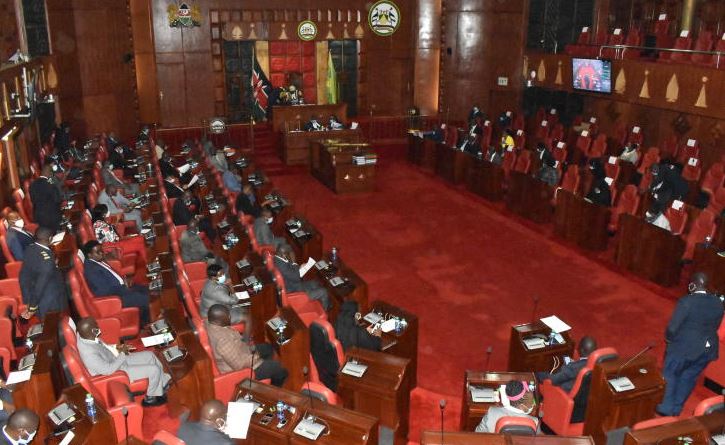 Senate Speaker Kenneth Lusaka has confirmed receiving a notice from the Nairobi County Assembly seeking to impeach Governor Mike Sonko.
Lusaka now says that plans are underway to call for a special sitting next week, including the collection of 15 signatures required to call for the sitting.
Senate will then start the process of hearing the charges against the governor, after which they will uphold or vote against the impeachment motion.
Yesterday, 88 of 122 MCAs voted to remove Sonko from office, on grounds of;
i) Gross Violation of the Constitution or any other law (the County Governments Act, 2012, the Public Procurement and Disposal Act, 2015 and the Public Finance Management Act, 2012)
Read More
ii) Abuse of office and
iii) Crimes under National Law.
Two MCAs opposed the vote while twenty others abstained.
The motion to impeach Sonko was moved by Minority Leader Michael Ogada. The Members of County Assembly said that Sonko had failed to approve the Sh37.4 billion budget to facilitate operations undertaken by the Nairobi Metropolitan Services (NMS).
Before Thursday's vote, Sonko had been hard at work.
The Standard reported that he whisked away about 40 MCAs to Diani, Kwale County in a bid to deny the vote the requisite quorum, but met with defeat all the same.
His allies then claimed that Thursday's voting was fraudulent because they were logged into the assembly's system despite their mobile phones being off.
Last week, he had petitioned the High Court to stop the ouster, arguing it was "illegal and unconstitutional."
What happens next?
Should Senate uphold the motion and oust Sonko from office, the deputy governor or in this case the county assembly speaker will then take over the affairs of the county (Nairobi County currently has no deputy governor).
As per the Constitution, in the rare case when a governor is not available, the Speaker of the county assembly will act as the governor for sixty days before an election for the office is held.
"Article 182 of the constitution states that when the Senate impeaches the governor, the deputy governor should assume office as county governor. The deputy governor should serve for the remainder of the term of the county governor."
In the event his impeachment is upheld, Sonko can challenge the decision at the High Court.