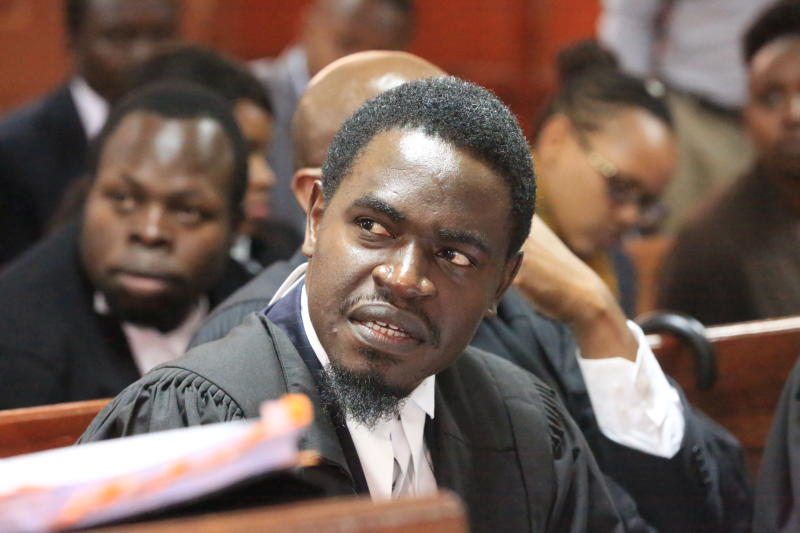 Divisions at the Law Society of Kenya (LSK) continued to widen yesterday after a lawyer petitioned the High Court to stop the planned Special General Meeting (SGM) scheduled for Saturday.
Lawyer Gad Aguko argued that the scheduled SGM whose agenda includes a motion to ratify the removal of Chief Executive Officer Mercy Wambua is illegal and does not have the required approval of the LSK council.
Aguko in his application is accusing LSK president Nelson Havi of acting without the approval of the council to sanction the collection of signatures to approve the scheduled meeting.
"The president, acting illegally and without jurisdiction as a one-man-council has proceeded to authorise the convening of the SGM when the meeting ought to be done by the council as a whole," said Aguko.
Read More
According to Aguko, the LSK Act provides that signatures to support the convening of an SGM have to be submitted to the LSK Chief Executive Officer who then submits the request to the LSK council for approval.
He argued that names, admission numbers, and signatures of those supporting the SGM have not been verified by the council as required to confirm that they are practicing advocates.
Aguko claims that Havi acted outside his powers when he instructed acting CEO Collins Odhiambo to proceed with organising the meeting despite the fact that the society has a legally appointed person as its secretary.
The fall out in LSK begun in September when Havi announced that the council had officially suspended Wambua as the CEO for failing to account for some staff whose conduct the council was to deliberate upon.
Havi stated that her removal was based on Section 26(6) of the Law Society Act that states that the secretary may be removed from office by the council with the support of at least two-thirds of the members of the council. [Paul Ogemba]