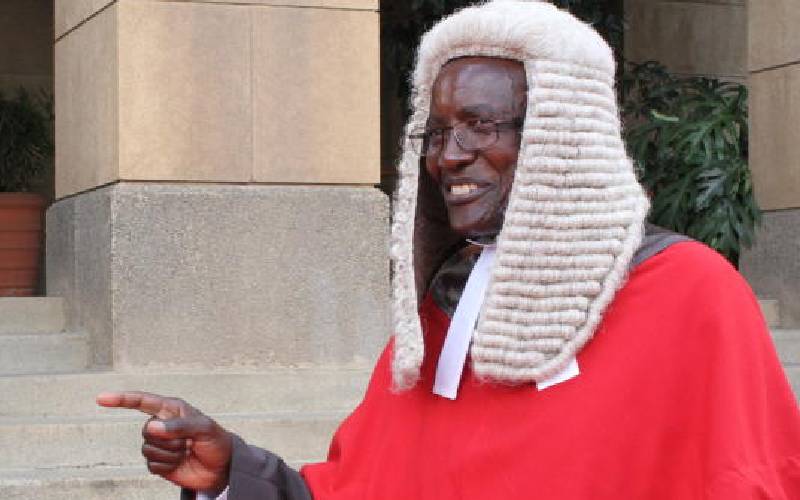 Chief Justice David Maraga (pictured) has told President Uhuru Kenyatta he has nothing personal against him.
Delivering his last State of the Judiciary address in Nairobi, the CJ said: "To our President, wherever you are, it is clear that there is a difference of opinion between me and you. But I want to assure you, and the entire nation, that I have nothing personal against you."
He went on: "To the contrary, as you know Mr President, I have given you respect as our Head of State. Why would I want to fight you, as some people are suggesting? I am apolitical and I hold no brief for any politician. The Security and the Intelligence Services can assure you of that, and I am sure they have assured you of that."
We shall revisit
Maraga, who retires in 2021, stated that his strained relationship with the executive led to only 47 per cent of the Judiciary financial requests being honoured by the Treasury.
He cited the case in 2015 when the High Court issued advice on the constitutionality of the CDF and Parliament threatened to reduce the judiciary budget.
In September 2017, the Supreme Court nullified the presidential election to which President Uhuru Kenyatta threatened to revisit and in the following financial year, the judiciary budget was reduced from Sh2.1 billion to Sh50 million.
CJ Maraga said it is for this reason that World Bank-funded court premises projects are being completed while those sponsored by the national government are yet to be completed.
He added that it was unfair for the judiciary to face reprisals for executing its mandate.
An analysis of the judiciary budget shows a steady decline in funding, which stands at less than I per cent of the national budget.
"Budget cuts hurt services such as ICT, which was sometimes slashed or not provided [for] altogether."
Maraga said part of his objective when he took over from Dr Willy Mutunga was to reduce the backlog of cases. The plans set in place to achieve this included court-assisted mediation and mobile courts.
"Due to underfunding these initiatives have been slow to take off."
He added that with the diminished capacity at the courts, the 400,000 cases filed annually cannot match the 300,000 cases that the judges can handle.
The CJ called upon Parliament to allocate between Sh5 billion and Sh10 billion to the Judiciary Development Kitty each year so as to have an optimum number of courts across the country.