Road accidents deadlier despite lockdown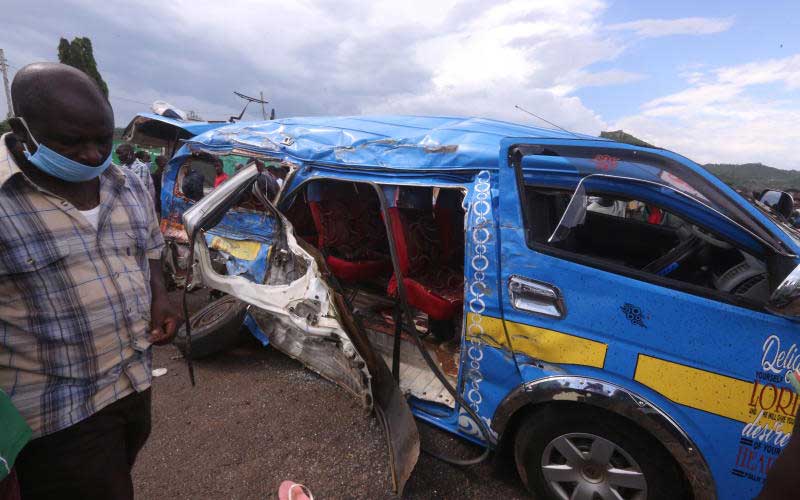 More people have been killed in road accidents as at October 31 compared to a similar period last year, a new crash survey shows.
The death toll in the 10-month period between January and October was at 3,114 against 2,942 reported in 2019, representing a 5.8 per cent increase.
The fatalities, according to the National Transport and Safety Authority (NTSA), are on account of binge drinking and reckless driving.
Accidents involving motorcyclists recorded the biggest jump from 597 to 884. This translates to a spike by 48 per cent.
Three hundred and fifty pillion passengers have died in 2020 compared to last year's 277. The number of pedal cyclists who have died has also increased by 13 to 73.
Nonetheless, fatalities involving passengers, drivers and pedestrians plummeted by a cumulative 30 per cent.
According to the data, some 1,108 pedestrians, 275 drivers and 424 passengers died in the period under review.
The drops point to the effectiveness of lockdowns in taming road carnages as the road went quiet when travel restrictions were placed to curb the spread of the coronavirus.
NTSA Director General George Njau, in a statement on Wednesday, said the number of fatalities was "worrying" and implored the public to observe traffic rules.
"From the analysis, human-related factors such as speeding, reckless driving, dangerous overtaking, drunk driving, drunk walking and failure to use helmets among others, have been attributed to the crashes," Mr Njau said.
He said his office had ensured 429 government agencies had road safety policy guidelines and that they had improved engagements with the county transport and safety committees.
"With the support of the European Union, the Authority recently launched 'Usalama Barabarani", an initiative focusing on road safety management and safer road users," Mr Njau added.
The measures, including strengthened collaboration with law enforces and awareness campaigns, have not been enough in reducing the carnages, said the director-general.
"We thank those who continue to speak out and report cases of reckless driving. Together, we can make our roads safe," Mr Njau said.