Acquitted Westgate terror suspect abducted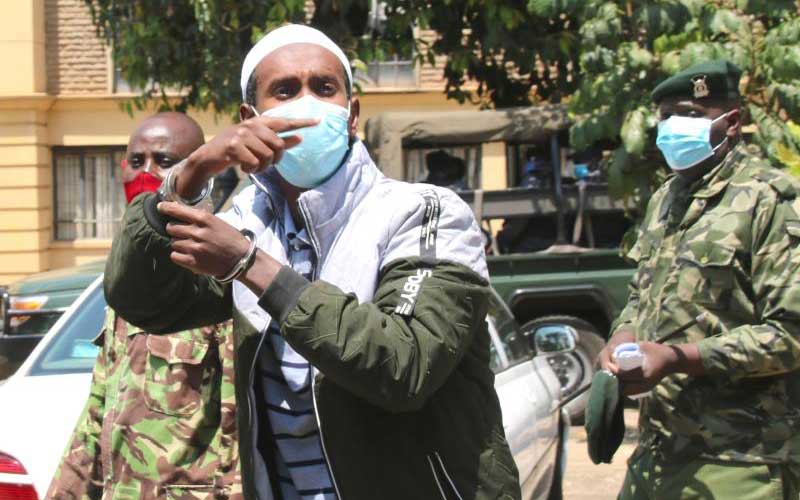 A man exonerated from terror charges was on Thursday abducted as he left police custody minutes after securing his freedom.
Liban Abdillahi Omar – who had been on a seven-year trial for supporting the 2013 Westgate Mall attack that left 67 people dead and more than 200 injured – was leaving the Anti-Terror Police Unit (ATPU) headquarters in Upper Hill, Nairobi when he was whisked away by unidentified men, a police report said.
Mr Omar is a brother to one the four terrorists who staged the assault at the upscale mall in Nairobi.
According to Mr Omar's lawyer Mbugua Mureithi, he was abducted at 11am on Thursday by gun-trotting men in a black Subaru car.
Omar and his four relatives were in a taxi bound for Eastleigh when the armed and hooded men struck next to KCB towers, witness account said.
The men pinched Omar from the taxi and threw him into the boot of the Subaru, leaving the distraught kin stranded as they also took the taxi driver's car key.
The family reported the matter to Capitol Hill Police Station at 1:08pm and it was recorded under the OB number 28.
The ATPU have denied any involved in the event.
It is standard protocol for terrorism suspects to be cleared by both the remand centre – in Omar's case, the Kamiti Maximum Security Prison – and the ATPU before being integrated back into the society.
Mr Omar's abduction came hours after Chief Magistrate Francis Andayi acquitted him of masterminding the deadly attack for lack of evidence.
The judge ruled that although he shared his phone with his brother, he was not aware that his brother had joined the terror group Al Shabaab.
A second and third defendant were found guilty of assisting the attackers.
The court ruled that Mr Mohammed Ahmed Abdi and Mr Hussein Hassan Mustafa were in constant communication with the four terrorists at Westgate and coordinated the operations from their hideout in Eastleigh.
Mr Abdi bore the biggest responsibility as the person who coordinated the attack and was found with video evidence on his laptop which encouraged the Al Shabaab to kill 'infidels' and action videos similar to what took place at Westgate.
"I find them guilty as charged and convict them accordingly for being conspirators to the terrorist act that left 67 people dead, hundreds injured and properties destroyed. The frequency of their conversation with the attackers proves they had a common intention to kill," ruled Andayi.
"It is clear there was mutual agreement between them and the actual attackers to carry out terrorism. The prosecution didn't have to prove their actual presence at the scene as the call data show the coordination they did from their hide out."
The duo will be sentenced on October 22.