Most churches remain closed despite greenlight to reopen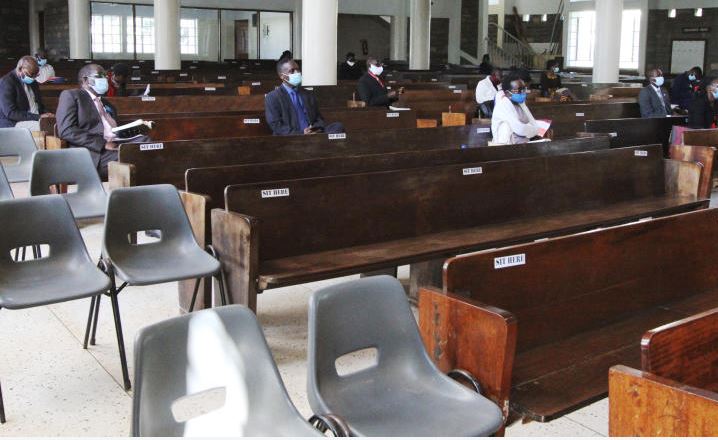 Most churches and mosques will remain closed indefinitely, despite religious institutions coming up with protocols to guide reopening.
By yesterday, several religious leaders had sent communication to their flock that they would not resume normal services and would continue with virtual preaching.
Bishop David Oginde of Christ is The Answer Ministry (CITAM) said their leadership decided to keep the doors of churches locked because of the escalating cases.
"We have a large congregation. Admitting 100 per service as stipulated in the protocol means planning for more than 20 services and that is not practical," said Oginde.
He added that the guidelines could work best for smaller churches, especially the ones in villages that may not have the option of holding virtual prayer sessions, but cannot be implemented effectively by mega churches.
"A majority of the churches are the small ones, so the guidelines are still helpful. It is just that they cannot work for a big congregation. Small churches can have one or two services," he said.
Muslim leaders have also said they will not be having physical worship in major mosques due to the impracticality of admitting 100 people per service.
"The guidelines given to limit prayers to only 100 persons per session are not practical for Jamia mosque due to centrality in the CBD of the capital, said Abdul Bart Hamid, Secretary General of Jamia Mosque Committee. Their major mosques will remain closed across the country.
Adventists will also not open, and Pastor Patrick Nyaga of the Nairobi Central Seventh-Day Adventist (SDA) Church said they have not figured out how they will select 100 people from their congregation of about 4,000 people.
On social media, several other churches including Nairobi Baptist, Parklands Baptist and Jubilee Christian Church advised their members to continue worshiping from home.
"Recognising that a significant proportion of our congregation consists of families with young children, we are therefore concerned that the wholesome family fellowship which we greatly value will be affected if we reopen under the current guidelines," said Reverend Ambrose Nyangao of Parklands Baptist in a letter to the congregation.
There are other churches that are however saying they will reopen but ensure that they have maintained the laid out protocols.
Cardinal John Njue of the Catholic church said they will have services in different parishes, and that the people in charge of the parishes have already been instructed on how to ensure the church has a maximum of 100 people, and social distancing is maintained.
"The parishes will communicate how it will be done, but there will be church service from next Sunday in line with the new regulations," said Njue. He added that they will have several mass services to cater for the needs of their congregation.
The African Inland Church (AIC) also issued a circular to lay out some of the rules for reopening, with a stern warning that if the rules are flouted, the pastor conducting the service will be held responsible.
"Pastors and worship leaders who are above 58 years and are physically fit to run the service must have written authorisation from a higher church official," said reverend John Kitala, the administrative secretary.
The church has also put a hold on Holy Communion, baptism and choir practice in a bid to enforce minimal contact and social distancing.
Since Monday when President Uhuru Kenyatta announced the reopening of places of worship, there has been debate online and off the net on how the directives will be implemented and whether bigger churches will be allowed to admit more members as long as they maintain social distance. In other countries like the US that has been witnessing increased cases, reopening of churches has been attributed to being a major contributor in the soaring cases.