IG Mutyambai launches weekly Twitter interaction with Kenyans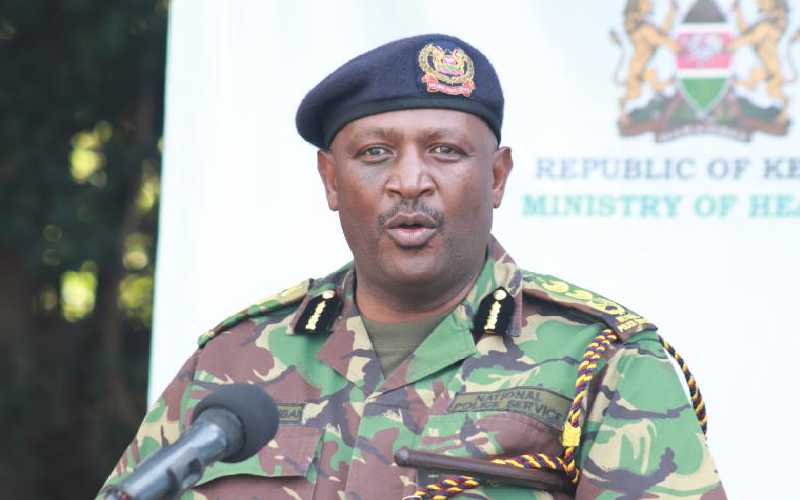 Inspector General of Police Hilary Mutyambai has announced he will have online interaction with the public every Monday as part of efforts to improve service delivery.
Mutyambai (pictured) said there has been a clamour by the public to have a closer and keener engagement with the police and that he will dedicate an hour every alternate Monday to engage with the public personally on a live Twitter chat.
"The National Police Service has existing formal and viable structures of engagement with the public, this session will bolster the efforts of those structures. During these sessions, we will be sharing thoughts on improving our services to the public," he said.
He said he will be open to suggestions from the public and will also be taking note of issues that may need urgent attention from his office and from the public.
There has been concern over police conduct since the outbreak of Covid-19 pandemic. Cases of police brutality have been reported in various parts of the country.
Police killings
More than one dozen people have been killed by police in during a dusk to dawn curfew to curb the spread of the virus, the country's Independent Policing Oversight Authority (IPOA) said.
"After preliminary investigations, 15 deaths and 31 incidents where victims sustained injuries have directly been linked to actions of police officers during the curfew enforcement," IPOA chairperson Anne Makori said.
IPOA, noted 87 complaints against police have been reported since the end of March.
Yassin Hussein Moyo, 13, was killed by police while on his balcony after the curfew began. The Director of Public Prosecutions Noordin Haji approved the arrest of the officer who killed Yassin.
Human Rights Watch said police have broken into homes and shops and extorted money from residents or looted food in various locations across the country.
Oversight institutions
Responding to a question on police brutality, last week, President Uhuru Kenyatta acknowledged the presence of wayward personnel in the police service and reminded oversight agencies to execute their mandates.
He said his administration continues to empower oversight institutions with resources and capacity to enable them take decisive actions against offending police officers.
"We are trying to ensure that all the necessary oversight bodies that have been charged with the responsibility of overseeing our police forces are empowered to the degree that they are now able to take action," he said.
There has been a clamor by the public to have a closer and keener engagement with @NPSOfficial_KE. I have taken note of that and will be dedicating an hour every alternate Monday to engage with you personally on a live Twitter chat #EngageTheIG. pic.twitter.com/hv6OSUoxPw — Hillary N. Mutyambai (@IG_NPS) June 21, 2020