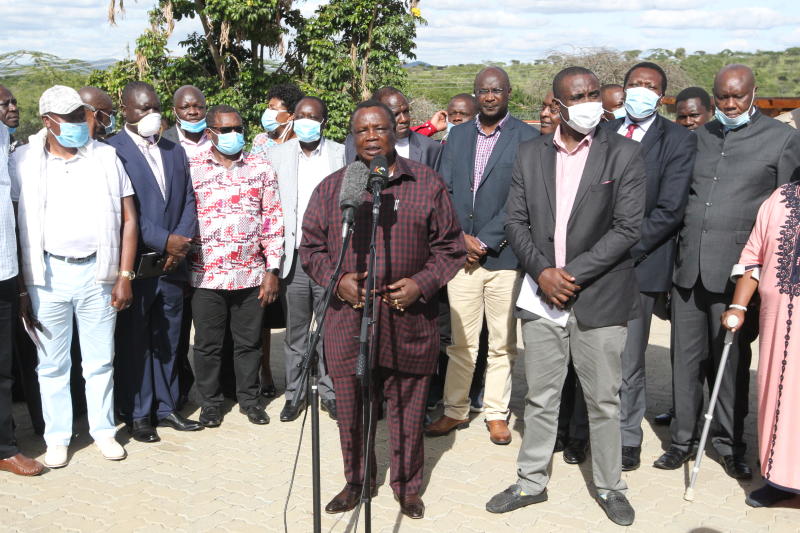 The Western leaders' meeting hosted by Cotu Secretary General Francis Atwoli has sparked uproar over apparent selective application of Covid-19 safety rules.
Photos and videos of the gathering have depicted a breach of social distancing guidelines, with some leaders parading themselves for a press briefing without wearing masks.
The meeting attended by more than 40 leaders also went against the cessation of movement in and out of certain counties, as some of the guests travelled from as far as Busia County through Nairobi to Kajiado.
Kenyans yesterday took to social media to protest the impunity by leaders as it appeared that the rules set by the government to contain the respiratory disease were only applicable to the common mwananchi.
Several Kenyans have been arrested for going to public spaces without wearing a mask, and charged. Others end up in government quarantine facilities for at least 14 days for flouting some directives, including the nationwide curfew.
Read More
Traumatising scenes
Some bereaved families have been treated to traumatising scenes, with their kin hurriedly buried at night. Others have ended up missing their loved ones' burials after the government limited the number of mourners to 15.
Kenyans have also been arrested for hosting people in their homes and charged.
But it now seems some of these safety precautions are not applicable to political and business leaders. Some of the high-profile burials witnessed during the pandemic have recorded more than 15 mourners, with dignitaries from far and wide allowed to travel to attend them.
In the Kajiado meeting, a video clip shows Atwoli and some of his guests dancing while enjoying drinks.
Law Society of Kenya President Nelson Havi said the political leaders' actions reek of impunity and hypocrisy.
"It is time we called out Kenyan political leaders for the fraud they are. They declare a curfew for Covid-19 and demand we obey, but they don't," said Havi.
"They restrict movement but they are moving freely. They say no succession politics but are politicking. What more lies can they tell us?"
In a tweet, Atwoli defended the meeting, stating that his guests observed public health measures.
"May I assure Kenyans that my guests observed social distancing at my Ildamat home," he said.
Another Kenyan on Twitter said, "Old political conmen can meet in hundreds and risk lives while a seven-year-old boy can't even step out of the house to jog."
The tweet was in reference to Thursday's arrest and charging of 36 fitness enthusiasts in a Kisumu estate who were accused of flouting Covid-19 safety guidelines. The suspects were found jogging "without keeping social distance".
Elgeyo Marakwet Senator Kipchumba Murkomen also took to Twitter to castigate the breach of guidelines by the leaders, saying there was no need to continue closing churches when political leaders could gather freely.
"If you can open the bars, then we can open churches. Please tuwache ukora (let's stop this conmanship)."