Retracing the final moments of Kikuyu Benga Musician who died in road crash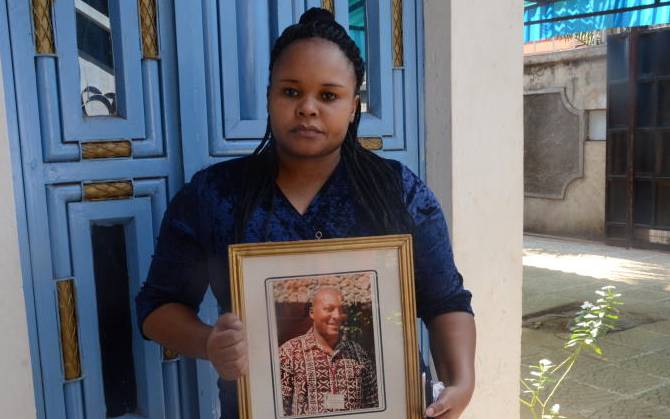 Kikuyu Benga musician James Walter Githinji, popularly known as Jimmy Wayuni, has died
Police say Wayuni, 60, died when his car hit a lorry on Thika Superhighway on Tuesday night.
His death comes barely a year after that of another leading Kikuyu Benga musician John de Mathew.
De Mathew died in a car crash on August 18, last year in Thika.
Wayuni, who retired last January as a deputy commissioner at the Kenya Revenue Authority (KRA), was on his way to drop another musician, Samuel Ndung'u alias Jacksam Kibandi at Gikomba, Nairobi, when the accident occurred at around 9:30pm near Kahawa Sukari.
The musician famously known for his hit song "Airitu a Ruiru (Ruiru girls), had spent the better part of the day with Ndung'u, and was dropping him home when the accident happened.
Ndung'u told The Standard they had spent the better part of the day at Bypass Members Place on the Eastern bypass, discussing matters related to music and business until around 9:20pm.
"I am still in shock. We spent the whole day together at the music shop. I own the club where he is my landlord, and he was in a very jovial mood," said a distraught Ndung'u.
Before the crash, he had pleaded with Wayuni to allow him to spend the night at the club. The musician would hear none of it and insisted on dropping Ndung'u home at Gikomba.
The two then left OJ along the Eastern bypass heading to Nairobi.
According to Ndung'u, Wayuni was exiting the superhighway at Kahawa Sukari, past Kenyatta University to join the service lane that leads to Githurai 45 when the car hit a lorry ferrying tomatoes.
The two musicians lost consciousness and were rescued by police on patrol and taken to St John's Hospital in Githurai 45, where Wayuni died while undergoing treatment.
Ndung'u was referred to Kenyatta National Hospital, where he was discharged after a series of tests.
Wayuni's wife Rosemary Wambui, 37, said she had been running errands and had left their two children in the care of their father.
The last call
"The last time we spoke was on phone around 1pm and he told me he had taken the children out for lunch. I never saw him again until I heard about his death," said Wambui.
"I am still in shock. I am in a rollercoaster of emotions right now. I have lost a good husband, father of my children and a provider," she said.
Wayuni's brothers Peter Kimani and Antony Kinyanjui said they had lost a star in the family.
According to Mr Kimani, Wayuni's musical journey started at a very tender age. In 1978, at the age of 18, Wayuni went into full music, recording under the stage name inspired by his mother's name, Eunice.
His band was named Kuhurika Brothers.
In his Kiamwangi village, Gatundu South, emotions ran high when news of the musician's death broke.
His neighbour John Wainana described the death as a blow to the people of Gatundu South.
"Wayuni was my neighbor, a friend and a classmate in Muhoho High School in the 70s. In class we called him noisemaker number one. Music was in his blood, and he would use rulers and buckets as a drum set," said Wainaina.
"I was listening to his music when I heard about his death," he added.
Epha Maina, fellow musician and Talented Musicians and Composers SACCO chairman said Kenya's music fraternity had been shocked by the news of Wayuni's death.
"Wayuni will be remembered for his generosity and willingness to support upcoming musicians. He loved everyone and had a recording studio where artistes who could not raise recording fee recorded for free," said Maina.
Wayuni has left behind two children.