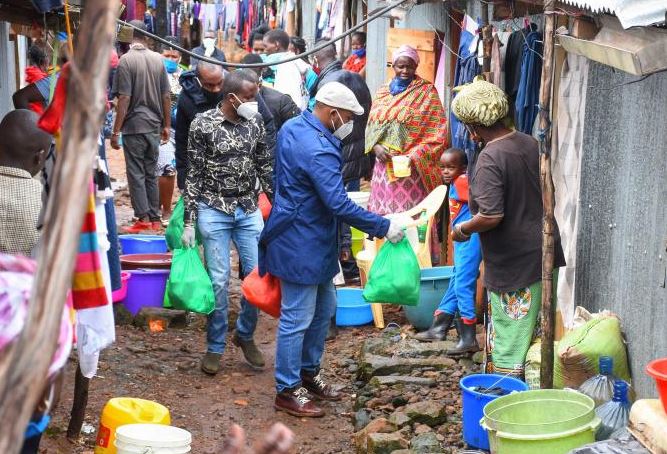 Deaths, evictions, crime, hunger, domestic violence and idle school children who can't access online teaching are now a nightmare in Nairobi's informal settlements.
Since Kenya reported its first case of the Covid-19 disease on March 13, life in the capital city's slums has become unbearable.
Matters became complicated when President Uhuru Kenyatta declared a curfew to control the spread of the dangerous virus. The curfew runs between 7pm-5am.
Already, four families have lost their loved ones as a result of police brutality and a stampede for food in the slums.
Hussein Moyo, the father of Yassin Moyo, a Standard Eight candidate at Ndururuno Primary School, is unable to understand why his son had to die.
"My son was a bright child who was looking forward to excelling in his exams. But a single bullet by a trigger happy police officer snuffed life out of him," Moyo said.
The 13-year-old was standing at the balcony on the third floor of their rented house in Kiamaiko, in Huruma Estate, when he was reportedly hit by a stray bullet shot by an officer who was in a team that was patrolling the slum to enforce the curfew.
The father is not sure whether the killer police officer will be traced, charged and convicted of the matter. "Given the many cases of unresolved police murders, my son's death might just add to the numbers. We cry for justice but our poverty limits us," Moyo said.
In Kawangware slums, the family of Peter Gacheru is also bitter after he died as a result of the dusk-to-dawn curfew.
Gacheru, who operated a mitumba business in Kawangware, met his death early this month in the hands of police, who are said to have beaten him for flouting curfew rules.
Gacheru's only fault was being outdoors just 15 minutes after the curfew came into force. He has been buried.
In Kibera, two families at Laini Saba and Lindi have also lost their mothers, who were trampled upon by a rowdy mob that was fighting for foodstuff donated by former Prime Minister Raila Odinga.
The story of Kibera, Mathare, Kariobangi, Kangemi, Kawangware and many other informal settlements in the city is the same.
Most of them have lost employment as majority depended on daily casual jobs for survival.
Some have been evicted from their houses for failing to pay rent. Cases of domestic violence have also gone up.
Children can't also access online teaching because their parents can't afford to buy some of the gadgets needed to access learning materials online. Some of them have no radios or television sets where some of the lessons are being offered.
Matthew Okumu who lives in Mathare slums says he lost his job as soon as the government announced a lockdown. So many of his peers suffered a similar fate. They used to work at Export Processing Zones (EPZ) companies in Baba Dogo.
"About a month ago, we were told our jobs have been terminated because of the prevailing economic melt-down brought about by the disease. I, like many of my colleagues, have not been paid our March salary," Okumu, a father of two, says.
He added: "I am now not able to provide for my family. I pay Sh4,000 rent, but I can't pay now. I have informed my landlord but he won't listen; he wants his money."
He said Mathare residents, like many others in other slums, have no water despite government order for Nairobi Water and Sewerage Company to provide free water to all the informal settlements in the capital city.
"We have to buy a 20-litre jerrican of water for Sh30. We use communal pit latrines and this has compromised our sanitation. We can't bathe or wash our hands regularly and this exposes us to this deadly virus. On rare occasions when the water is pumped, landlords disconnect it because we have not paid rent," Okumu says.
Mildred Akinyi, 26, a mother of one who runs a small shop at Kayole Step One, is worried that she might be forced to close her shop any time.
"People are not buying items as they used to because they have no money. Majority are now taking them on credit. The curfew is not good for us. Most of the people here are casuals who used to earn Sh300 per day," she said.
Insecurity has also increased in the areas. "This is complicated by the police not wearing uniforms. We now have cases of crooks who have guns and pose as police officers. They raid our premises and steal from us in the name of being police officers," Akinyi says.
Last week, four suspected thugs were shot dead by police in a botched robbery in Kibera slums.
Kibera police boss Andrew Musaisi said the four were part of a gang that had been terrorising and robbing locals of their cash and valuables.
James Mabele, who works at a paper industry in Industrial Area, says he was lucky he sent his family home a day before the curfew. He lives in Mukuru Kayaba slums.
"My wife and our two children went home a day before the commencement of the curfew. Two days later, my employer told me not to report to work, citing poor business. I am unable to provide for my family and can't go home. I fear I might just die in my house," Mabele says.
Like Mabele, Rusa Wanzala, a barber at Westlands, is also stuck in his house in Kangemi.
"I used to work at a salon in Westlands but I can no longer go to work; all we do is stay at home. I can't leave for home and I have exhausted my meagre savings," Wanzala says.
George Taabu, a milk loader with New Kenya Co-operative Creameries (KCC) is lucky that he still has a job, but sees a bleak future.
"We are able to supply milk across the country but the sales are stagnant because of the diminishing buying power of our customers," Taabu, who lives in Mukuru Kwa Njenga, says.
Experts are now calling for urgent measures to cushion Kenyans and especially the slum dwellers from the negative effects of Covid-19.
Felix Kioli, a sociologist and director of post graduate studies at South Eastern Kenya University, says slums have been hard hit as most depended on casual jobs for survival.
"We are dealing with a precarious situation. The State should come on board because the residents here are likely to suffer. They have no resources; they are struggling to survive," he says.
Prof Kioli recommends that government should first consult them before it comes up with a project to help them so that residents are involved in determining what they need.
"I have done studies in the slums and found out that the residents there are very resilient and communal. They have unique needs but they will survive as they share a lot and reciprocate as opposed to the rich," he says.
He called on government to protect the children to guard against long term consequences, which include illicit sex, prostitution and other forms of crime.
"For these children, it will be a struggle to survive, not doing what is right," Kioli says.
Education expert Jonathan Wesaya says school-going children in the slums are disadvantaged during this period because their parents don't have smart phones, laptops and money to buy Internet bundles.
"They will miss out on virtual education being delivered using modern technology. When schools re-open after the disease, they will be behind their peers in public and private schools yet they are to sit the same exam," Wesaya says.