Renowned Kenyan Swahili author Ken Walibora dies in road accident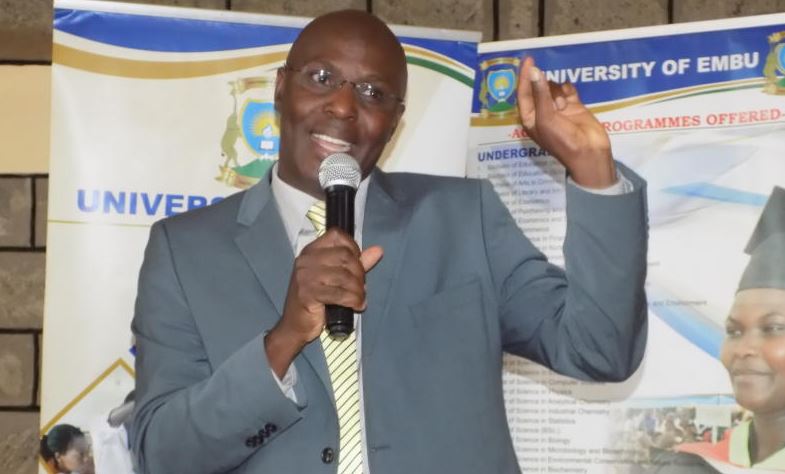 Renowned Kenyan Swahili author and Journalist Prof. Ken Walibora is dead.
Details reaching the Standard Digital desk say Walibora, who was reported missing since Friday last week, was knocked by a matatu on Ladhies Road, Nairobi.
A long-time friend, who requested anonymity, told Standard Digital that Walibora was driven to Kenyatta Hospital in a Nairobi County Ambulance and police drove to the scene where some street children, who had taken his cellphone, produced his ID.
"He had some identification documents and a car key. His family identified the body but they are waiting for the mother to come," Central Police boss Mark Wanjala said.
The literary scholar was hit by a Double M bus, whose driver was over speeding. The driver fled the scene but has since been arrested. He was found hiding in Nairobi's Buru Buru estate.
His body has been lying at the Kenyatta National Hospital mortuary since Friday where it was on Monday found by relatives and friends after a frantic search.
Police also say that his car is missing.
The author is famous for the Swahili novel, Siku Njema, which was published in 1996 and saw Walibora become an instant household name in Kiswahili literature.
He was employed at the Nation Media Group as a Kiswahili news anchor after which he joined the University of Wisconsin, USA, as an assistant professor, African languages.
Later, in recognition for his contribution to the development of Kiswahili, The Aga Khan appointed him as the Nation Media Group Head of Kiswahili, a position he served until he joined Riara University's School of Diplomacy.
In an interview with Daily Nation in 2015, Walibora credited his creativity to his mother in his autobiography, Nasikia Sauti ya Mama, a detail that would make him one of the most famous Kenyan authors in later years.
Walibora is an alumnus of Ol-Kejuado High School and the University of Nairobi.
He played a major role in translating Google and Microsoft websites user instructions details from English to Kiswahili.
Some of his most famous books include Siku Njema, Ndoto ya Amerika, Kidagaa Kimemwozea and Nasikia Sauti ya Mama.
Published in 1996, Siku Njema is Ken Walibora's magnum opus. It is the story of Msanifu Kombo who was born to a single mother and his struggles.
Although his mother is a popular Taarab singer, Kombo, who was born in Tanga, Tanzania, is frowned upon just because he was born out of wedlock.
List of Ken Walibora's bibliography
Siku Njema
Ndoto ya Amerika
Kidagaa Kimemwozea
Nasikia Sauti ya Mama
Damu Nyeusi na Hadithi Nyingine
Kufa Kuzikana
Ndoto ya Almasi
Kiti Cha Moyoni Na Hadithi Nyingine
Innocence Long Lost
Waja Leo: Diwani ya Mashairi
Maskini Milionea Na Hadithi Nyingine
Chapuchapu
Hazina Bora
Pepela na Mto
The American Dream
Bobby the Dog
Upande Mwingine
Contemporary Africa and the Foreseeable World Order