Brenda trolled after going public about being Kenya's recovered coronavirus patient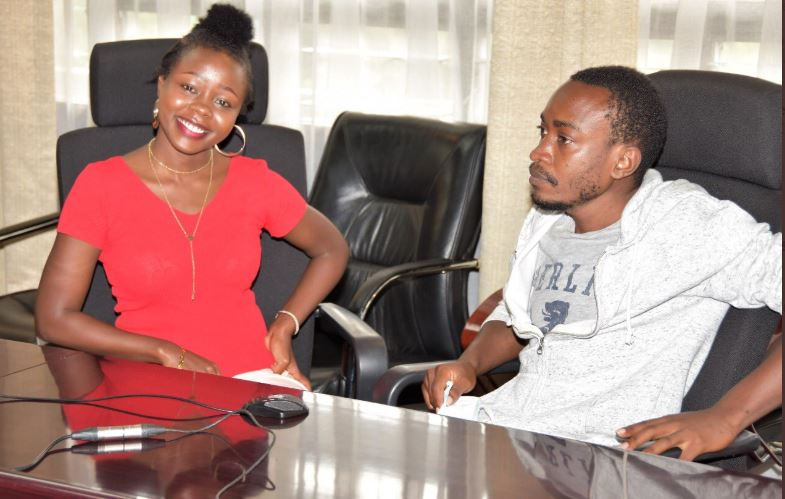 Wednesday, April 1, would have passed as any ordinary day were it not for an unusual live broadcast.
President Uhuru Kenyatta was having a video conference meeting the Cabinet Secretary (CS) for Health, Mutahi Kagwe, who was in the company of two individuals that had recovered from coronavirus.
The two were; Brenda Ivy Cherotich, now popularly known as Kenya's first coronavirus patient and Brian Orinda, patient number three – who contracted the virus from Brenda.
On March 13, Kenya joined a growing list of countries around the world that have confirmed cases of coronavirus. After the health CS made the announcement, life in Kenya changed – literally. In three weeks, the country has recorded 81 cases and one death. Kenyans are now strictly observing a 7pm to 5am curfew as part of the many measures aimed at curbing the spread of the virus.
Patient zero goes public
Following her going public, Brenda – patient zero – captured the attention of the entire country. In the interview, she confirmed that indeed she had the virus, explained where she could have possibly caught it, and revealed that she has now fully recovered from the virus.
Clad in a red top and cream pants, Brenda looked bubbly as she gave a captivating narration of her experience with coronavirus. With her was Brian. He came across as quiet – almost timid – judging by how he slouched on the chair during the video conference.
After her virtual meeting with Uhuru and media interviews in various stations, Brenda has now become an overnight sensation and a hot subject for trolls on the internet. She has been trending on Twitter for most of the day.
Why Brenda has raised a storm
Standard Digital has gone through several interviews Brenda has given after she came out in public to share her experience. These are the questions Kenyans are asking:
How many days was Brenda in quarantine?
In the telecom with Uhuru, Brenda said she had been in quarantine for 23 days. During her interview at NTV, she said she was in quarantine for 22 days. "I've been in quarantine for 22 days now," she said.
The difference between the date of recovery and confirmation of the first case is 20 days. So, where did the 23 days come from?
We do however acknowledge that Brenda said upon return to Nairobi, she developed a cough and a fever for three days. "I decided to give myself one day to see how my body would respond".
So, how many days was Brenda in quarantine?
Mbagathi Hospital or Kenyatta National Hospital?
After a now-famous virtual meeting with Kenyatta, Brenda said after exhibiting cough and fever, she took herself to hospital after calls to the Health Ministry toll number went unanswered.
In her testimony, Brenda said she went to Mbagathi hospital, where she was eventually put on quarantine.
She also told NTV's Dennis Okari that she called Mbagathi hospital and the toll-free numbers, which went unanswered.
"Okari: Did they pick you from the house? Brenda: The calls to Mbagathi hospital did not go through, that's when I decide to take a cab and go there myself."
However, in an interview on Citizen TV on Wednesday night, Brenda thanked nurses and staff at the Kenyatta National Hospital for helping her to pull through the quarantine period.
So, where was Brenda quarantined?
How does Brian fit into Brenda's story?
Brian Orinda, the third patient to recover from the coronavirus said he contracted the virus from Brenda.
"I got the disease through contact with Brenda. Immediately her results were out, the authorities came for me. When I tested positive, they embarked on my treatment," he said during the video conference with Uhuru.
In an interesting twist, Brenda denies knowing Brian prior to contracting the coronavirus.
When asked who Brian was, she responded that she came to know him when he was brought into the isolation ward at Mbagathi hospital.
Minutes later, she contradicts herself by saying Brian was one of the people who had been at her house in Rongai, after her return from the US.
Brenda had also earlier said that after she experienced a mild cough and fever three days after her return, she made a few calls to her friends who had been to her house.
So, how did Brenda infect Brian?
How old is Brenda?
While announcing the news of Kenya's first confirmed positive case, Health CS Mutahi Kagwe said, "the case is a Kenyan citizen who travelled back to Nairobi returning from the United States of America via London, United Kingdom on March 5, 2020. She was confirmed positive by the National Influenza Centre Laboratory at the National Public Health Laboratories of the Ministry of Health. The patient is clinically stable, and is being managed at the Infectious Diseases Unit at the Kenyatta National Hospital."
Kagwe said the patient was a 27-year-old woman.
Brenda says she is 26-year-old.
"I got it from the media when it was announced…that's when someone called and said, Ivy, I think that is you," she told NTV's Dennis Okari.
Regarding her age, she said, "the media actually said I was 27-year-old, then I was like no, but I'm 26 years old… But I connected the dots."
Age is just a number. 26 or 27 is certainly a big deal for a woman. We get you Brenda!