Powers Matiang'i and Kagwe can use to stop virus spread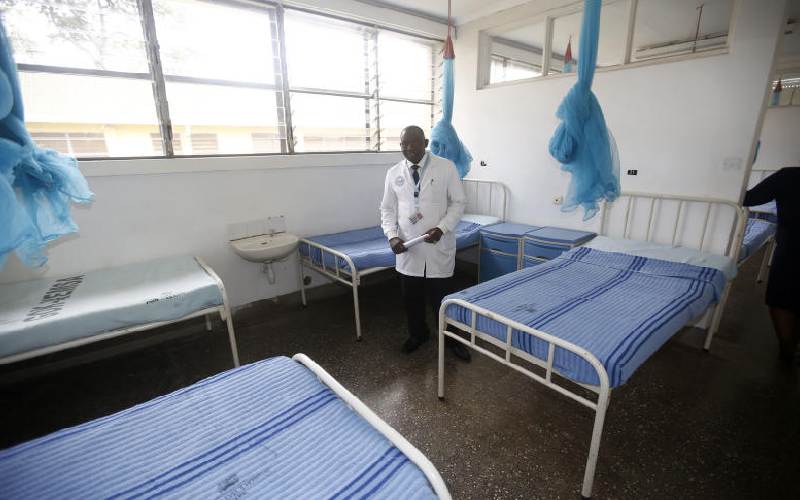 Interior Cabinet Secretary Fred Matiang'i and his health counterpart Mutahi Kagwe have sweeping powers that they can use if the coronavirus crisis starts to spin out of control.
Although Kagwe has called on Kenyans to exercise self-discipline and restraints to avoid unnecessary risks of contracting Covid-19, the law provides the government with a leeway to enforce certain measures if push comes to shove.
For starters, if the virus starts spreading more rapidly than anticipated, the Interior Cabinet secretary can invoke the Public Order Act.
The law gives the Interior CS sweeping powers to impose a curfew on a certain geographical area, forcing residents to remain indoors for a specified period.
"A curfew order shall be published in such manner as the authority making it may think sufficient to bring it to the notice of all persons affected thereby, and shall come into force on such day, being the day of or a day after the making thereof," states the Act.
The curfew, the law stipulates, remains in force until rescinded by the CS.
Before then, any person who contravenes the provisions of the curfew order or any of the terms or conditions of a permit granted to him or her is guilty of an offence punishable by a fine not exceeding Sh1,000 or a three-month jail term, or both.
Take a quick survey and help us improve our website!
Take a survey
Notifiable infections
At the same time, the Health CS is mandated to declare a disease a notifiable infection through a gazette notice, giving medical officers sweeping powers over persons, premises or vessels suspected to be carriers.
Once gazetted as a notifiable infectious disease, heads of households and/or landlords are required by the law to notify the nearest medical officer of health about any suspected case.
This ensures that every medical practitioner attending the patient is aware that he or she is suffering from a notifiable infectious disease and in the event of death, issue certificate to the nearest medical officer of health.
The medic must, according to the law inform the head of the household or those who were nursing the patient the cause of death so that they can take the necessary precautions to prevent further spread.
"A medical officer of health may at any time enter and inspect any premises in which he has reason to believe that any person suffering or who has recently suffered from any infectious disease is or has recently been present," the law states.
The Public Health Act also empowers a medical officer to examine any person in such 'suspect' premises to ascertain whether they are suffering or have recently suffered from any such disease.
Where premises are suspected to have been occupied by an infected person, the health authority can issue orders for it to be disinfected and give directions on how this should be done.
If the owner fails to comply, he or she will "be guilty of an offence liable to a fine not exceeding Sh200 for every day during which he continues to make default; and the health authority or medical officer of health may cause such building or part thereof and articles to be cleansed and disinfected."
The cost of disinfecting such premises, the law stipulates may be recovered from the owner as a civil debt recoverable summarily.
In the event coronavirus is declared a formidable epidemic, the Public Health Act gives health personnel powers to conduct "house to house visitation and preventing any person from leaving an infected area without undergoing all or any of the following, namely, medical examination, and disinfection."
Destroying buildings
In extreme cases, the law provides for, "the destruction or disinfection of buildings, furniture, goods or other articles, which have been used by persons suffering from infectious disease, or which are likely to spread the infection; the removal of persons who are suffering from an infectious disease and persons who have been in contact with such persons."
The law also gives health officers some powers over vessels docking in the country. The port health officer can board a vessel, inspect it and examine occupants to establish whether they are infected.
The health officer can then grant the vessel conditional entry or order it quarantined.
At the same time, health officers can order infected occupants or passengers to be removed and isolated.
They can also require a person in charge of a vessel or aircraft suspected of carrying an infectious disease to provide a passenger and cargo manifest or a crew list.