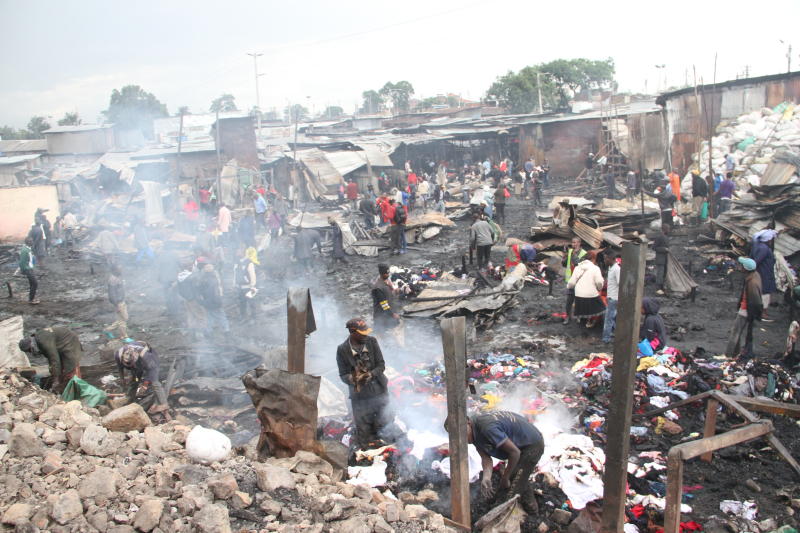 When Mary Njeri, a secondhand clothes importer and wholesaler at Gikomba market in Nairobi talks, it is in the voice of a grieving woman.
"We have spoken about Gikomba before and President Uhuru Kenyatta has even come here and told us he will build fireproof stalls. What else are we supposed to say?" She poses.
The story of Gikomba open air market and the perennial fires is one of broken promises.
President Kenyatta visited the market in June 2018, after 15 people were killed and 60 others injured in a fire.
"...we will fully investigate the cause of the fire; and we will work to make sure that no such tragedy recurs," President Kenyatta said.
"The national government and Nairobi County will sit together to review our emergency services and disaster preparedness. We owe the victims, and the people of Nairobi, a clear, credible plan to end these fires," he added.
The President's message came a few months after another fire destroyed property in the market and the then Devolution Cabinet Secretary Mwangi Kiunjuri issued a statement indicating his office would work with Nairobi Governor Mike Sonko to build permanent and fireproof structures to prevent losses in future. "We will explore ways of ensuring that businesses are protected against such disasters including constructing permanent structures," the former CS said.
Haphazardly constructed
Almost three years later. traders in Gikomba are still waiting for leaders to fulfill their promises.
"The government gets tax from every container that we ship into this market. There have been fires in Gikomba, if there was anyone who cared then a market would have been built. Even if they asked for us to contribute we would have done so, provided we get a market," Njeri said.
The fires attract politicians - Deputy President William Ruto, Simon Mbugua, Charles Njagua, Johnson Sakaja, Mike Sonko, Evans Kidero, all with iron sheets in tow and full of promises. "We must come up with a lasting solution to Gikomba fires. This must come to an end," DP Ruto said in 2015.
In the 2015/16 budget, former Nairobi Governor Kidero proposed Sh570 million for development of new markets including Gikomba.
Clustered and haphazardly constructed, Gikomba hosts about 100,000 traders and is Kenya's largest "mitumba" market. The bulk of 100,000 tonnes of secondhand clothes that Kenya imports each year end up in the market.
Yet the government's approach to the fires in the market has been been casual at best.
The fish market which was razed in 1990s is being constructed now.
"It has taken more than a year to bring up a building that is nothing but columns, why should it take that long?" Njeri posed.
The cause of the fires have been listed as faulty electricity (due to illegal connections thereby causing electric overloads), hot charcoal originating from iron boxes and charcoal stoves used by food kiosk owners. But there is suspicion that land issues and rivalry are behind the arson attacks.
The predicament of traders at the market has been subject to debate in the Senate.
City Hall has also been accused of illegal allocation of land in the market, which has fueled the fires in an attempt to evict the hawkers.
"The fire in Gikomba was deliberate. It was started by arsonists who have the protection of the Nairobi County Government and the police. That is the reason why the police, instead of arresting criminals, they are in Gikomba preventing people from reconstructing their shops under the pretexts that those shops were under a power line," Njeri said.
"If that was a good reason, the power line would have been moved and these people be allowed to reconstruct their businesses," Makueni Senator Mutula Kilonzo Jnr said after hawkers were teargassed for reconstructing the burnt down stalls
"Sometimes that makes us think that there are people in the government who want to kick us out of Gikomba so that is why they keep burning it so that we give up and move out and they can claim the plots," Njeri said.
Nairobi Senator Johnson Sakaja said: "There are people who have been holding title deeds for public land in Nairobi. Because Gikomba is public land, we have directed that all people who are holding title deeds for land in Gikomba – the 12 acres – should know that what they are holding is fake."
Nominated Senator Mary Seneta wondered why findings of investigations ordered by President Kenyatta after an incident in 2017 are yet to be made public.