Girl's disability is no barrier to her father's love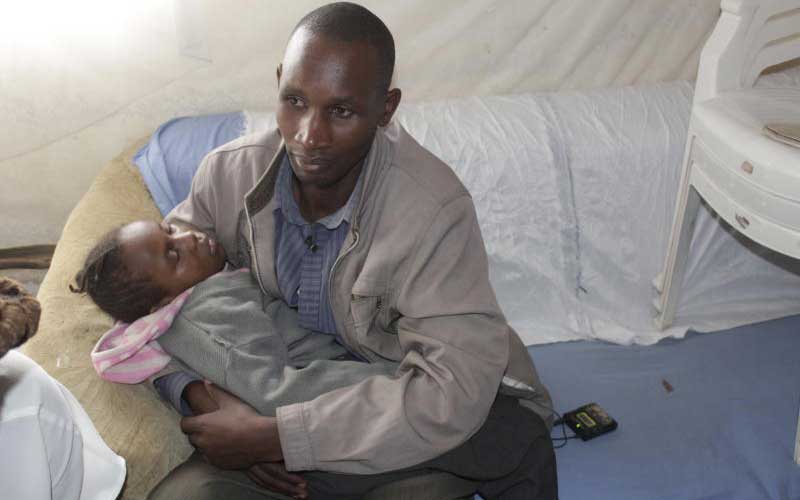 If there was an award for the best father in the world, there is little doubt that Happy Bosibori would nominate her father, Stanley Motanya.
This is the man who has stuck by Happy for the last seven years when she has needed help to do virtually everything.
Happy may be 10-years-old, but she cannot do anything for herself; she cannot walk, feed herself, or communicate.
When she was three, her father told The Standard, Happy was diagnosed with meningitis. The disease ravaged her body and left her paralysed and helpless; hopelessly trapped in a body she had no control over.
Motanya's daughter may be called Happy, but that is not the story of her life. Sometimes she tries to smile and looks glad when her father notices. But Motanya says he suspects that at times she knows the smile he beams back does not come from the depths of his heart.
Before Happy fell ill, her father was a matatu driver. He owned his own vehicle and made a decent living. He never failed to buy his daughter anything she wanted.
But after Happy fell ill and the doctor dropped the bombshell, the news broke Motanya; not just his heart, but also his wallet.
Happy used to be in hospital every week as doctors frantically struggled to manage new complications. These visits would not allow her father to have peace of mind at work.
Life became hard and Motanya had to quit his day job as a driver to take care of Happy. Her father says she is not an easy patient. You cannot tell when she is sad or happy, when she is hungry and, embarrassingly, when she needs to use the toilet.
By the way, Happy still wear diapers.
Motanya was told that Happy would need therapy, which is supposed to enable her do basic things like walking and eating without help.
But he says he did not earn enough to pay for Happy's daily therapy. The sessions appeared painful and the therapist warned that if Happy skipped some days, her muscles would tighten up again and she would be back to square one.
Therapy sessions
Sometimes Motanya would skip therapy sessions to avoid hearing his daughter's cries of pain.
The therapy sessions take place in a school: Mary Rice Centre for Children with Disabilities in Lang'ata, Nairobi. Unfortunately, there is only one therapist for nearly 80 learners.
When Happy was ready to attend school, there was a challenge: How was she supposed to get to school and back home in one piece? People with her condition could be vulnerable to predators out there.
Motanya still had his 14-seater matatu, which he decided to convert into a school van. He even painted it yellow.
At first Happy was his only passenger, and he says it was kind of boring. But other parents soon approached him to ferry their children to the same school. The first parent was a woman, who used to hold Happy as her father drove. This parent also had a disabled child.
Soon the matatu was always full of children from the neighbourhood.
Motanya's vehicle soon became the unofficial school van, and the school was king enough to help with fuel and take care of mechanical expenses.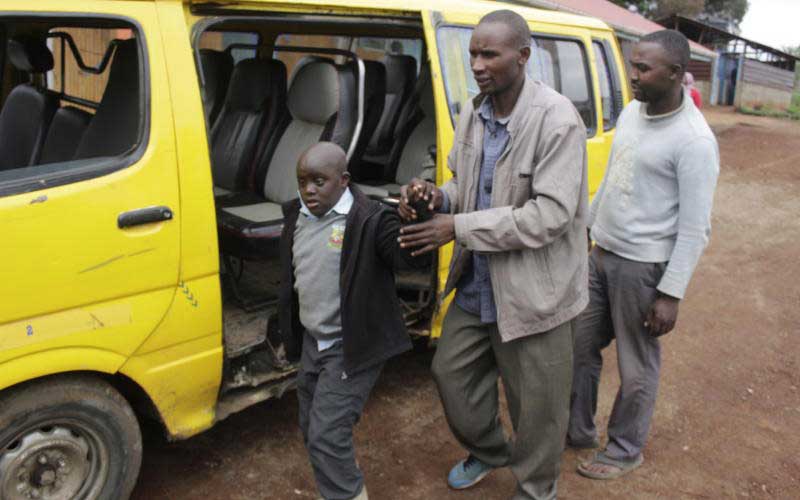 Every morning, for the past two years, Motanya wakes up at 5am to pick up children from other schools. At 7am, he starts driving around picking up learners who attend Mary Rice Centre.
On some mornings, Motanya finds some of my Happy's are bedridden either from the flu or some other ailments. For those who are disabled, he has to go around Kibra picking each one of them.
Sew uniforms
When Happy and her friends get to school, the teachers assume responsibility. Apart from receiving therapy, the children also learn for free. Parents show their appreciation by preparing food or sewing uniforms.
At 2pm, Motanya is back to drive the children home. It is his wish that he could get a bigger vehicle. It would make his work easier because he would not have to do many trips to ensure the children are safely home.
Motanya's gesture and dedication has greatly helped the centre. It means that the therapist, for instance, does not have to visit every home to provide therapy. Motanya says centre director Gerald Mgatula has expressed his appreciation for his work.
There was a time the centre had donated wheelchairs to learners, but they broke down due to the poor terrain.
On July 20, the children will hold a walk to sensitise parents not to leave their children with disabilities at home. They also hope to raise funds to run the centre.
Motanya says Happy has a three-year-old brother and a sister who is a few months old. It is a daily struggle to fend for his family, and matters are not helped by a Sh1 million mortgage for a Government house that he is yet to pay off.
But the father says he will not rest, even when he is feeling worn out. He intends to sacrifice all he is and all he has for his children.
If Motanya had one wish yesterday, he says, it would be to hear Happy say six magical words; 'Happy Fathers Day. I love you'.