Puzzle of Sonko's name in Mombasa land disputes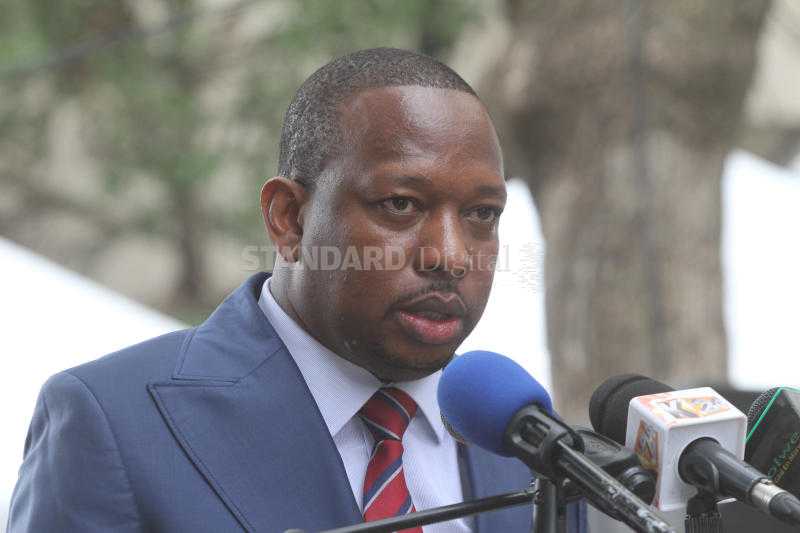 Kenya's coast has been home to some of the most vicious land battles, the latest pitting one couple against a woman alleging ties to Nairobi Governor Mike Sonko.
At the centre of the dispute is the control of a parcel of land in Kikambala area. The parcel is valued at Sh183 million.
The couple, Monika Herta and Joseph Lenguris, have for years tussled over the land with one Caroline Mwel Mwandika, court records in our possession show.
Monika says she bought the land in 1994 from Mubia Holdings Limited at a cost of Sh2 million and later sold it to Mwandika for Sh23 million. But Mwandika, Monika claims, flouted the terms of sale by paying only Sh2 million. She sought redress in court.
Mwandika, who is the Governor Sonko's cousin, still lives on the property despite a court ruling that handed the land back to Monika after finding that Mwandika's acquisition of it was fraudulent.
Four weeks ago, groups of youths and residents allied to Mwandika on one side and Monika and Lenguris on the other clashed, forcing the police to intervene.
Last week, Lenguris claimed Sonko and his bodyguards stormed the property as he tried to enter it and opened fire, a claim disputed by both the governor and the police.
On Saturday last week, Monika confirmed claims by a lawyer, Benjamin Musyoki, who represents Mwandika, that the governor tried to help them find a peaceful and amicable solution to the matter on January 13.
Take a quick survey and help us improve our website!
Take a survey
"The land belongs to my client (Mwandika). On the issue of Governor Sonko, he was trying to mediate between the two parties," said the lawyer.
But Monika insists the land is hers.
"I first came to Kenya in December 1991 and I loved the country. That is why I bought the land in 1994 and built a seven bedroom house," Monika said.
This is only the latest land case in which the Nairobi governor has been embroiled in at the Coast.
There are two key court cases in Mombasa in which Sonko appears as a prosecution witness. In one of them, he allegedly acted as an agent while in another, he is facing a defamation suit filed by a lawyer who also wants him charged with fraud in a Sh16 million land dispute.
The lawyer has written to the Director of Public Prosecution (DPP) several times questioning why Sonko was turned into a State witnesses and not a co-suspect in the trial of Ruwa Mwaruwa Kurera.
Fraudster's son
Ruwa is accused of fraudulently obtaining money from Morgenstern Joachim, a German, by pretending he could sell him land in Shanzu area of Mombasa which he did not own. During the transaction in 2009, Sonko allegedly posed as Kurera's son when he reportedly received Sh16 million in cash inside a bank.
Lawyer Lucy Momanyi, who is holding brief for the complainant, told the court on July 4 last year that the case has stalled since 2012, delaying justice for her client.
On that day, the case failed to take off because a key witness did not turn up. Kurera is charged with obtaining Sh16 million from Joachim by pretending that he had a beach plot at Shanzu to sell to him.
In a letter to the Director of Public Prosecutions (DPP) in 2014, Momanyi asked that the (then) senator be investigated, after alleging Sonko had been trying to blackmail her to stop demanding for his prosecution in the case.
In her statement of February 28, 2014, Momanyi complained that Sonko called her several times threatening her.
On June 6, 2012 in a different letter to the DPP, Momanyi wrote saying her client recognised the senator as one of the suspects, yet Sonko had not been charged along with Kurera, who allegedly posed as a sick person in need of money to travel to India for urgent medical attention.
But Sonko, in a police statement dated October 16, 2010 denied benefiting financially from the fraud as alleged by the German.
Sonko, then a senator also denied having used an identity card bearing the name Mike Munga Kurera and his photograph.
In the other case, Sonko admitted before a Mombasa magistrate on June 8, 2016 that he acted as an agent in the sale of a Sh29 million plot of land in Mombasa for which a businessman has been charged.
Sonko participated in the sale which the State says was illegal, a few weeks before he was elected Makadara MP in late 2009.
Afzal Ahmedali, a businessman in Mombasa, was accused of selling the property in Bamburi area of the coastal city to two brothers from Kajiado which the state says did not belong to him.
The State also said the suspect forged a title deed for the property four years before selling it.
Sonko was summoned to testify for the prosecution after the investigating officer in the matter disclosed that he (Sonko) was involved in the controversial transaction.
Real estate agent
Sonko told Chief Magistrate Julius Nang'ea that he had acted as a real estate agent in the sale and was paid Sh870, 000 as commission by Ahmedali. "I was only providing agency services and after the transaction, Ahmedali paid me Sh870, 000 as my commission," Sonko said.
Ahmedali faced three counts of fraud, including making a fake title deed with intent to defraud.
He was charged with presenting a forged document to lawyer Kanaiyal Mohamnal Pandya at his office in Mombasa on July 27, 2009.
Sonko said he started dealing as a real estate agent before he joined politics. He said he was in real estate business from 1996 until 2009 through his firm, P and P group of companies.
Investigating officer in this trial, Millicent Ouko, said Sonko used the names Mike Munga and Mika Musa as a land estate agent for Ahmedali to sell the land that belonged to Tecaflex Ltd to the two brothers.
To fight drought, involve communities
According to the latest information from the Meteorological Department, rainfall will be poorly distributed in April, May and June, and this will have a serious impact on agriculture