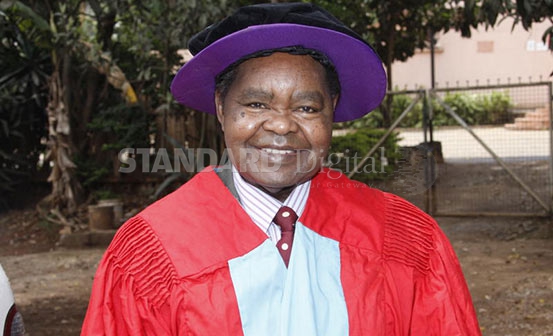 University lecturer and one-time TV news anchor Prof Joseph Nyasani is dead.
The family said Prof Nyasani (pictured) died yesterday morning at the Agha Khan Hospital, where he had been admitted since January 1 with heart and liver complications. They said there were plans to airlift him to Germany for further treatment after his condition deteriorated.
Doctors at the facility said the don succumbed to cardiac arrest after battling multiple organ failures.
Born in 1936, he wanted to be a Catholic priest but changed career paths to pursue academics, kicking off the journey of the Philosophy professor, who was an inspiration to many through decades of writing, academic and media work.
Nyasani will be remembered for breaking a 300-year record by writing his dissertation in Latin while doing his doctorate in Germany in 1963.
At the time of his death, he had 41 titles to his name. He authored several books in philosophy especially in metaphysics, logic, cosmology and legal Philosophy.
Some of his latest publications include Philosophy of Development, Life and Death in Africa, Philosophy of Nature, Philosophical Focus on Thought Systems in Development, Legal philosophy, British Massacre of Gusii Freedom Defenders and Metaphysics of the Cosmos and Related Recurrent Issues of Metaphysics.
In 1978, together with his friend Prof Akong'o Oyugi, he wrote a book titled The Coffee Bonanza, detailing accounts of how people engaged in all manner of things to trade in coffee in Chepkube.
Prof Nyasani survived a gun attack outside his home 1994 in which a bullet fired above his eye went through his skull.
In an interview with The Standard on Saturday in 2014, he said he believed early experiences had an impact on his beliefs and ideals, and shaped his career.
The deceased leaves behind a rich history. After his Cambridge Secondary Education in 1957 at a seminary in Kakamega, he was picked by Catholic bishop Fredrick Holl to be part of 20 Kenyan students who went to study for priesthood in Kampala, Uganda in 1958.
The following year, he would be the only student from the team selected to further his education in Rome, Italy, where he studied Latin, literature, English and history.
His academic papers include an Arts degree from Urbaniana University in Rome (1963), a diploma in social ethics from Woodstock, Oxford in 1964.
He also did law at New York University, School of Law in 1972 before PhD at the University of Cologne, Germany, in 1969.
Prof Nyasani, who is married with children, worked at the United Nations Secretariat in New York as Political Affairs Officer in the Department of Political and Security Council Affairs in 1971 before becoming an associate Professor at the City University of New York in 1973.
He is also a seasoned journalist spanning 35 years, having served as a reporter and announcer with the Voice of Germany (now DW) in Cologne and Voice of Kenya and later KBC.
He has been at the University of Nairobi since 1970. He was also first chairman of Council of the Kisii University from 2008 to 2013.
Awards and fellowships he won include the Alexander von Humboldt Foundation fellowship and DAAD foundation scholarship between 1987 and 1992.