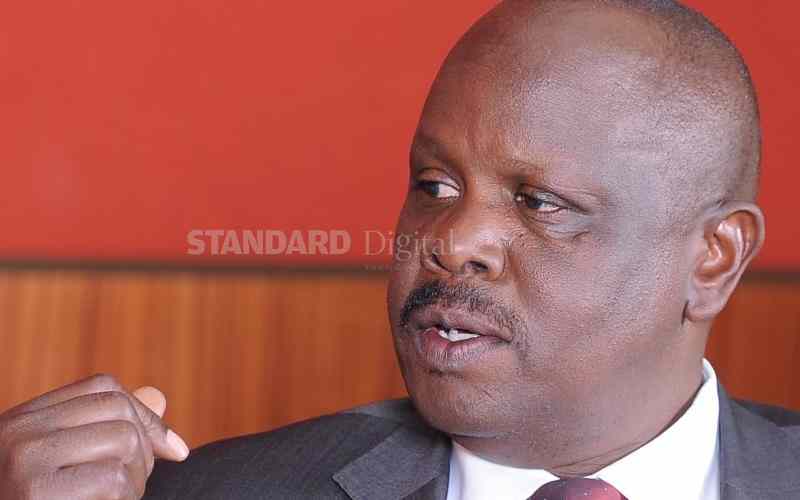 Isaac Kiprono Ruto was elected Chepalungu MP in 1997 to become one of President Daniel arap Moi's point men in South Rift Valley. Between 1998 and 1999, he was the Assistant Minister for Education, and later moved to the Ministry of Agriculture in the same capacity until 2001 when he became a Minister.
After Bomet MP Kipkalya Kones was relieved of his duties for associating with the Opposition, Ruto was promoted to Minister for Vocational Training in 2002. As a politician and by his appointment, he was expected to ensure that the Opposition and the Kones influence came to nothing in the region that was traditionally a KANU stronghold.
Before the 2002 General Election, Ruto differed sharply with Moi shortly before the end of a two-day State tour of South Africa over the electability of Uhuru Kenyatta and Kipsigis community politics in general. The President abandoned him at a South African airport and Ruto had to return to Nairobi on a commercial airline. When asked why he was left behind, Ruto, who later patched up his differences with Moi, said it was a small difference not worth discussing with the media.
Those who know the former Minister say he had a knack for differing with even those close to him. Ruto would differ with Moi, parliamentarians and even his Cabinet colleagues over issues he held close to his heart. His saving grace was that he did not hold grudges.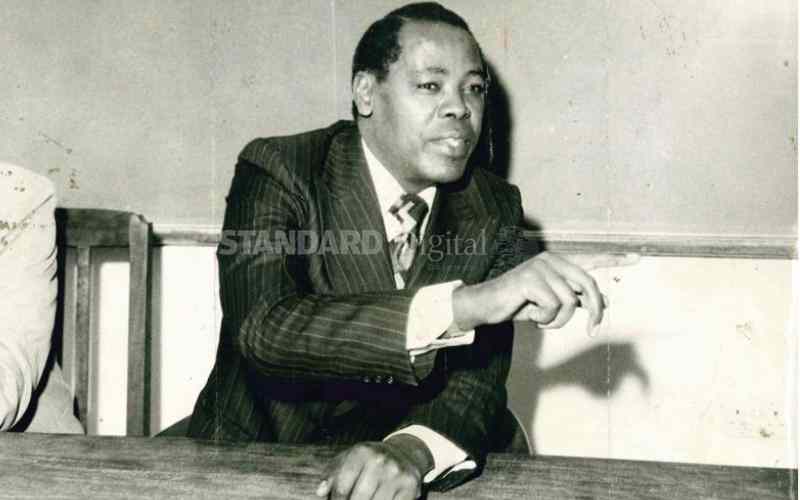 JAMES BORO KARUGU: A man committed to the rule of law
Karugu's brief sojourn at the AG's chambers would be marked by three major events: A 'shoot to kill' order decreed by his predecessor Charles Njonjo, the Frank Sundstrom murder case and the Andrew Muthemba treason case.
Njonjo, a man who had enjoyed immense power in his years as AG, left Karugu, one of his 'home boys' (both came from Kiambu District, and specifically Kabete), in a dilemma. Njonjo had just instructed the police to shoot violent robbers on sight, a directive that was vehemently opposed by some legislators who wanted to know how such an order would be carried out without trigger-happy police killing innocent Kenyans.
Instead of clarifying the matter, Njonjo dropped it in Karugu's lap when he left office. But Karugu, a professional and ethical lawyer, neither rescinded nor endorsed the order. He instead issued a ministerial statement in Parliament cautioning against "the use of firearms by trigger-happy policemen". In the same statement, he defended the right of policemen to resort to the use of "such force as is necessary to apprehend a criminal or prevent the commission of crime".
This statement watered down Njonjo's 'shoot to kill' order and made Karugu the darling of MPs who had thought the order was outrageous.
On other front, American sailor Frank Joseph Sundstrom was arraigned following the brutal murder of an African girl named Monica Njeri in Mombasa in 1980. The case raised a hue and cry and drew a lot of publicity locally and abroad. Kenyans demanded justice for the girl and hoped for the American's execution, or at least a life sentence. On the other hand, 'Big Brother' (the United States government) exacted pressure on Kenya to release its citizen, the shocking murder notwithstanding.
The wheels of justice turned very fast for the American. One short month later, on 30 September 1980, Kenyans would be most dismayed when Justice Leslie Harris seemingly patted Sundstrom on the back by handing him the incredulous penalty of signing a bond promising to pay KES 500 "if he failed to maintain good behaviour in the next two years". With those words from the honourable judge, the 19-year-old marine was free to go.
Many Kenyans saw a white judge applauding his younger brother for skinning a black person. Among these was Attorney General James Karugu.
In those days, criticising the Judiciary or its officers, especially judges, was unheard of, but this did not stop Karugu. He censured Harris on this sentence that was an obvious perversion of justice. When the matter went to Parliament, MP Kimani wa Nyoike asked the AG whether he was satisfied that justice had been done or/and seen to have been done in the Sundstrom case. Karugu said he was not satisfied on both counts. Admitting that the matter had given him some anxious moments, the AG however added, "… perhaps this is the price we have to pay for the independence of the Judiciary".
Probed further, Karugu said, "Let me assure the House – and I do this with all the sincerity I can command – that if I had any alternative, I would have appealed this case to a higher court." Unfortunately by that time, Parliament was yet to amend Section 379 of the Criminal Procedure Code which would have allowed the AG to appeal such a case in the Court of Appeal. "I am legally impotent to do anything as far as this case is concerned," he said.
In those days the ruling party, KANU, was 'baba na mama' (father and mother, to mean all-powerful) and whatever its bigwigs said, however absurd, became law. So when reporters and editors of one local daily were picked up after the daily published a story suggesting that the author of a KANU press statement on an ongoing doctors' strike was anonymous, the State expected them to be duly charged. The newsmen spent the weekend in police cells but the police prosecutors were unable to craft a suitable charge.
On Monday, they turned to the AG for assistance, but Karugu told them he did not know of any law under which the journalists could be charged. This led to the release of the newsmen, who had been unlawfully held for more than 48 hours according to the Constitution. In the upper echelons of KANU, some people were very bitter with the AG as a result. These actions, perceived as defiance, sealed his fate as a marked man and after 15 months on the job, Karugu abruptly resigned.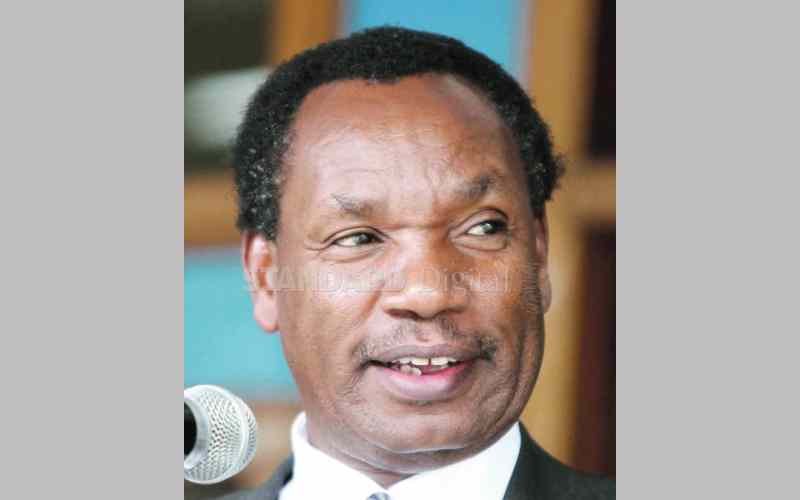 HENRY KIPRONO KOSGEY: Politician who headed no less than eight ministries
The reasons for Henry Kiprono Kosgey's elevation to the Cabinet were not difficult to see. He had indisputable academic credentials that set him apart from other politicians at that time.
Kosgey was first appointed Minister for Transport and Communications in 1979 and he held the position until 1985. He was in charge of the construction of numerous roads and other public works in the entire country. Also under him were Kenya Airways, Kenya Railways (KR) and Kenya Ports Authority, as well as the telecommunications sector. All the key State-owned companies, including the big employer, Kenya Posts and Telecommunications Corporation (KPTC), were undergoing modernisation. The ministry would later be caught up in accusations of extensive nepotism and corruption. In the eye of the storm were KPTC and KR.
Kosgey was moved to the Ministry of Cooperative Development following a Cabinet reshuffle in 1985. For two years, he was charged with improving and developing the cooperative movement in Kenya to benefit rural farmers, who were finding it difficult to market their produce. The Minister took over a system that was already operational, having been created during the colonial era and improved in the first two decades of independence. Somehow, the period from 1985 saw the sector suffer badly and today, only a few farmers' cooperatives are still on their feet.
Kosgey's management style and skills came under glaring scrutiny when he was moved to the Ministry of Culture and Social Services months before the All Africa Games were to be hosted in Nairobi in August 1987. The ministry was tasked with ensuring that this sports bonanza was a success. Indeed, the event was expected to rake in millions of shillings for the country. But somehow, the Minister got entangled in a multi-billion shilling scandal in which an advertising company associated with an American named Dick Berg swindled the Kenyan taxpayer before vanishing into thin air. Kosgey defended himself by saying Berg's contract was drawn up before he moved to the ministry.
Following the 1992 elections, he served as a backbencher in Parliament for four years before he was appointed Minister for Environment and Natural Resources, and later Minister for Tourism and Wildlife. Things were not rosy for him in his new assignment. The heightened political tension associated with the agitation for multipartism led to a huge drop in tourist numbers. The international press relished depicting Kenya as a failed State that was insecure for visitors. Things would deteriorate further when, in 1998, the American Embassy in Nairobi was bombed in a terrorist attack that left 224 people dead. Kosgey had the difficult task of repairing Kenya's battered image.
He would soon be moved to the Ministry of Science and Technology, where he was between 1999 and 2001 before he was transferred again, this time to the Ministry of Education, at a time when teachers were demanding better working conditions and higher remuneration.
The tectonic forces that caused a major shift in Kenyan politics in December 2002 didn't spare Kosgey. However, he re-invented himself and became Chairman of the Orange Democratic Movement (ODM), an Opposition party, after decamping from KANU. He was rewarded with a Cabinet position and became Minister for Industrialisation after being elected as an MP in 2007.
But once again, Kosgey would be implicated in a case in which his ministry was reported to have imported 113 second-hand cars that were older than the mandatory eight years. He was forced to step aside in 2011 to pave the way for investigations. After a lengthy court case, he was found not guilty in June 2012 and President Mwai Kibaki reinstated him two months later.
-Moi Cabinets is published in two volumes by the Kenya Yearbook Editorial Board