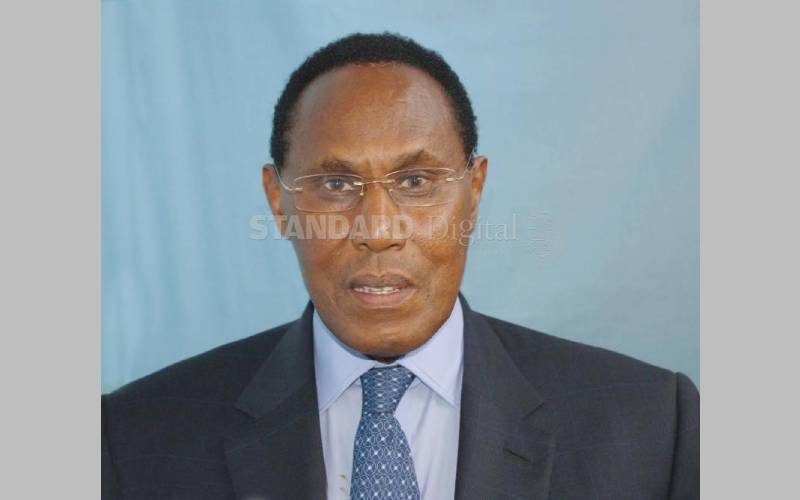 There were two celebrated professors in President Daniel arap Moi's administration: Moi, the self-proclaimed "Professor of Politics", and his long-serving Vice President, George Muthengi Saitoti, Professor of Mathematics.
Moi would nominate Saitoti to the National Assembly in October 1983, signalling the beginning of sweeping changes in the hierarchy of the ruling party, KANU, and the Government.
To his credit, Saitoti made major developmental strides in Kajiado North, a constituency that accommodates people from many Kenyan communities and that was by 2009 ranked one of the richest constituencies in the country. While many parts of what was then Rift Valley Province were hit by sporadic tribal clashes from 1991 to 2008, Kajiado North remained mostly unscathed. However, Saitoti himself was at one time accused of complicity in these clashes by Human Rights Watch, a non-government organisation.
From 1991 to 1993, a series of financial scandals implicating senior Government officials rocked the country and resulted in the suspension of donor aid. The most infamous of these, in which Saitoti was implicated, was the Goldenberg scam. Goldenberg involved millions of dollars in fake gold exports paid to Goldenberg International. In 1999 Raila Odinga, an Opposition politician, sued the VP and others for their alleged involvement in the scandal. Otieno Kajwang', the MP for Mbita and an ally of Odinga, moved a private member's motion in Parliament seeking a no-confidence declaration against the VP on account of his alleged role in Goldenberg.
Saitoti fought gallantly to clear his name in Parliament and in the courts, but although he won these battles, the political stench of the scandal would never be too far from him. On 3 February 2006, a report by the Judicial Commission of Inquiry into the Goldenberg Affair chaired by Justice Samuel Bosire recommended that Saitoti should face criminal charges for his involvement in the scandal. Ten days later, the VP voluntarily stepped down from his ministerial position to make way for investigations into the allegations. On 31 July 2006, a three-judge bench headed by Justice Joseph Nyamu issued an order that would clear Saitoti of any wrongdoing, expunge his name from the commission's report and put in place a permanent stay of prosecution against him.
When the report by the committee investigating Minister for Foreign Affairs Robert Ouko's death was being debated, an angry Saitoti queried: "How come the committee never deemed it fit to investigate why the Vice President was almost dying at the same time? At the time Ouko was killed, I had been poisoned. I was unconscious. Saitoti was on his deathbed. This is not my original skin," he raged, while displaying his hands.
At a KANU National Delegates Conference in Kasarani in 2002, the party changed its constitution to allow for a merger with Raila Odinga's National Development Party, and created four new Vice Chairman positions. This effectively watered down Saitoti's position and, consequently, his chances of succeeding Moi. Following his vocal complaint to the President that his name was missing from the leaders' line-up, Moi told him to his face that he was not "presidential material". In response to the snub, Saitoti famously told the conference, "There comes a time when the nation is much more important than an individual."
The height of his humiliation came during a meeting in his own constituency, where Moi explained his reasons for overlooking the VP in his succession plans. Speaking in Kiswahili, the President said: "Huyu makamu wa rais ni rafiki yangu. Lakini urafiki na siasa ni tofauti…" (The Vice President is my friend. But politics and friendship are two different things.)
Later, on arrival from an official trip to America, Saitoti expressed his intention to vie for the presidency on a KANU ticket despite Moi's endorsement of Uhuru Kenyatta.
"My service to this country has prepared me to handle the challenges of leadership. It is therefore only proper that I respond affirmatively to calls from the Kenyan people that I should offer myself for nomination," the VP told reporters at the Jomo Kenyatta International Airport in Nairobi.
This announcement led to his sacking in August 2002 for "spearheading a mutiny in the Cabinet". Saitoti responded by accusing Moi of undermining democracy. "Kenyans have come to value democracy," he told The Telegraph newspaper, and further asserted, "We should be strengthening democracy, not eroding it."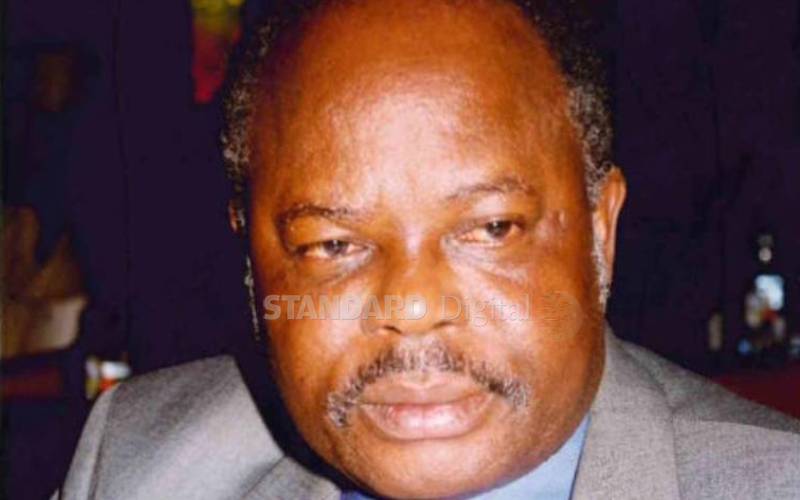 DARIUS MBELA: Singing minister who declared war on slums
Apart from politics, Darius Mbela made a mark as a choral composer, singer and conductor. He was "the only old boy who had sung his way into Parliament", Mbela's fellow Alliance High School alumnus, Attorney General Amos Wako, once said of him. Accompanied by the St Stephen's Church Choir, he was reportedly involved in the composition of the dirges that were sung during founding President Jomo Kenyatta's funeral in 1978. He was at the time a Permanent Secretary.
But what singularly defines Mbela's role in national politics was his tenure at the Ministry of Lands and Housing where, despite his best efforts, he was not able to address Kenya's squatter problem, especially in Coast Province. It was during his tenure that land grabbers ruthlessly targeted public utilities.
Among his first assignments at Lands and Housing was opening a key conference that focused on unplanned settlements. At this meeting he said the greatest challenge in Nairobi was to work out viable strategies for adequate shelter for the city's residents, according to the news magazine The Weekly Review, of December 1988. The Government, he stated, would discourage rural-urban migration by decentralising the country's urban structure. Experts were predicting the population of Nairobi would hit the 5 million mark in 2000.
In July 1988 he appointed a team – drawing officials from the Nairobi City Commission; the ministries of Housing, Local Government and Physical Planning; and the provincial administration – to improve housing in Nairobi, especially in the unplanned settlements.
"Many of the city dwellers are living in squalid conditions which have in turn created a host of other problems such as violent crimes, prostitution, illicit brewing of alcohol, drug abuse and begging," he said as he announced the creation of the committee. "No government can feel proud when its people are living in a temporary shelter made of cardboard and plastic materials."
Three months later, he proposed that all housing projects in urban areas must be multi-storey because such buildings offered the best use of land, making them the most suitable for densely populated urban areas.
"From now henceforth, high-rise housing development will be the rule rather than the exception," he declared as he launched a KES 179 million Kibera high-rise scheme for the National Housing Corporation (NHC).
In May 1989 the Daily Nation reported, "Open stinking sewers, narrow filthy earth roads and wretched timber and mud-walled dilapidated buildings with rusty corrugated iron-sheet roofs which characterise slums everywhere in the world will be an endangered species in Kenya by the turn of this century."
Mbela had just declared war on slums. "It is a Government policy that no slum should see the year 2000." This announcement followed a Presidential directive in 1987 that had ordered NHC to plan to wipe out all slums in Nairobi, Mombasa, Kisumu and Nakuru, and all other major towns. This started with high-rise buildings in Pumwani and Kibera.
His other task as minister was to resettle the landless. Whereas this was a noble idea, it emerged later that the land was issued out to senior military officers and public servants, top politicians and politically-connected individuals, and not the intended squatters. It was thus not surprising that in 1988, Mbooni MP Johnstone Makau claimed that the Ministry of Lands and Housing was full of corruption, inefficiency and chaos.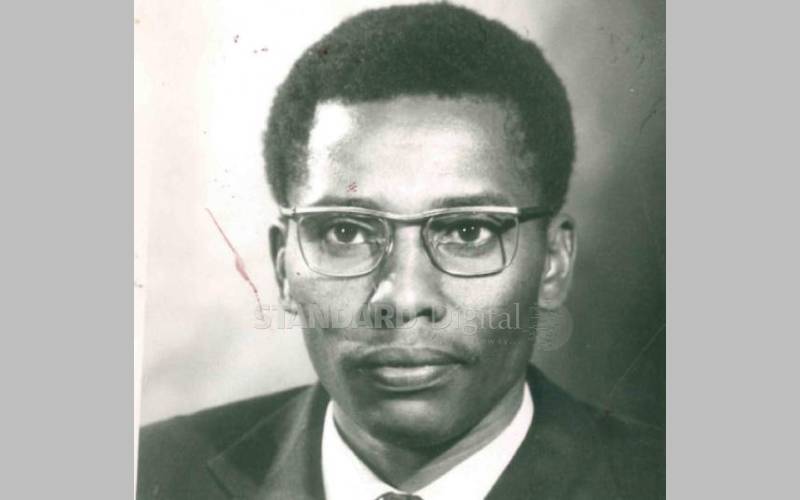 DANIEL MUSYOKA MUTINDA: Lawyer who opposed anti-Moi campaigners
When Daniel Musyoka Mutinda was appointed to head the Ministry of Information and Broadcasting, it was a relatively small docket presiding over only the Kenya News Agency and the Voice of Kenya (VoK). He concentrated his efforts on improving broadcast services to reach more Kenyans through the installation of more short-wave and VHF radio transmitters in Langata, Kisumu, Meru, Nyeri, Nakuru, Limuru and Timboroa.
The Minister said in 1977 there were only 1.5 million radio sets in Kenya with about 5 million listeners, and just 50,000 television sets and about 350,000 viewers in urban areas. The installation of radio transmitters enabled more Kenyans to access VoK services. At that time, private television and FM radio stations did not exist.
Mutinda is also credited with developing and promoting local radio and television programme material, and sourcing suitable programming from the West, especially from the United States and Europe. On numerous occasions he called for cooperation between African television organisations for drama, music and other cultural programmes. This quest led to the establishment of the Union of National Radio and Television Organisations of Africa (URTNA) which, at the invitation of Kenya, set up a Television Programme Exchange Centre at Kenyatta International Conference Centre in Nairobi. Through it, African television organisations exchanged programmes that enriched overall content.
Mutinda also boosted the film industry through the Kenya Institute of Mass Communications and the ministry's Film Department. But this effort did not go very far, because the UNESCO-funded exchange programme ended after funding dried up due to a general lack of interest from many participating countries.
-Moi Cabinets is published in two volumes by the Kenya Yearbook Editorial Board