Passing on the value of being charitable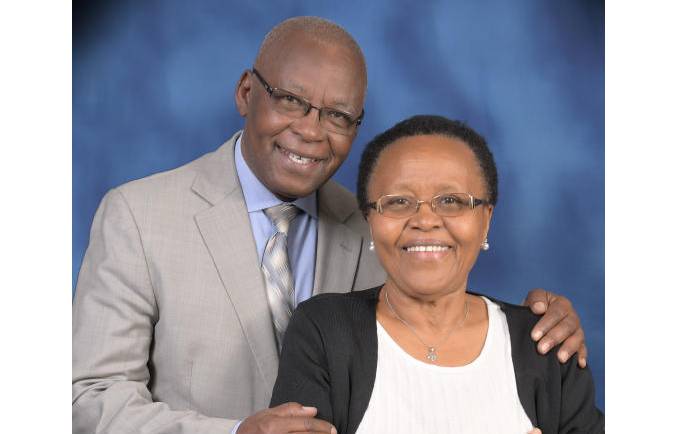 "It is very gratifying to see people whose lives you touched once, in whatever small way, themselves changing society," a beaming Justin Kimani says, and it is hard to argue with his logic.
Mr Kimani and his wife Lois live to make an impact on people's lives as they saw their parents do to others. And what they have achieved so far is impressive.
"Lois and I look back with fulfilment beyond words reflecting on the lives of persons who have passed through our hands in one way or the other to be where they are, or what they are today."
He can place the number of the people that he has taken under his wing and helped access opportunities they might have found elusive at between 20 and 30. Maybe more.
Most of the beneficiaries he has seen go through school, some of them now taking after him and helping others up. Some could have ended up into obscurity, but then their destiny changed when they met him.
Justin is a retired public servant who worked as Company Secretary for Kenya Power and later as the Chairman of Kiambu Public Service Board. He has two Masters Degrees, one in Peace-Building International Relations and the other in Counselling Psychology. He is also an accredited governance auditor and a court-accredited mediator.
Lois worked with the defunct Nairobi City Council and later went into business. She joined University way past her youthful days and obtained a Bachelors, then Masters, in Counseling Psychology.
The two are parents of four adults, all married and with children.
Kelvin Ndung'u Kariuki, a young man who is set to join Masai Mara for his undergraduate in Bachelor of Science (Physics) is one of the many beneficiaries of the Kimanis' philanthropy.
Ndung'u was born into penury in Nyeri. He is a second born, sandwiched between Diana Mumbi, the firstborn, and Jasper Kimani. As fate would have it, his parents separated when Ndung'u was young and his mother laboured to make ends meet for the small family.
The siblings were often in and out of school, occasionally sleeping hungry. Matters went from bad to worse when Ndung'u's grandfather passed on in 2012. The grandfather had been paying Mumbi's school fees at Muruguru Girls High School. One year after his death, Ndung'u sat his KCPE, scoring 273 marks out of 500.
But he could not join the secondary school and only the following year, he was employed as a herdsboy in Kabati, Nyeri, making Sh3,000 a month. He would take all the money home to his mother to cater for their basic needs.
But barely two years in the job, his employers sold their cows owing to unbearable climatic conditions and fired him. A devastated Ndung'u walked long distances seeking for jobs to no avail.
He would later receive a miraculous call from one Mr Kagoiya, who had been working with Kimani and knew the boy's plight. Kagoiya told him he knew a place Ndung'u could work.
"We made arrangements and I reported at Kimani's place in November the same year. I met a God-fearing family of Mr and Mrs Justin Kimani. The couple listened to my situation and decided to take me back to school," says an elated Ndung'u.
They made arrangements and he joined Kiambururu Secondary School in May 2016. The heaven-sent couple catered for all his basic needs and the school fees. During holidays, he would work in the farm.
Ndung'u sat his KCSE in 2019 and scored a C+.
"I received an admission letter to Maasai Mara University. Mr and Mrs Kimani are looking forward to helping me join the university to pursue a course in Bachelor of Science (Physics)."
Interestingly, all along, the Kimanis have never met Ndung'u's parents.
Lessons from our parents
"Through burning and selling charcoal, wattle backs and firewood to Asian traders operating in Ruiru and Thika, our parents educated each one of us in those days between 1930s and 1960s, some to university and others to secondary and other tertiary training institutions. My parents eked a living hewing and heaving wood products uphill and for kilometres to the roadside across the ridge on their backs from the steep river valley where they had felled the wattle trees," Kimani says, remembering the years that inspired them to be the charitable couple they are.
"In his sunset years, my father would send young boys to us for assistance in seeking jobs after their high school education. We would retain them in our small mixed farm so that whenever we saw them in our occasional visits, we could remember their plights and seek to help them. Eventually, they would enter various colleges such as Kenya Medical Training Colleges, Kiambu Institute of Science and Technology, Kenya Power and Lighting Training School and some to universities much beyond anything they dreamt of. They would then, in time, clinch job opportunities."
A top lecturer in a leading institution in the country is also a product of Kimani's generosity.
The lady, who was staying with Kimani's sister-in-law during university vacations, met Kimani and her life changed. She had just graduated and was desperate for a job, but she was turned down when she thought she might just grasp it because she did not have a Master's degree.
Kimani, who had helped her meet a potential employer, would liaise with the employer to secure her a scholarship. He wanted her to pursue further education in economics. They even went ahead to type cover letters for her application to five colleges. The employer, a University of Nairobi professor, was based at Kenya Institute for Public Policy Research and Analysis.
"Eventually I gained admission for a Master's degree in economics and a scholarship from the African Economic Research Consortium. I was thankful that Mr Kimani saw more potential in me than I probably thought of myself. He could have offered me a clerical job or something in the company that he worked for at the time. He had the influence. His foresight, guidance and kindness left a permanent mark in my life. Today I hold a PhD in Economics because someone saw the potential in me and offered a platform to achieve more than I imagined at the time," says the senior lecturer.
The testimonies do not end there.
Kimani believes in giving back. He believes that even if one has little, they could still share.
"The seed of going beyond the call of duty might have been planted in us by our late parents. In spite of their hard-earned meagre income, they would also help other parents with their children's school fees. Many of my siblings have brought up and helped somebody through school," he says.
"There is satisfaction when you help a young person, however little, to change their lives. We are much fulfilled when we meet those who we helped and see them doing better, sometimes driving their own cars, with adorable young families, whereas if we had not come into their lives their stories would be quite different."
A firm believer in God, Kimani, who is also a fellow of the certified secretaries and an ethical awardee of Ethical Leaders Network believes that all the property he owns is just held 'in trust' for the higher being.
"We (Kimani and his wife Lois) also believe this is a God-given gift and we cannot, therefore, boast to have done it in our own strength. The amazing thing is that when it comes to helping, we both agree and just go ahead and do it regardless of the needs we may have."