Ruto should walk the Hustler Nation talk, settle on Ndindi Nyoro for running mate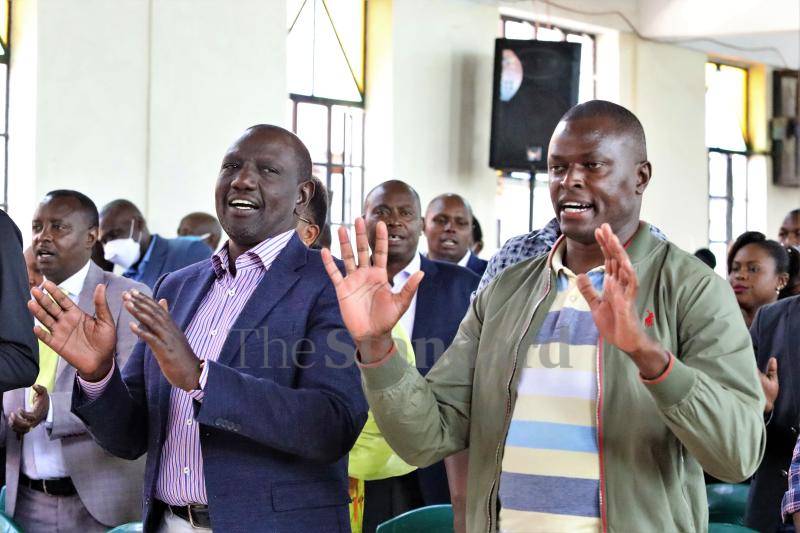 "If a child washes his hands he can eat with kings". This proverb teaches us that we carve out our own futures.
Presidential candidates are now busy shopping for their running mates.
With Kenya Kwanza's political slogan 'hatupangwingwi' and its bottom-up economic approach, it is important for William Ruto to consider these elements of the Hustler Nation while making his choice for a running mate.
Hatupangwingwi has resonated well with the youths who now believe that the future is in their hands and they have the power to change their fortunes.
Choosing a youth as Kenya Kwanza's running mate will keep the youths' dream of a better future alive.
What mama mboga and other hustlers want are not assurances but to see the government giving opportunities to their children after they finish school.
Ndindi, the first-time Kiharu MP, is the author of a motivation book 'How to succeed in high school'.
In the book, he describes his early life as follows: "Ndindi was born in December 1985 in Gathukeini location, Murang'a County. His mother was a peasant farmer while his father was a carpenter in Kiandutu slums in Thika. Ndindi is the last born son in a family of four. The other siblings are his sisters. His father died when Ndindi was young. Ndindi attended and completed his preparatory education at Gathukeini Primary School and won a placement at Kiaguthu Boys Secondary School, but he could not join the school due to prohibitively high fees.
"The family enrolled him at Kiambugi Boys Secondary because the school principal was a family friend and would allow for a flexible fee payment plan. Ndindi repaired shoes for his schoolmates at Kiambugi to scrape a living and to add to fee payment. During school holidays, Ndindi burned charcoal and sold second-hand clothes to supplement his family's meagre farming income. Ndindi completed his secondary education in 2003 and performed exemplary well in Kenya Certificate of Secondary Education examinations and was the only student in Kiambugi in his year who won a university placement."
Chief Hustler Ruto is 56-years-old while Nyoro is 37. Their presidential ticket will have the best face of youth at an average of 47.
Since being elected to Parliament in 2017, Ndindi has supported the DP's push to succeed President Uhuru Kenyatta.
If he picks Ndindi as his running mate, Ruto will have walked hatupangwingwi and Bottom-up political messages.
Letter from Rodgers Onyancha, Nyamira.