Mau evictees live in misery as State denies they exist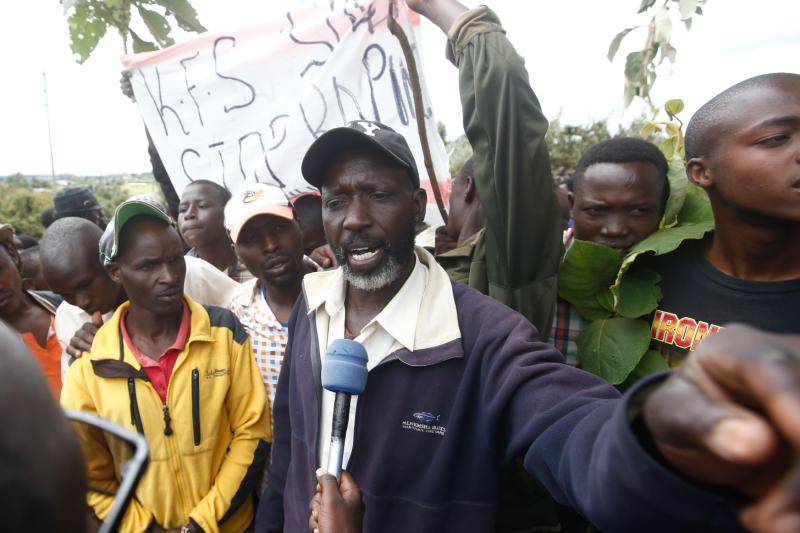 Jenifer Koech and her three young children squeeze in a tent improvised from plastic sheets in a makeshift camp at Saptet in Narok South constituency, Narok County.
They have been here since November 2019 when the government evicted them from the Maasai Mau Forest to pave way for rehabilitation of the forest, which is part of the Mau Forest complex, a vital water tower.
Koech's family is among 1,500 households that have braved cold nights and rainy days in squalor, worried they will never escape the cycle of poverty dictated by their surroundings.
Their tent that is slowly coming apart due to the extreme weather conditions is nearly uninhabitable, with pleas for help to the national government falling on deaf ears.
When The Standard visited Saptet camp in Narok South and Olmekenyu, Ngoben and Chebitet camps in the north, images of people in despair were evident.
"We are barely surviving here," said Koech, as she tried to comfort her one-year-old son, who she told us was hungry because the family had gone two days without a meal.
"We depend on well-wishers; we have no government and we are not Kenyans," she added, as she struggled to hold back tears.
The families are faced with a myriad challenges, including the outbreak of waterborne diseases such as diarrhoea and cholera due to crowding.
John Lang'at, a self-described camp leader, had harsh words for the government as he spoke about the plight of citizens deprived of their livelihoods and left to the mercy of strangers.
"We are living a dog's life in this camp. The government that we voted in evicted us and left us wandering helplessly. We are living like refugees in our own country. We have no food, no medication, no water. It is hell," Lang'at said.
He claimed that a few families had lost children and the elderly to pneumonia-related complications.
"We have nowhere we can call home. It is sad that we are now IDPs yet we bought land only for the government to term the title deeds they gave us as 'mere papers'. As Kenyan citizens, we have a right to be resettled like other squatters in the country," he said.
Sick man
To demonstrate to us how bad the situation in the camp was, Lang'at took us to one of the tents where Philip Ngeno, a sickly, elderly man, was lying.
As Lang'at tried to wake him up, Ngeno opened his eyes briefly and without uttering a word, he shut them, cutting short our plans to interview him and understand what was wrong with him.
As we moved around the tents, a group of students from Moi University under the Rift Valley University Students Association arrived to donate foodstuff to the families.
The students quickly organised for transport to take Ngeno to hospital, as other members of the camp gathered to share the little that the students had brought.
"The eviction that happened in 2019 adversely affected the lives of over 20 students who were studying at our campus. They suffered emotional trauma and were unable to raise school fees. We were touched," said Felix Kumoi, a student leader.
Kumoi called on the county government to support the affected communities following the conservation efforts by the national government.
Brian Koech, a third-year student at Moi University, said their parents were struggling to educate them.
"When we were kicked out of the place I had called home since I was born, I was distraught. We did not know where to go. My parents used to do farming to educate us. We had to stay home due to lack of school fees," said Koech.
He urged well-wishers to support them to achieve their dreams. Educational institutions, he added, should also offer a helping hand to struggling students.
Ololunga MCA Jefferson Lang'at challenged the government and the Kenya Red Cross Society to intervene, saying that families were suffering and on the verge of starvation.
Rift Valley Regional Commissioner George Natembeya, however, said the government was not aware of any people living in camps.
"As long as the government is concerned, people who left the Mau Forest went back to where they came from. I do not know of any camps there," Natembeya said.
Human right groups and politicians from the Rift Valley have in the past accused the police of using violence and destroying property during the forest evictions.
David Kuria from the Rift Valley Assistance Network said lack of support after the evictions had resulted in desperation and deaths.
He told The Standard that since 2018, authorities have evicted more than 50,000 people from Mau Forest lands.
"That number includes more than 40,000 in July 2018 and the rest between August and November 2019. At least 10,000 of the recently evicted are living in harsh conditions in makeshift camps in Narok County and have not been relocated or compensated as required under the law," he said.
He continued: "Violently evicting forest dwellers is unacceptable, and failing to help them to relocate or supporting them during the Covid-19 pandemic is even worse."
A report by the Human Rights Watch found that between August and November 2019, a combined team of 150 officers from the Kenya Wildlife Service, Kenya Forest Service, Administration Police, regular police, and Narok County rangers used excessive force to evict people from 10 villages in the eastern side of the forest land, including Kitoben, Olaba, Kapkoros, and Kirobon.
The report released last year stated that witnesses and family members said at least seven people died during or after the evictions.
It further claims that authorities have not investigated these deaths and other abuses, and have instead threatened to forcibly shut down the camps.
Police also destroyed livelihoods by burning food stores and looting foodstuffs, injured and maimed people by beating them with gun butts and big sticks, and torched houses or forced residents to torch their own houses at gunpoint, read the report in part.
But there is hope for the families after Baringo Senator Gideon Moi promised on Friday that he will intervene in the matter.
Speaking at Longisa trading centre in Bomet, the Kanu chairman said he would engage the relevant ministries to have the issue addressed once and for all.
"Let's not speak about 2022 while we still have the issue of Mau at hand. I'm here to assure you, the people will be assisted," said Gideon after opening a Kanu office at Mulot Sunset.