Kenya gives UNHCR 14-day ultimatum to close Dadaab, Kakuma refugee camps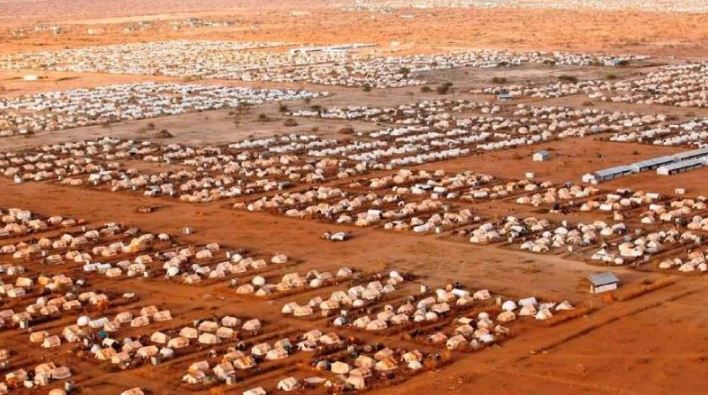 The government of Kenya has given UNHCR 14 days to have road map on the definite closure of Dadaab and Kakuma refugee camps.
Interior CS Fred Matiang'i on Wednesday issued the government directive to the UNHCR representative in Kenya Fathiaa Abdalla saying there is no room for further negotiations.
He was accompanied by his PS Karanja Kibicho and chief Administrative Secretary Hussein Dado.
Dadaab Refugee camp, located in the semi-arid town of Garissa County, is one of the largest and complex camps in the world.
The first camp in Dadaab, Kenya, was established in 1991.
The population exploded in 2010 due to food crisis as a result of the harsh environmental conditions in Somalia, where the majority of the population originated from.
According to the United Nations, as of March 31, 2019, the camp hosted 210,556 refugees, of which 202,381 were from Somalia 56 per cent of the population being children.
Over the years, there has been subsequent overcrowding leading to the spillover of refugees into land beyond the camp's official boundaries.
In 2019, the Kenyan government said it would shut down the camp even as refugees continued to shun the voluntary repatriation programme started in 2014. This is as suspicions that the camps were harbouring Al-Shabaab terrorists continued to grow.
Kakuma Refugee Camp is located in Turkana County and is among the largest refugee camps in the world.
The camp was established in 1992 and is jointly managed by the Kenyan Department of Refugee Affairs and UNHCR.
It has transitioned from a place of temporary asylum to an 'urban centre', complete with its own market. Some refugees run businesses in a bid to become self-reliant.
The camp is home to more than 194,000 refugees and asylum seekers housing at least 100,000 South Sudanese and 55,000 Somali refugees the rest being from other countries.
Most of the refugees were driven from their homelands by civil war, according to the United Nations.