What does Sh100 mean to you? May be just enough to buy groceries from mama mboga. For others, it barely registers in their daily expenditure.
For teenage girls in the slums of Nairobi, it is the amount they need to buy sanitary pads, and when they cannot raise it, they go looking for cash from men. And the result is unplanned pregnancy.
Desperate and choked by poverty, these girls become mothers at a tender age because of the struggle to ensure dignity while receiving their monthly period.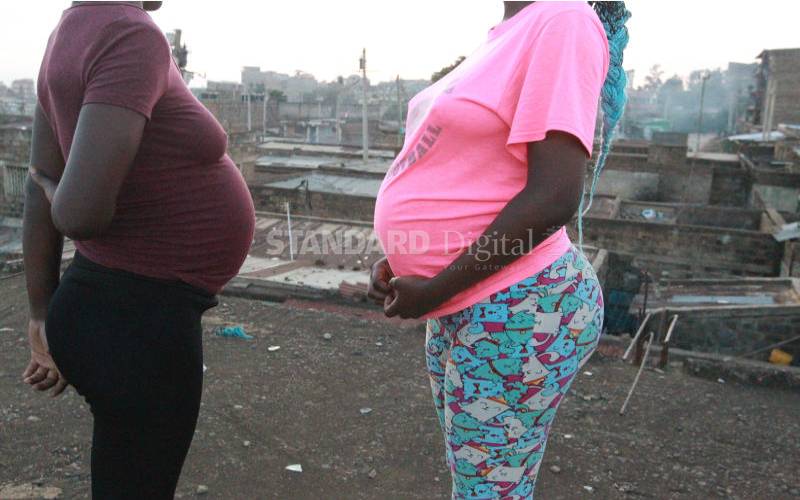 In informal settlements, teenage mothers drop out of school and look for menial jobs to cater for the babies. They wake up every day to look for casual jobs. But because they have no skills, certificates or government identification, they rarely earn more than Sh200.
This daily wage meets their food and water needs. Sanitary towels become a luxury as they save to pay rent.
Covid-19 has sent economic shockwaves across the world while for the poor in the slums it has shattered their lives.
Parents have lost casual jobs, boys have joined gangs for survival while girls have fallen pregnant in efforts to complement dwindling family incomes.
Daily struggle
Maria* holding her two-week-old daughter says: "I went to look for someone to help me buy essentials. My mother is jobless and buying food has been a problem since the pandemic struck."
She shares a single room with her mother and five siblings in the sprawling Mukuru kwa Njenga slum.
The Form Three student, got pregnant after she started an affair with her classmate following the closure of schools in March last year to curb the spread of Covid-19.
Ironically, it was search for money to buy sanitary pads that drove her into the arms of the student.
Before schools closed, Maria was not involved in the daily struggle of putting food on the table. In school, every so often, they would receive donation of sanitary towels.
Her dream was to become an engineer, but the circumstances seem to have conspired against her.
"Where will I go? The stigma of going back to school will kill me," says Maria. "I have failed my struggling mum. This baby is a burden to us."
Maria's story mirrors that of hundreds of girls. For many girls from poor families the schools offer protection from societal ills but the coming of Covid-19 and long holiday left them exposed. As a result, they are grappling with a new kind of crisis.
Two hundred metres from Maria's house, another mother is in distress.
Her 13-year-old daughter is three months pregnant.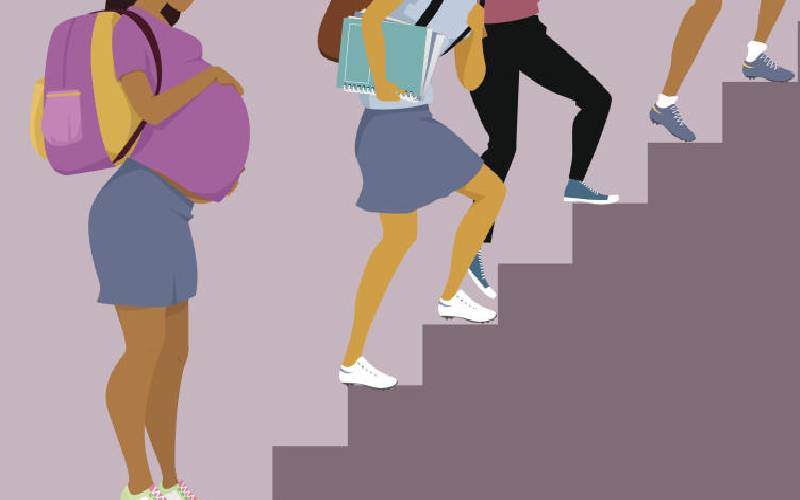 "I can't leave this house, and I can't work," says Mustiya* . "I must keep an eye on her. She has tried to kill herself twice now."
The girl is a pupil in Makueni County. Her mother who has four other children was forced to send the firstborn daughter to live with her grandmother. But in March, her plans to reduce the cost of life in the city fell apart.
Develop complications
Her daughter had to help her grandmother to make money to buy food. The pupil fell into the arms of an old man.
"My daughter wants to abort the pregnancy, but I am afraid she may develop complications," said Mutisya. "But even if there are safe ways to do it, I don't have the money."
Her daughter, however, questions why she has to keep a child she doesn't want. With each sunrise, she is convinced her education is over. And with each sunset, she struggles to accept her situation.
"Here at Mukuru, we have been overwhelmed by the needs. The pandemic has tripled the challenges of providing sanitary pads to girls," says Eric Ambuche, the founder of a community-based organisation that provides sanitary towels to girls in the slum.
Menstruation is a natural fact of life for 1.8 billion girls and women, according to a 2019 United Nations report. However, millions across the world have been denied the right to manage their monthly menstrual cycle in a dignified, healthy way.
The report lists gender inequality, discriminatory social norms, cultural taboos, poverty and a lack of basic services among the major obstacles to girls' and women's menstrual health and hygiene.
Closer home, the African Institute for Development Policy (Afidep) released data that showed between January and May 2020, Nairobi County had the highest number of teen pregnancies in the country at 11,795.
"This is slightly higher than 2019's figures over a similar period, where there were 11,410 cases were reported," Afidep notes.
Overall, the organisation registered 151,433 teen pregnancies over the five months across the country, against 175,488 pregnancies over a similar period in 2019.
Afidep ranked Kakamega County second, with 6,686 cases compared to 8,109 the previous year.
Machakos County was ranked 14th, with 3,966 teen pregnancies in 2020 compared to 4,710 in 2019.
According to Agnes Adhiambo, a senior researcher on girls and women rights, teenagers do not get pregnant because they lack morals.
"These girls from poor backgrounds engage in survival sex. There is no morality when you are hungry and needy," she says.
Dandora with 2,000 metric tonnes of garbage dumped there on a daily basis provides a source of livelihood for 3,000 families.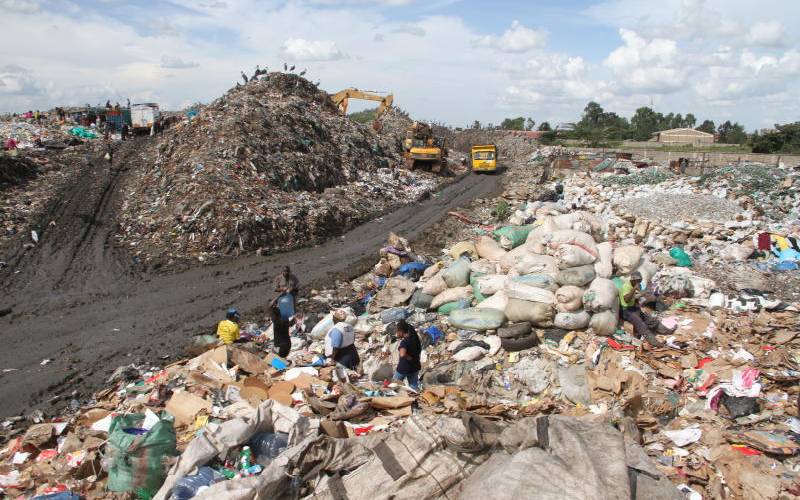 Living here means accepting certain realities. Criminal gangs are a threat, which means most blocks have missing sons, murdered loved ones and young widows.
To escape poverty, teenage girls are lured by gangsters to abandon school for a housewife job.
At only 16 years Salome is pregnant, orphaned and 'widowed.' Her boyfriend was shot by police in September last year. She did not get time to mourn the father of her unborn baby or attend his burial.
"I did not even get a chance to see his face afterwards. I can't even mention that he is the father of my unborn child," says Salome. "I knew him as Kazi Mtaani worker. I don't know where he was buried."
Starve to death
His death made her numb. She stayed indoors for a week, in an attempt to starve to death but this changed when her elder brother dumped his two children in her house and disappeared for good.
Salome would tuck her two nieces under a blanket on her one-inch mattress and walk out into the darkness, heading for the streets of Nairobi to sell her body for money. "When he died, this was the only option to survive," says Salome, "I can't go with a man if I am sober, and the cash I get from my first client always goes to alcohol."
She does not attend prenatal clinic and the effects of the alcohol on the baby is the least of her worries. Salome is yet to know her due date.
A few houses away from Salome's, another teenager is in despair.
Sharon* is pregnant.
"Every time I am hungry, I regret getting pregnant," she says Sharon. "I question why I decided to carry this baby."
Sharon was duped by her then-boyfriend with the promise of food. He ran away when she became pregnant. At the time, Sharon lived with her ailing grandmother.
"My grandma knows I am pregnant, but she can't do anything about it," she says. "I worry how I am going to raise this baby alone."
Sharon moved to a small room in Dandora after her grandmother relocated to upcountry when life became unbearable. In one corner is a pile of books. In the other, an old mattress, plates and a cup.
The books keep her busy and the plates remind her that she has to wake up and find menial jobs to buy food. She washes clothes for families in Lucky Summer estate to earn a living.
"I started smoking weed to distract myself," says Sharon. "I need the courage to carry this pregnancy amid the challenges."
She is due next month, and the back-breaking work is taking a toll on her body.
"I sometimes get sharp pains across my stomach, but I can't stop working. What else will I do?"