Catholic bishops preach reconciliation as Easter beckons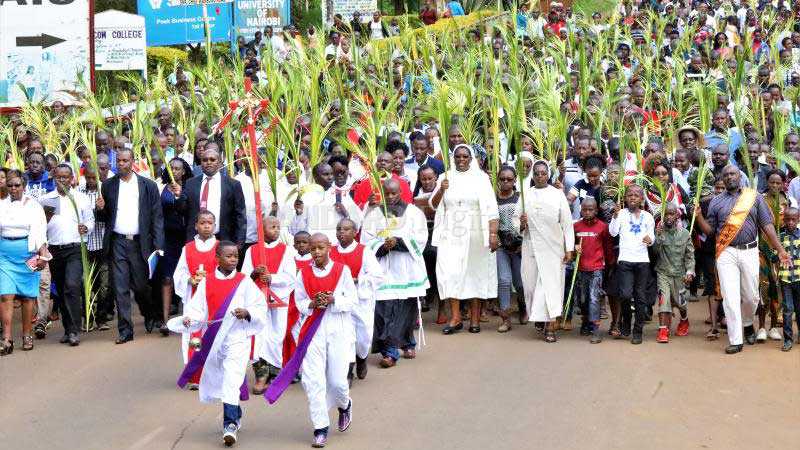 Catholic Church leaders have urged Kenyans to follow the example of President Uhuru Kenyatta and former Prime Minister Raila Odinga and unite even as Easter beckons.
The religious leaders said Palm Sunday - marked yesterday - should serve as a reminder to all Kenyans to embrace one another.
Bishop Alfred Rotich, the head of the Catholic Justice and Peace Commission, praised the new-found unity between the two leaders, adding that churches would preach reconciliation during Easter.
"We appeal to the political fraternity to maximise on the handshake that we all saw between the two leaders and reconcile with one another," he said yesterday during a telephone interview.
"Let us use this Easter to restore oneness and integrity of Kenya. Let's restore the good relationship we had broken in the past,"
At the Holy Family Basilica, Father Mathew Njuguna led hundreds of Catholic faithful in celebrating Mass to mark Palm Sunday, the start of the holy week before Easter.
Fr Njuguna called on Kenyan leaders to follow the path of Jesus Christ by doing what is good for the country.
He said the leaders should put the country first and shun messages of division that were likely to cause tension.
Take a quick survey and help us improve our website!
Take a survey
"Politicians should set aside anything that can destabilise the country," then cleric said. He urged all Kenyans to remain strong amid suffering, adding that Jesus Christ should inspire them to withstand all challenges.
On Palm Sunday Christians commemorate Jesus' triumphant arrival in Jerusalem days before he was crucified.
They mark the day with palm fronds to symbolise Christ's humble and peaceful entry into Jerusalem.
Traders took advantage of the day to make money by selling palm fronds to believers who were on their way to church.
At the Holy Family Basilica, there were dozens of sellers lined up outside selling palm frond at Sh20 a piece. Other traders recorded brisk business selling similar merchandise around the city.
Palm Sunday will be followed by Good Friday this week, during which Christians will commemorate the crucifixion of Jesus and his death at Calvary.
The climax of the holiday will be Easter Sunday next week, when Jesus was said to have resurrected.
To fight drought, involve communities
According to the latest information from the Meteorological Department, rainfall will be poorly distributed in April, May and June, and this will have a serious impact on agriculture